Estimated read time: 1-2 minutes
This archived news story is available only for your personal, non-commercial use. Information in the story may be outdated or superseded by additional information. Reading or replaying the story in its archived form does not constitute a republication of the story.
The inversion meant a foggy drive to work for people along the Wasatch Front. In Utah County, it resulted in a big traffic mess that had Interstate 15 shut down for hours.
This is the second big pile up in just the past 10 days that Utah Highway Patrol troopers blame on drivers going too fast for the weather conditions. This time, it meant I-15 was closed along a five-mile stretch for more than four hours.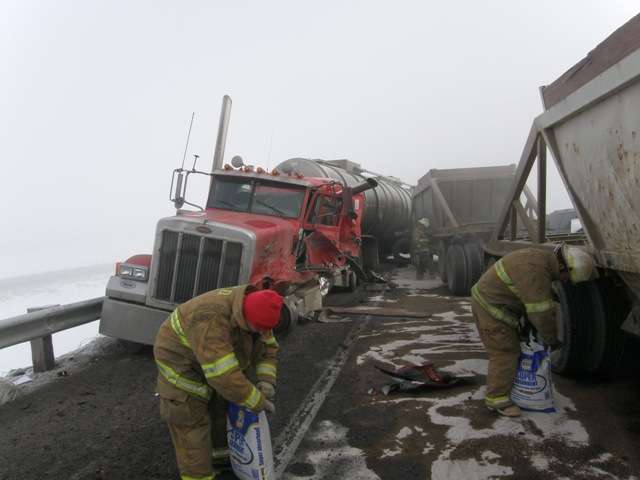 The crash happened along I-15 near Benjamin just before 9:00 this morning. It started out when two semi trucks collided, and within moments there were three other accidents. In all, seven vehicles were involved as drivers scrambled to slow down or get out of the way of the accident ahead.
No one was seriously hurt, but one person was taken to the hospital for cuts and bruises. Troopers say as bad as the visibility was this morning, drivers should have been traveling below the speed limit.
"The speed limit in this area is 75, so the speed they should have been traveling was closer to 50 to 55; a lot slower than it was posted at," said UHP Trooper Sterling Clark.
At the time of the accident, visibility wasn't much better than a quarter of a mile. At freeway speeds, it can be difficult to safely slow down or stop if there is an incident ahead.
Just before noon, even with much improved visibility, there was another crash where the traffic was being diverted. It wasn't until after 1:00 this afternoon that UHP had the freeway reopened.
UHP is cautioning drivers to slow down and avoid following too close during the morning and evening as the fog begins to set in.
E-mail: spenrod@ksl.com
×
Related links
Related stories
Most recent Utah stories