Estimated read time: 2-3 minutes
This archived news story is available only for your personal, non-commercial use. Information in the story may be outdated or superseded by additional information. Reading or replaying the story in its archived form does not constitute a republication of the story.
One veterinary eye doctor in Salt Lake had to come up with her own checklist for surgery when a baby penguin traveled from Idaho Falls for a first-of-its-kind operation today.
Ajani is 14 weeks old. Until a couple of hours ago, the African black-footed penguin could not see. Now he can get a good look at his friends for the first time; and when it comes to fishing, you can bet his skills will be much improved.
"I'm of course nervous for him, but excited for him. He obviously wants to be part of the flock," said zookeeper Amy Vargas.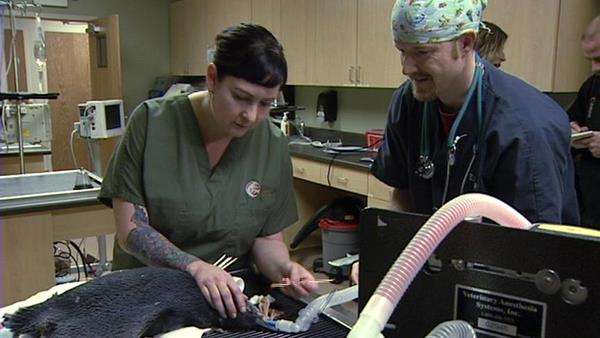 Just a couple hours earlier, Ahani was put under and prepped for cataract surgery on both eyes. The cloudy vision was a birth defect for the baby penguin, which lives with this family of 23 at the Tautphaus Park Zoo in Idaho Falls.
"It's progressively gotten worse, so the lens in his eye, which is behind his iris, has become cloudy. So, he's not getting any light to his retina," explained veterinary ophthalmologist Dr. Nicole McLaren.
MacLaren donated her time for the surgery at Salt Lake City Eye Care for Animals. She's worked on a lot of eyes -- eagles and owls -- but never a baby penguin. "Our job is to do the best we can to provide him an excellent quality of life so he interacts with all the other birds and is able to feed himself and be self-sufficient," she said.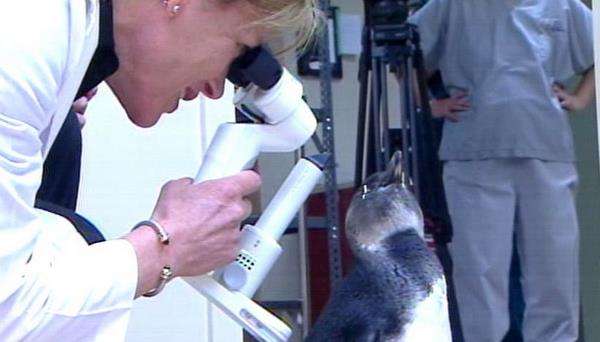 Among the challenges in this surgery are that the eyeballs are so tiny, and they have bones in them. "So, this eye is fixed in place, and his pupil is extremely small, so we're going to have a few challenges in this one," MacLaren explained during the surgery.
They describe Ajani as a sweet bird. He even helps the zoo educate children and adults about the importance of habitat preservation. "It's very exciting for him to be able to see so that he can join the rest of the gang," Vargas said.
The zoo in Idaho Falls has been exhibiting penguins for 11 years, and it successfully raised eight penguin chicks in 2008. Among 17 penguin species, the African black-footed penguin is the only African penguin.
E-mail: jboal@ksl.com
×
Most recent Utah stories