Estimated read time: 2-3 minutes
This archived news story is available only for your personal, non-commercial use. Information in the story may be outdated or superseded by additional information. Reading or replaying the story in its archived form does not constitute a republication of the story.
Construction on the new multimillion dollar Utah Museum of Natural History won't be completed until 2011. But volunteers already have started bundling and packing thousands of extremely valuable and fragile artifacts in the old building.
It will be a monumental move in 2011, and it has to begin two years in advance. There are more than a million artifacts in the old museum and in two other buildings on the University of Utah campus.
It isn't like moving furniture in a U-Haul trailer. Volunteers are stuffing stockings with cotton then hand sewing them into tailor-made cushion collars to stabilize artifacts. It's time consuming but absolutely necessary, even though these objects will move only about four miles to the new museum.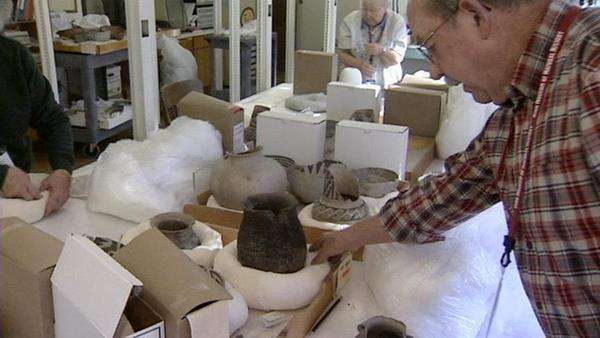 Duncan Metcalfe, the museum's chief curator, said, "If you have a million objects, if you spend an extra minute handling each object, it's a million minutes."
Les Winter is a volunteer. He said, "Well, it was OK until they told us, 'If you break it, you buy it.' Then it became a little nerve wracking. You've really got to be aware of what you're handling. It's very fragile."
Even employees who handle these things all the time know the importance of getting everything to its new location without a single breakage. This isn't like dropping a coffee cup at home.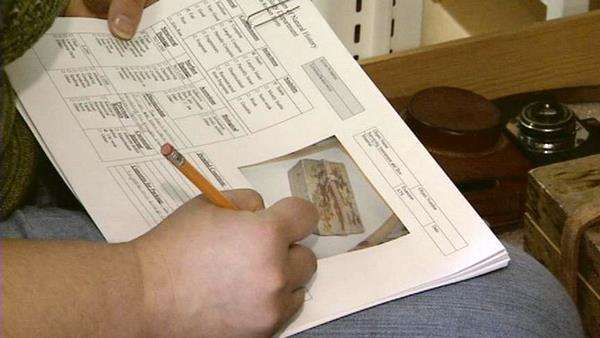 Annie Sager, a curatorial assistant, said, "Nothing here is broken at all. That's just a rule. I figure if I broke something at home, it means the gods are watching over me. It means I'm breaking the right stuff and not the wrong stuff."
Some of the thousands of objects are 6,000 years old and older, and this is just the archaeological catacombs in one old building.
What's really interesting is when you start going through the nooks and crannies of the museum, you find things no one knew were even there before.
For example, a mummified Ibis from the Crane family from Egypt was tucked away in one of those non-inventoried corners. Also, Metcalfe said, "I opened up this drawer and there are these two gorgeous slate hoes just sitting there; the hoe head that they would have used to cultivate the farm fields. I had never seen anything like them in my life. They're now on display."
With this move, everything in this old building will now be inventoried.
The museum was awarded $500,000 under the Save America's Treasures Grant to start preserving and packing things for the big move to a bigger and better building.
E-mail: eyeates@ksl.com
×
Most recent Utah stories