Estimated read time: 2-3 minutes
This archived news story is available only for your personal, non-commercial use. Information in the story may be outdated or superseded by additional information. Reading or replaying the story in its archived form does not constitute a republication of the story.
In our review of the year's top stories, this is the first time that we have asked you to decide which news events should make the list.
In the past, our newsroom staff has done the voting. But with so many people now getting their news from the Internet, we decided to put the list on ksl.com and invite the viewers to vote, and did you ever!
Whenever a big story breaks, everybody wants the details fast. Things have certainly changed, of course, from the days when we all had to wait for the 6:00 or 10:00 newscasts on TV to get a summary of the day's events. Newsgathering is around the clock now.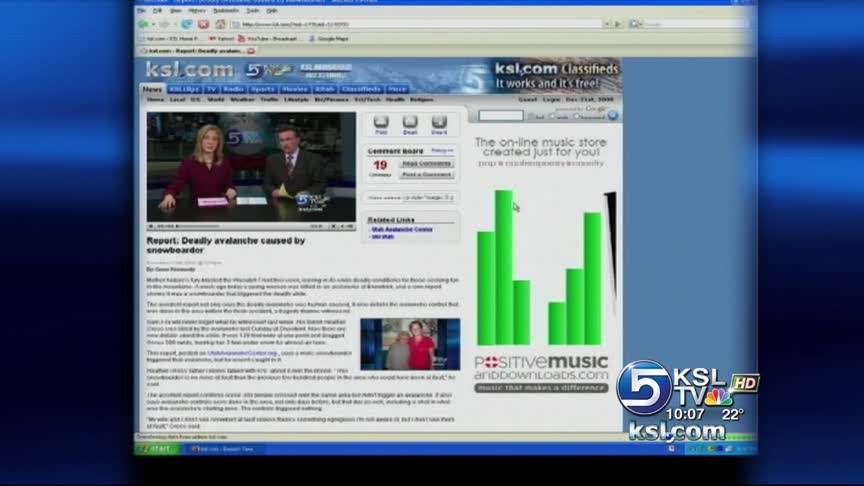 "The Internet has made it so we can get instant gratification for things, and people will expect the same thing for local news," explained Stephan Bergen, director of online content for KSL.com.
We've seen that by the number of people who visit KSL.com on their computers. In the past year, Web traffic on the site has doubled. That's one of the reasons why we asked our viewers, listeners and readers to give us their opinions on the Top 10 news stories of 2008.
During the past week, you've seen their choices, from the FLDS raids in Texas, Prop 8 controversy, the followup report on the Crandall Canyon Mine disaster and even David Archuleta of Murray as the runner-up on American Idol.
The story that attracted the most interest on KSL.com, however, didn't make the Top 10 list. Aug. 25, a large fire broke out in Corner Canyon near Draper. Dozens of homes were evacuated. There were more than 7 million hits on KSL.com that day, an all-time record for the site.
People needed information, and others were providing it. "They were either contributing via the comment board or sending us lots, hundreds, of photographs; and that contributed a huge amount to the number of page views because people wanted to know what it looked like, get on the comment boards and make sure their families were OK, find out about the evacuations," Bergen explained.
Bergen says this is a prime example of how the Internet can compliment other news gathering organizations. TV, radio and newspapers have time and space limitations, Web sites don't.
With more and more people getting their daily news and information from cyberspace, it's important they can find it easy, and can add to it as well. "We realize here at KSL.com, it's important for us to let the community feel included and that KSL.com is a community Web site and that people feel that their input is important."
Latest statistics show that one-fifth of all Americans watch some sort of TV online, and that will no doubt grow in the future.
E-mail: kmccord@ksl.com
×
Related links
Most recent Utah stories