Estimated read time: 3-4 minutes
This archived news story is available only for your personal, non-commercial use. Information in the story may be outdated or superseded by additional information. Reading or replaying the story in its archived form does not constitute a republication of the story.
New Year's Eve was... as you might imagine, wild and crazy in this party town...since Coach Whittingham laid down a midnight curfew for the Utes players they had to get out in it and celebrate early.
They surprised all the Utah fans at All-State Sugar Bowl pep rally (supposed to be only fans and cheerleaders) by showing up to show respect and say thanks to the fans who traveled down to root 'em on. Sean Smith and Robert Johnson led the team in a group dance...working their way through "The Cupid Shuffle" we were right in the middle of it and turned it into a fun story for Eyewitness News at 10 last night. (See it NOW on the SportsBeat iCast)
The players clearly having a great time though All-MWC Def. End Paul Kruger did tell me that it was really hard to be down here in the "Big Easy" on New Year's Eve and not be able to wade through all the humanity and be a part of the big party ringing in 2009! MWC Offensive Player of the Year Brian Johnson told me he wasn't feeling any pregame jitters yet (as he prepares for the biggest game of his life...those butterflies will visit him soon!). Today it's just a team walk-through at the Superdome, both coaches handling the final media availability a press conference and photo opportunity where both coaches pose with the Sugar Bowl trophy. Kickoff's approaching and this city will ramp up again (once everybody comes back to life sometime today!) as the Sugar Bowl approaches.
We'll have the best of today's happenings and stories for our viewers on Eyewitness News at 5, 6 and a game breakdown at 10.
Happy New Year from New Orleans!
Dec. 31, 2008, 3:57 p.m.
We got in last night and immediately became immersed in some of the flavor of N'awlins...street music... sweet jazz blaring and folks dancing until the wee hours...I know 'cause it kept me up, all the way up on the 11th floor. Dined at Deanie's famous restaurant (not Wimmer... I think). We're still full from the fried seafood platter and crab meat au gratin.
Met some Ute fans, the Shephard family from Utah. They liked the fact that in SEC country there are a lot of Ute fans. LSU and Auburn fans are cheering against 'Bama because of Nick Saban and the rivalries. They also found amusing that some of the knock off Ute shirts had Utah playing in the WAC.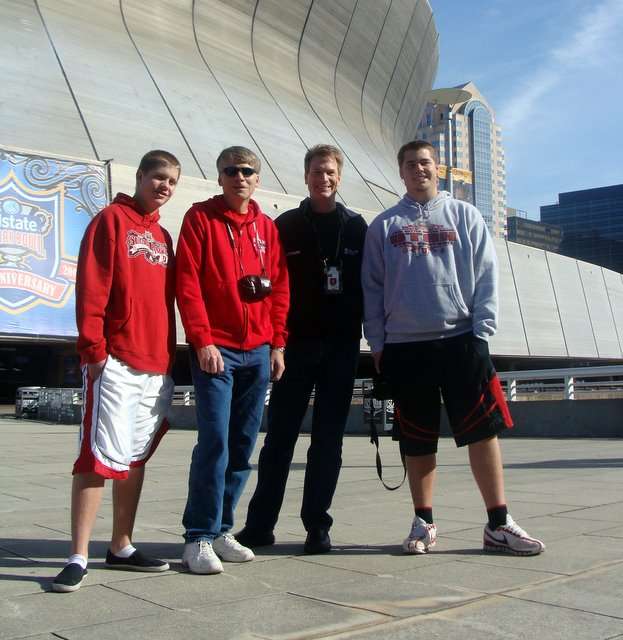 Wednesday brought the Utes into the Superdome, first practice in it since they got here Saturday. They haven't played in a dome since 1990. MWC Coach of the year Kyle Whittingham talked about the greatest value in getting a chance to practice in such a huge, cavernous football facility was for kicker, punter and skill players getting a feel for the lights and conditions inside in the dome. MWC Offensive Player of the Year Brian Johnson's looking forward to attacking Alabama's 3-4 base defense that won't do much disguising. The Tide will play lot of nickel and dime packages.
Just try to beat you up front and work to wear you down. All-MWC DB Sean Smith is sick of all the over-the-top praise of Alabama's size, speed and strength. He thinks the Utes can match the Tide in every way. All- MWC Defensive end Paul Kruger entertained us talk of Alabama's QB with three names...John Parker Wilson "who uses 3 names in college football? He says "Paul Christian Kruger wants to get a couple of sacks on the QB with 3 names."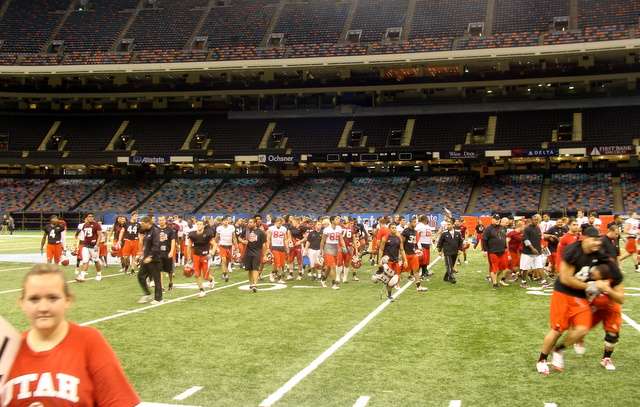 And wait till you hear what Kruger says about tonight's New Year's Eve celebration (that story coming up Eyewitness News at 10).
Also MWC Special Teams Player of the Year Louie Sakoda talked about the significance of the seniors' final practice in the 'Dome' how emotional it was with it being their last game and the enormity of the event. .
Headed over to Utah's pep rally right now...pictures and insights on that and New Year's Eve in New Orleans coming up later tonight in my next blog...
Au revoir from the French Quarter...the Tide's rolling Utah's way right now!
×
Photos
Most recent Utah stories