Estimated read time: 3-4 minutes
SALT LAKE CITY — Utah Rep. John Curtis contends that outdoor recreation is an "ever-growing industry."
That's evident by the millions of people who visit national parks and other natural wonders every year. It helped boost state tourism to a record $10.56 billion spending in 2021. It's partially why he is supporting a new bill aimed at guaranteeing "responsible access to rock climbing in (a) designated wilderness" on federal land is kept for years to come.
"Ensuring access to these lands is vital not just for our economy but also to ensure the millions of Americans who enjoy rock climbing can fully explore our nation's national treasures," Curtis said Tuesday.
Climbing Magazine reports that there has been a growing number of federal land managers who have considered banning rock climbing in certain parks and other designated lands over the past year.
Curtis and Rep. Joe Neguse, D-Colorado, co-introduced the bipartisan Protect America's Rock Climbing Act in response. The bill would "reiterate Congress' intent for climbing to be an activity allowable and compatible with wilderness designations" as a part of the Wilderness Act of 1964.
In addition, it would require that public notice and comment are taken before any "significant action" tied to climbing access to federally-managed wilderness. The legislation would also allow agencies to have emergency authority when there are "time-sensitive actions" needed to protect natural resources or public health and safety.
"By requiring additional agency guidance on climbing management, we are taking steps to protect our climbers and the spaces in which they recreate," Neguse added, in a statement.
The proposed legislation was partly written by the Colorado-based rock climbing advocacy nonprofit Access Fund. Executive Director Chris Winter said the group is "thrilled" to participate in the bill, which he believes will preserve rock climbing access.
Seasonal rock climbing closures
Meanwhile, federal land managers recently announced some wildlife-related rock climbing closures this spring.
The Bureau of Land Management named 11 spots in southeast Utah that will be closed because of possible raptor nesting in the spring and summer. Climbers, campers and hikers are asked to avoid the following:
The Wall
Far Side
The Meat Walls
Cliffs of Insanity
Public Service Wall
Disappointment Cliffs
Fin Wall
Broken Tooth
Cat Wall
Slug Wall
Reservoir Wall
The closures, which began last week, could last through late August, depending on nesting activity.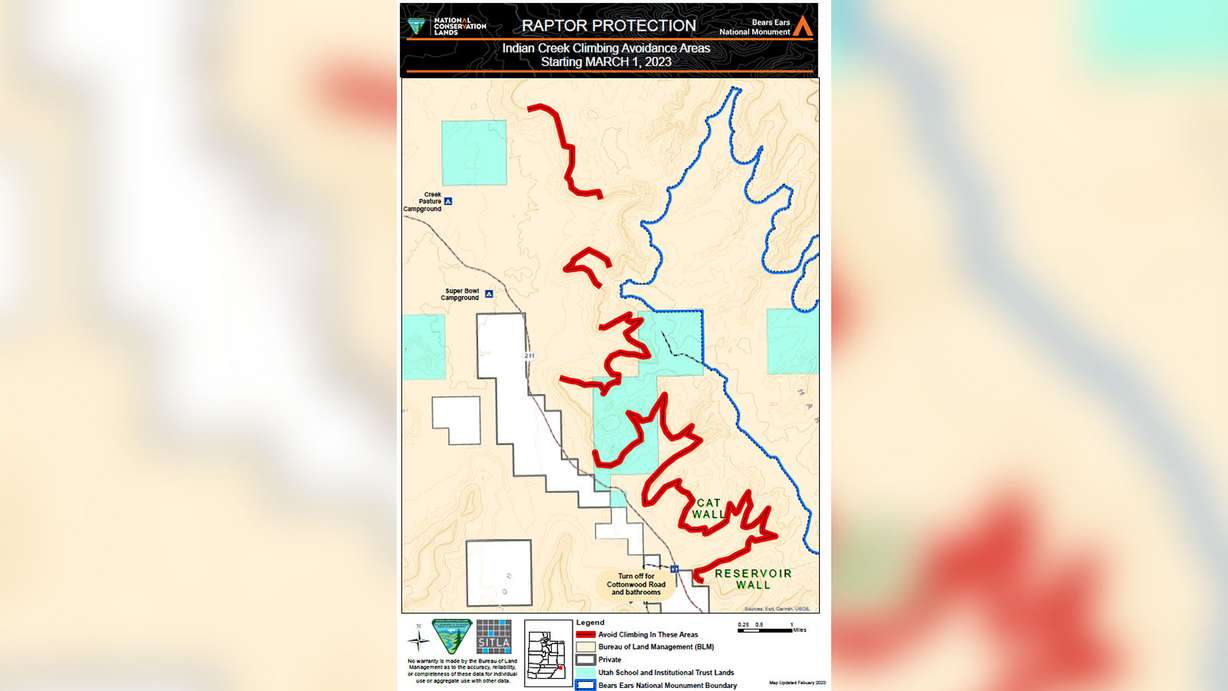 "These avoidance areas and time frames serve an important role in protecting the Bears Ears landscape, including these raptors. Everyone working together will help ensure (the) survival of young birds in Indian Creek," Jacob Palma, the bureau's Monticello field office manager, said in a Feb. 27 statement.
Zion National Park also announced a dozen seasonal climbing closures that remain in effect until biologists deem there is no impact on raptor nesting in the selected areas. Those routes are:
Angels Landing (closure does not affect the hiking route)
Cable Mountain
The Great White Throne
Isaac (in Court of the Patriarchs)
The Sentinel
Mountain of the Sun
North Twin Brother
Tunnel Wall
The East Temple
Mount Spry
The Streaked Wall
Mount Kinesava
The park is a popular nesting spot for California condors and peregrine falcons. The breeding season can range from late spring to summer, which is possibly how long the closures will last.
×
Most recent Outdoors stories