Estimated read time: 5-6 minutes
PROVO — Gideon George has taken 646 shots during his career with BYU men's basketball since arriving before the 2020-21 season from New Mexico Junior College — with varying degrees of success for the 42% shooter.
There's one that he doesn't regret taking, though.
That was the night he sent a direct message to his now-wife, Jessica, on Instagram — a message he says she didn't return for a full year.
When she finally did, after the Cougars' Midnight Madness event in 2021 that included a charity shoe drive for children in his native Nigeria, the rest became history. The couple was married in December, midway through George's final season of college basketball.
At least this time, George shot his shot — and it worked out, even if it took more than a year.
"I did, and it worked for me. I'm glad," he said with a laugh. "I suck at (dating). But just try to be a good man, no matter what, and you'll treat your woman right."
George will play his final regular-season home game Saturday night at the Marriott Center, when the Cougars host San Francisco (8 p.m. MST, ESPNU) in BYU's final game in West Coast Conference play before jumping to the Big 12.
And though the season has gone as well as the 6-foot-6 wing, who averaged 10.7 points, 5.9 rebounds and 1.3 assists per game would have liked — as well for the 16-14 Cougars who are 6-9 in WCC play — George has learned a few invaluable lessons along the way.
"It's far from my expectations. But sometimes you get these huge expectations for yourself, and they aren't going to go the right way," he said. "You just have to find a way to get better, no matter what situation you are in. Unfortunately, this is not what I planned before the season as far as the goals for the team and me individually. But we'll just keep going and keep getting better every day."
George will be one of two seniors honored during a senior night ceremony Saturday, though neither started their career at BYU. The other is point guard Rudi Williams, the 6-foot-2 Coastal Carolina transfer who has been a key leader on the team, averaging 12.4 points, 2.7 rebounds and 2.7 assists per game while coming off the bench in all but nine of the 30 games played this season.
And though both had limited time in the program, both will be remembered for years to come, head coach Mark Pope said.
"Gideon has been incredible here," Pope said. "He's been an every day guy, in terms of him coming in and trying to give energy. He's grown so staggeringly much, and as a basketball player least of all. How he's changed as a human being is just incredible.
"And I'll talk about Rudi for the next 20 years as a coach," Pope later added about the point guard. "He's done something really remarkable here. His willingness to make this team-first. ... I don't know if I've ever seen anything like it. His growth has been incredible."
Like George, Williams' final season of college basketball hasn't gone as he expected. But there's little he regrets about transferring for his final season that included "crazy bright moments" like a nine-game winning streak, as well as the downs like the Cougars' current four-game losing skid.
"Honestly, it's not what I expected when I committed here," he said. "But things don't always go the way they are supposed to, and that's kind of been my life. It's helped me in a sort of way, because it's helped me get to where I am at right now. I'm truly grateful for it."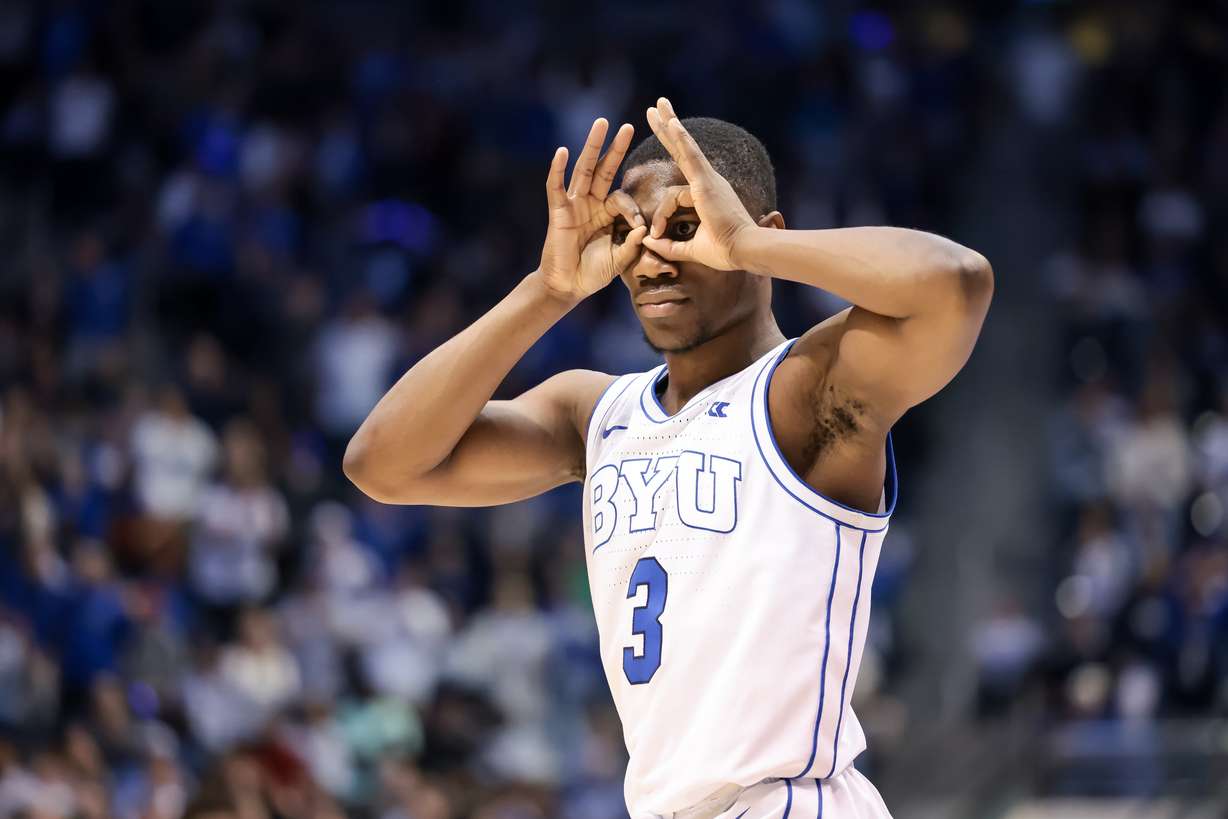 Williams' basketball career has been varied ever since the 6-foot-2 native of Hamilton, Ontario, first signed with Northeastern Oklahoma A&M. The NJCAA second-team All-American recorded 24 double-doubles and six triple-doubles before signing at Kansas State, where he averaged just 4.8 points per game in his only season with the Wildcats.
After erupting in his lone season at Coastal Carolina, scoring 14.7 points on 50.9% shooting in 33 games (including 26 starts), Williams opted for a move from Conway, South Carolina, to Provo for his final season of college basketball.
Williams spoke highly about learning to be grateful — even with a sub-.500 record in conference play that the Cougars experienced. But one thing for which he expressed gratitude was the Marriott Center crowd.
The 19,000-seat capacity arena has averaged 13,992 fans per game, a top-15 mark nationally. And for Williams, that was "everything I've always wanted" when he first committed to the program a year ago.
"As a kid growing up, you've always wanted to play in front of big crowds and sold-out crowds. And throughout my college career, I just never got to do that," Williams said. "When I came into Division I, it was the COVID year, playing in empty arenas. My second year, I went to a smaller school, and didn't get that full college experience.
"So for my last year, that was something I was looking for when I was deciding where I was going to go. I saw the Marriott Center, watched a few BYU games before I got here, and I was like, 'I need to play in this.' It's been everything I've always wanted."
How to watch, stream, listen
BYU (16-14, 6-9 WCC) vs. San Francisco (17-12, 6-8 WCC)
Marriott Center, Provo
Tipoff: 8 p.m. MST
TV: ESPNU
Streaming: WatchESPN
Radio: BYU Radio Sirius XM 143, KSL 102.7 FM/1160 AM
Series: BYU leads, 18-8
×
Most recent BYU Basketball stories