Estimated read time: 5-6 minutes
PROVO — Survive and advance.
Two NCAA Tournament teams met 1,558 miles away in Provo on Tuesday night, and the result was about as expected.
Never mind that it came nearly nine months later; the Cougars learned a thing or two from that oft-repeated mantra of March.
Alex Barcello scored 24 points — 14 of them from the free-throw line —to go along with four assists, and Spencer Johnson added 13 points on 4-of-6 shooting off the bench to help BYU survive upstart Cleveland State 69-59 in the season opener for both teams at the Marriott Center.
Fousseyni Traore added 5 points, eight rebounds and three blocks, and Caleb Lohner added 7 points and nine rebounds for the Cougars (1-0), who outrebounded the Vikings 41-31.
Clinging to a 4-point lead with just over three minutes remaining, Barcello hit back-to-back shots to end a 2:16 scoring drought — and Johnson's block on the other end with a pair of free throws helped the Cougars survive.
"A couple of my teammates came to me and told me to make a big play," the senior point guard said. "I just feel really thankful to have teammates that believe in me as a player, and I believe in each one of them. We have such a great group of guys, such highly talented guys, and we're continuing to try to build our chemistry.
"We're not perfect; we saw that tonight. But we're going to try to keep building that trust. … I realized I had a mismatch and just had to attack."
6 seconds on the shot clock? @AlexBarcello23 is your man.#BYUhoops | #GoCougspic.twitter.com/vperRvzsgr

— BYUtv Sports (@byutvsports) November 10, 2021
Torrey Patton had 14 points and four rebounds to lead Cleveland State (0-1), which was coming off a Horizon League tournament title and picked to finish first in the league in 2021-22. Broc Finstuen added 11 points, including a clutch 3-pointer that tied the game midway through the second half that never allowed the Cougars to pull away.
BYU only trailed for 54 seconds of the 40-minute season opener, but never led by more than 10 — and more often in single digits. It was exactly what the Cougars needed, head coach Mark Pope said.
"This is a championship team. It's why we got them; they're terrifying," Pope said. "They won their league, they won their tournament, they have every single one back and added two big-time shooters to their roster. They're coached by an up-and-coming superstar in the coaching ranks. They believe they are going to win every single game.
"They're a super disruptive team and a team that is really hard to face early in the season when you're still trying to figure out who you are. For all those reasons, this was a huge win for us against a terrific team."
The Vikings used their press defense to perfection all night, forcing 14 turnovers and scoring 14 points off those takeaways. But BYU used its superior size, outrebounding the Horizon League favorites 31-10 on the Cougars' defensive glass with a lineup missing Richard Harward (illness) and with Gavin Baxter still on minutes restriction (knee).
Baxter finished with 2 points, a blocked shot and an assist in 16 minutes, but it was Traore and Gideon George who kept the Vikings off the glass. George added 3 points, seven rebounds, two assists and a block for the Cougars.
BYU shot 50% from the field in the first half and took a 34-27 halftime lead on Te'Jon Lucas' reverse layup just before the buzzer.
.@too_smoove23 goes up and under through traffic to close out the half 🤯#BYUhoops | #GoCougspic.twitter.com/7wyG9m0UcM

— BYUtv Sports (@byutvsports) November 10, 2021
But Cleveland State didn't go away.
The Vikings pulled within two, 38-36, on a 9-4 spurt out of the half. Cleveland State then pulled within one, 40-39, on Finstuen's 3-pointer with 14:58 on the clock, and tied the game at 44-44 on Jayson Woodrich's triple with 11:59 to go.
The Vikings took a brief lead — about 15 seconds after Deante Johnson's drive with 11:26 left.
That set up Barcello's big run, who scored 15 points in the final 11 minutes while BYU held Cleveland State to one field goal in the final 4:26 to seal the win.
Barcello was there to finish off the job.
"This was a really fun matchup; you have two incredibly veteran, highly-skilled jobs to take on one of the most disruptive teams in college basketball," Pope said, referring to Barcello and Lucas, who finished with 5 points, three rebounds and three assists as the Milwaukee transfer re-introduced himself to Cleveland State. "Those two forces going against each other, and a great rebounding team against the middle of our rotation of Caleb, Gideon, Seneca, Gavin and Fouss; it was a great matchup.
"And this Alex Barcello is a star. He's one of six returning All-Americans in the country. He's shown us over and over again that he's got some moxy and some juice on the floor."
Harward out indefinitely
Sitting on the bench in street clothes, with a big question mark hanging over his head of his return, was Richard Harward.
The senior center was supposed to be in the starting lineup Tuesday but was left questionable after going down with an apparent knee injury in BYU's exhibition win over Colorado Christian last week.
Over the weekend, things got worse. The 6-foot-11 center from Orem hasn't been ruled out for the season, but Pope doesn't know when — or if — he'll return from what the program is calling a "cardiovascular issue."
"It's a huge blow to our team," Pope said. "He is going to be out for at least a little while. Every week, he'll check back in and see how he does.
"It's super devastating for him. He's in the best shape of his life and was an emotional leader for this team for the last two years. His emotional leadership is an even bigger loss than his body on the floor. We're going to miss him, and we're hoping to get him back. We just don't know if it will be days, weeks or months. We're super hopeful it will be soon."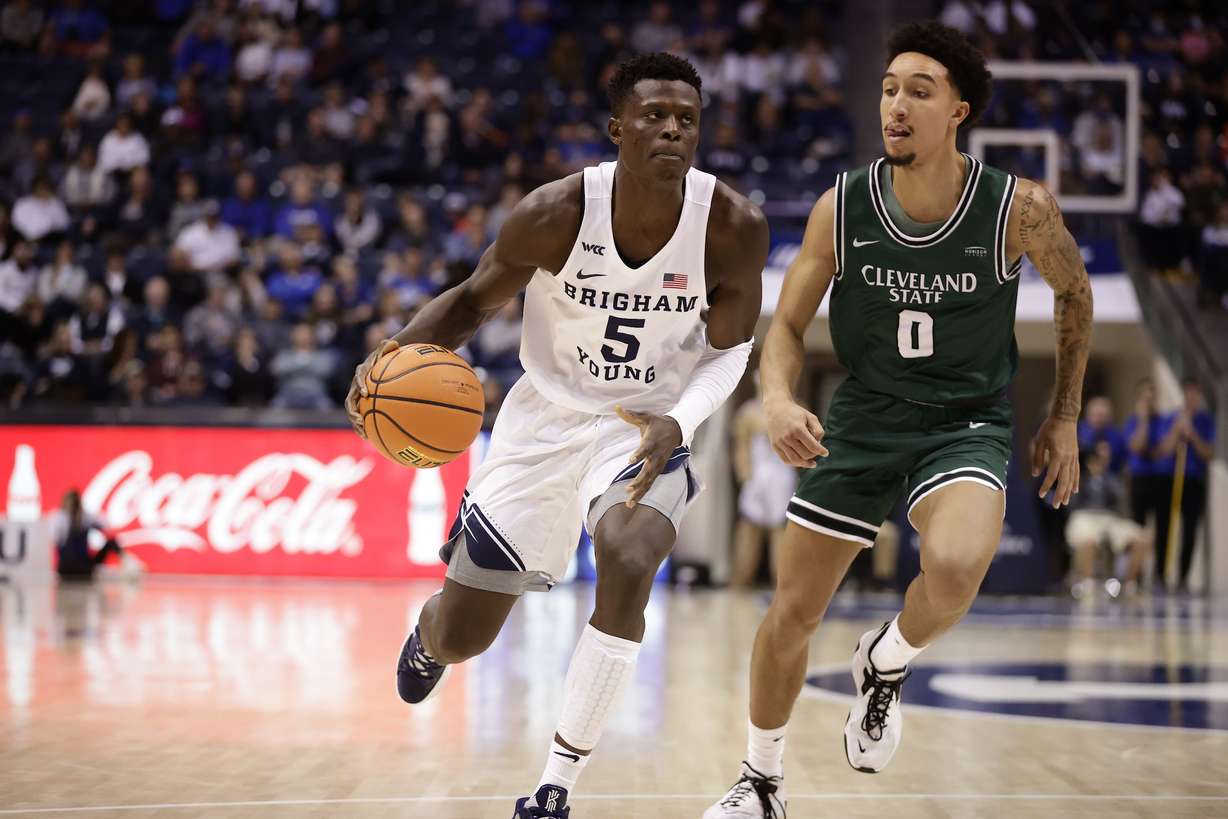 Shoe drive
Friday's home game against San Diego State will be extra special for George, the junior college transfer from Minna, Nigeria, in his second season with the Cougars.
In addition to rekindling a former Mountain West rivalry (7 p.m. MT, BYUtv), George is partnering with Timeout for Africa and BYU's global supply chain management program on a shoe drive.
Fans can bring new and gently used shoes to dedicated boxes that will be distributed around the Marriott Center entrances Friday before being boxed up and sent to children in George's home country.
×
Photos
Related Stories