PROVO — On Gideon George's first day at New Mexico Junior College, he looked out at the acres of southwestern United States desert in Hobbs, New Mexico.
Basketball coach Luke Adams looked at his new recruit from Minna, Nigeria, who hadn't slept since getting off a plane in Dallas, nearly six hours prior through what Adams described as the "middle of nowhere."
As the vehicle was pulling on to campus, Adams spotted a few rabbits.
"Gideon," he inquired, "are there rabbits in Nigeria?"
"Yes coach," the 6-foot-6 forward replied, then flashed a grin, "Good meat."
"Gideon," Adams said, "no rabbits on the grill."
The two started laughing, and to this day, George has yet to eat any of the rabbits that frequent Hobbs, New Mexico, a 34,000-person hamlet in the southeast corner of the Land of Enchantment, next to the Texas border and a 109-mile drive to Adams' alma mater Texas Tech.
But George had a lot to learn about America — its food, its customs, and even its basketball, the reason for which he applied for a visa from the U.S. embassy six times before finally being accepted for overseas travel.
One thing George didn't have to learn was his sense of humor, or his ability to connect with other people. He has that in spades.
"He's a genuine kid with the purest heart," Adams said. "He feels bad if he has to ask for anything, even a ride to go somewhere. He literally feels bad.
"He doesn't like to ask for favors. He's such an unselfish person."
Gideon George is the newest member of the BYU men's basketball program, one of a handful of new additions tasked with replacing the seven-member senior class of head coach Mark Pope's first season in Provo.
But to get to know the 6-foot-6 forward on BYU's upcoming monstrous front line, you have to get to know the place where he came from. Not just Minna, Nigeria, but the small New Mexico village that took him in, and a roster that includes a half-dozen international players from Africa, South America, Europe and the Middle East.
***
George probably never would have found basketball were it not for his brother Samson, a 6-foot-7 forward who most recently played for Pitt. The son of Andrew and Angela George sent the younger brother to a basketball camp one day to retrieve his sibling, but instead of sending him home, coaches rolled out another ball and immediately began putting Gideon through his own drills.
They immediately saw the potential.
At 6-foot-6 with a 6-foot-10 wingspan, George averaged 14.5 points and 8.0 rebounds on 50.8% shooting as a sophomore at New Mexico, when he earned All-Western Junior College Athletic Conference and All-Region V first-team honors.
"Gideon George is an elite athlete," Pope said. "But he is such a beautiful human being. He's so genuine, and so intelligent. He has such a big heart, and he's really dedicated to his family and his community in Nigeria.
"But he's also a freak athlete."
His hand size is comparable to Kawhi Leonard, and George himself admits he patterns his own game after the former San Diego State star.
But his best attribute on a basketball court may be his defense.
"The best thing he does is take charges," Adams said of George, who frequently could step from the 3-point line to the basket with one spin move. "One game, he took seven charges — the refs had to give him a block because they got sick of calling them. He'll sacrifice his body at any time."
---
Gideon George is an elite athlete. But he is such a beautiful human being. He's so genuine, and so intelligent. He has such a big heart, and he's really dedicated to his family and his community in Nigeria. But he's also a freak athlete,
–- BYU basketball coach Mark Pope
---
***
George knew nothing about the religious university owned and operated by The Church of Jesus Christ of Latter-day Saints before Pope and assistant coach Chris Burgess reached out to him as a recruit.
"I knew nothing about BYU," he told BYUtv. "I asked a lot of questions of Coach Pope and Coach Burgess, and my teammates, too.
"I googled 'BYU' a lot."
That's a common sentiment for the West Africa native.
"I never heard about New Mexico in my life, either," he said. "I was like, 'there's a New Mexico … in America?' I had no idea."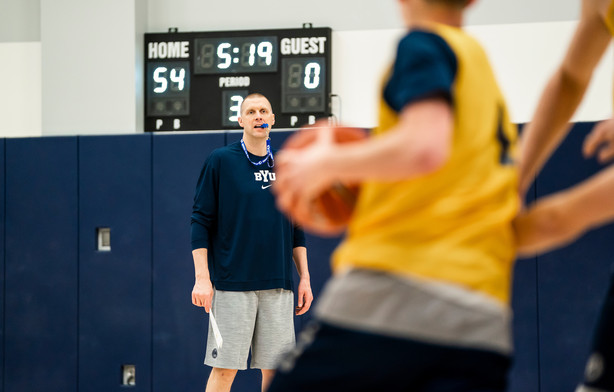 But if the native of Minna, Nigeria, (pop. 304,113) ever felt out of place in Hobbs, he only had to look around him. His basketball team consisted of players from the Democratic Republic of the Congo; Ponta Grossa, Brazil; Dublin, Ireland; Paris, France; and Tehran, Iran.
Like George, each of Jerry N'sabwa, Joao Camargo, Matt Treacy, Malick Gueye, and Mohammed Jafari were trying to navigate life as an international student in America. For some, that included new languages. For others, it simply involved new customs or new academic structures was all the adjustment required.
The international diversity is even more apparent on New Mexico's track and cross country teams, and the new baseball team includes six players who hail from the Dominican Republic.
And most of the international players called the Thunderbirds first.
"We haven't tried to get a ton of internationals, but these guys have been a great fit for what we have," Adams said.
"We can usually beat out any program when it comes to recruiting internationals."
Adams and his other coaches do little traveling for international prospects. In basketball, they work closely with JUCO Advocate — the same international service that brought George to Hobbs and later to Provo — and conduct a lot of their recruiting via Zoom and other video conference software.
Academically, the fit is better because New Mexico Junior College is more lenient on some of its entrance exams. For example, the school doesn't require a TOEFL score, the test that gauges a prospective student's aptitude in English via reading, listening, speaking and writing.
Athletically, each international student also only requires one scholarship spot, compared to the two required at most other two-year programs.
Then there's the support staff.
"It's an exciting time for New Mexico, with a $20 million locker room and lobby area, and a new practice gym," Adams said. "It's really going to be a big-time spot."
New Mexico Junior College prospects, both international and domestic, aren't there to stop progressing after JUCO athletics. George and the Thunderbirds' basketball program are no different. In that regard, Adams and his staff have been successful in just two years in Hobbs. NMJC isn't the end destination for most current and prospect athletes.
"Our campus is really nice — a lot nicer than people may think," Adams said. "But we try to be honest with them; if you want to go to a school that has a lot to do around campus, you might want to go somewhere else.
"We really try to get guys who fit us, who are serious guys and want to be in the gym on a Saturday night — because that's where I'm at on a Saturday night …. It's a really good spot for those guys."
Adams, a Texas Tech product, and assistant coach Michael Nesbitt (New Mexico) both played high-level Division I basketball — and both saw the same potential in George and his teammates.
Besides George, Keaton Hervey signed with Missouri State, Terence Lewis opted for North Texas, and Matthew Strange (West Alabama) and Matt Treacy (Valdosta State) both opted for a pair of high-end Division II programs.
"If you coach them hard in the beginning and give them good habits, they buy into it and see their improvement," Adams said. "Once that happens, they get hooked and they love the process to get closer to their goal."
What attracted George to BYU, though, wasn't just the basketball.
It was the players.
"I saw the way they interacted with each other, their relationship, the way they loved each other," said George, who also had offers from Kent State and Weber State. "I was like, yeah, that's the spot that fits me."
×
Related Stories