Estimated read time: 4-5 minutes
PROVO — BYU's first schedule as a member of the Big 12 Conference will include a former conference rival and even more new connections.
The Big 12 released the schedules for each of its 14 teams for the 2023 season Tuesday afternoon, ensuring that the league will play as 14 members for at least one year. Texas and Oklahoma are scheduled to depart to the Southeastern Conference by at least 2025, but for now, the Sooners and Longhorns will take their spot on the primarily Texas-based league that has expanded across three time zones.
Both found their way onto the Cougars' inaugural conference schedule, one at home and one on the road.
"We are very excited to get started with a new era of BYU football," BYU athletic director Tom Holmoe said in a statement. "The 2023 football schedule provides us with some great matchups. We are excited to welcome teams we've never had at LaVell Edwards Stadium before and also travel to new venues we've never visited.
"With the challenge of weaving in four new teams into an unprecedented 14-team Big 12 schedule, we're thankful for how deliberate the conference has been in the development and release of this schedule. We can't wait for the season to get going and for Cougar Nation to experience Big 12 football here in Provo and throughout the country."
Coming off an 8-5 campaign in the final season of independence that improved its overall record to 99-56 during its decade of independence, BYU opens the season on Saturday, Sept. 2 against Football Bowl Subdivision newcomers Sam Houston State. Like the Cougars, the 2021 FCS spring national champion Bearkats are making a change in conference affiliation, joining Conference USA after moving up from the Western Athletic Conference and FCS.
Speaking of the WAC, BYU will host Southern Utah for just the second time in both programs' collective history on Sept. 9. The Thunderbirds are also scheduled to come to Provo in 2025.
BYU's first road test of the season comes on Sept. 16, when the Cougars travel to Fayetteville, Arkansas, for a clash with the Razorbacks. Arkansas is 1-0 all-time against BYU after winning the inaugural game of the series 52-35 last season at LaVell Edwards Stadium.
Then the Cougars' Power Five dreams become reality. For the first time in program history, BYU will face nine consecutive Power Five opponents as it navigates its first season outside the Group of Five and FBS independence.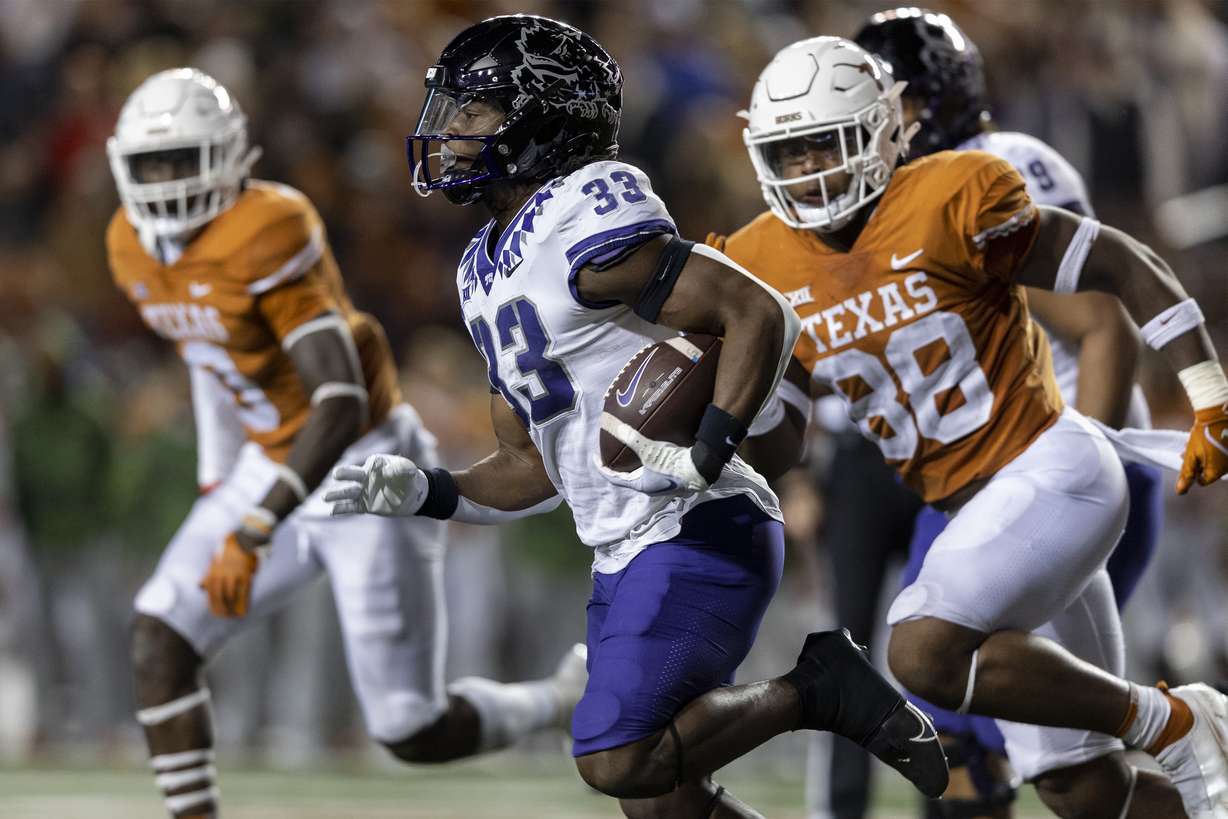 It starts on Sept. 23 with a trip to Kansas, a team BYU hasn't faced since 1992. The Cougars' home conference opener is a week later against fellow Big 12 newcomer Cincinnati.
After an Oct. 7 bye week, the Cougars will see a familiar foe on Oct. 14 when they travel to Amon G. Carter Stadium in Fort Worth, Texas, to take on TCU.
The Horned Frogs are coming off a trip to the College Football Playoff and appearance in the national championship game, but will look for answers after Heisman Trophy finalist quarterback Max Duggan (among others) are headed for the NFL draft.
Next up is a home game with Texas Tech on Oct. 21 before back-to-back road games at Texas and West Virginia.
The Cougars return home to host Iowa State on Nov. 11, before ending the season with back-to-back games against the Oklahoma schools, including the regular-season home finale Nov. 18 against Oklahoma.
Senior night against the Sooners, and what may (or may not) be the final year that Oklahoma is in the conference? Get your tickets now.
Kickoff times are yet to be determined, and television dates for the first three weeks of the season will be determined by June 1, the conference said.
"I would like to thank our fans for their patience awaiting this historic schedule," Big 12 commissioner Brett Yormark said in a statement. "Given its importance, the complexities of weaving in four new schools, adding a third time zone and ensuring alignment with key stakeholders we were very deliberate with its development.
"I look forward to another highly competitive season of Big 12 football, and to welcoming our new members and their fans into the league."
That means BYU will skip defending Big 12 champion Kansas State, Baylor and fellow Big 12 newcomers Houston and UCF in its first year in the league.
×
Most recent BYU Football stories