Estimated read time: 5-6 minutes
PROVO — Much like the last time BYU hosted a top-25 opponent in the Marriott Center, Saturday night's West Coast Conference rivalry game with Saint Mary's came down to the final shot.
Like the last time, the final shot went the way of the visitors.
Aidan Mahaney scored 10 points, including an off-balance jumper just before the buzzer, to help No. 22 Saint Mary's escape BYU with a 57-56 win in the Gaels' final trip to Provo as WCC colleagues.
Logan Johnson added 14 points, three rebounds and two assists for Saint Mary's (19-4, 8-0 WCC), and Mitchell Saxen 11 points and 10 rebounds.
But that hardest part of that entire play, per BYU coach Mark Pope? Fousseyni Traore, the standout sophomore big man who the Cougars pulled from the post to defend Mahaney, did virtually everything right in trying to defend against a tough shot.
The freshman just made a better play.
"I thought Fouss was terrific; he contained penetration, he stayed down," Pope said. "It was a really complicated matchup, and he made Mahaney take a two-feet, off-the-pivot fall-away; it's a great effort, and Fouss is twisted up because he doesn't want a great effort, but he wants a game-winning effort.
"It's so painful to think about, because we had exactly the same situation with Gonzaga. The result was the same, which is so brutal, but the execution of our guys was a thousand times better. That's what's tough: when you make a lot of progress, but end up with the same result."
Dallin Hall scored a career-high 23 points for BYU, including 1-of-2 go-ahead free throws in the final minute to give the hosts a shot. Fousseyni Traore added 11 points and eight rebounds for the Cougars (14-10, 4-5 WCC) in their third-straight loss and fourth in the last five games.
It was the third time in four games that Hall has scored in double figures. But his career-high explosion came a week after being held scoreless — and with just one shot attempt — in 11 minutes of an 82-74 loss at San Francisco.
One week later, the former Fremont High star and one-time Gatorade Utah Player of the Year refused to let one bad game define him.
"Dallin didn't have a great week this last week. It was a really hard week for him, but he has championship insides, pedigree, and the way he came back to Provo with a fire in his eyes," Pope said of his freshman point guard.
"He came in on Monday and had a fire in his eyes and a determination to refuse to let that week define him. That manifested itself in many positive ways tonight. His resolve, commitment, and his obsession with getting better were really spectacular. He's carrying a lot on his shoulders, and he certainly was great tonight."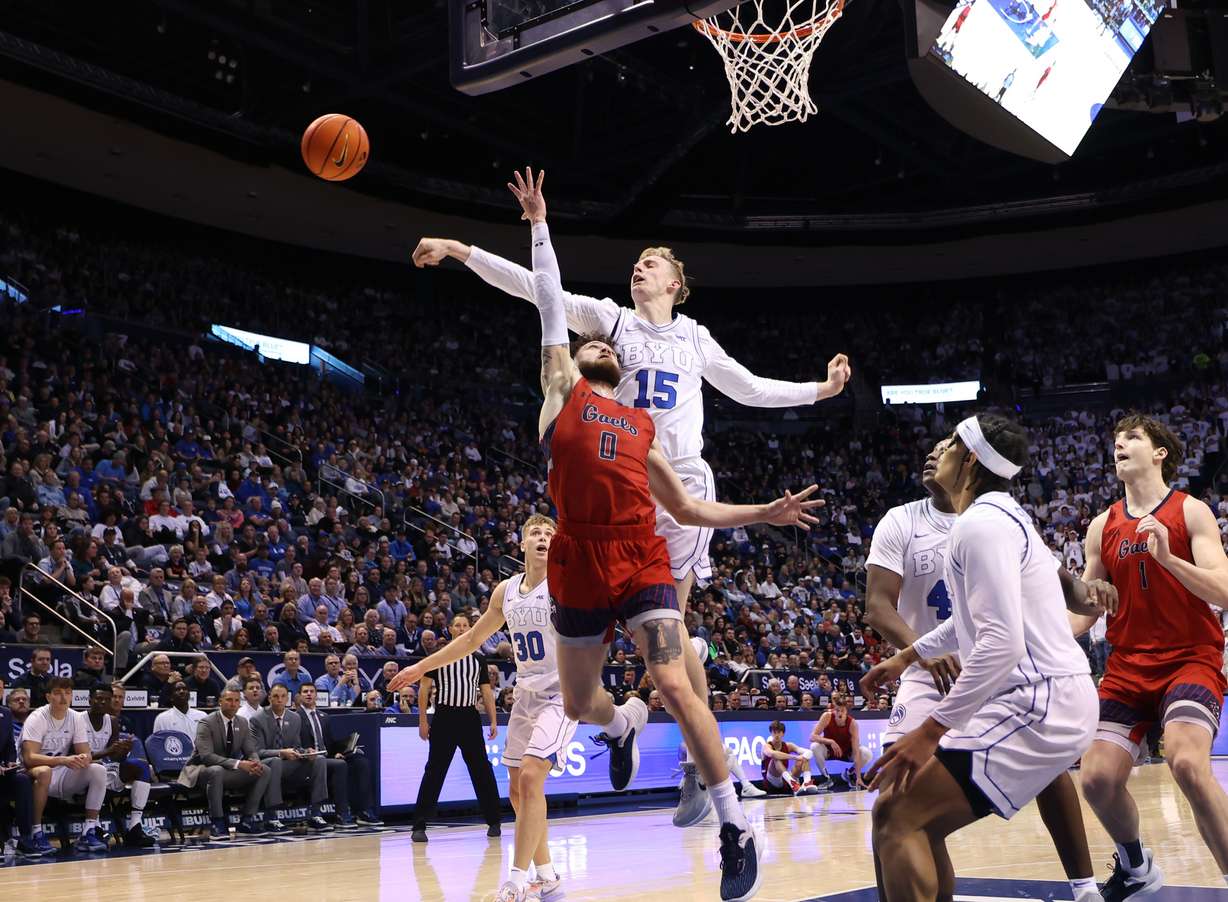 BYU's uphill climb against a top-25 program was already made difficult a few hours before tipoff when it was revealed that Jaxson Robinson, Atiki Ally Atiki and Noah Waterman would not be available except on the bench in street clothes after breaking team rules.
That thrust freshman Richie Saunders into the starting lineup for the first time since Dec. 7 against Utah Valley. All three players are expected to return next Thursday against Loyola Marymount, Pope told the BYU Radio pregame show. The coach declined to address the matter with reporters after the game.
But after a forgettable opening 12 minutes, when BYU trailed by as much as 11, the Cougars just needed a chance — and Hall put on his Superman cape to oblige.
The freshman from Plain City shot 9-of-14 from the field, including a pair of 3-pointers, and 3-of-6 from the free-throw line for a BYU squad that shot just 6-of-10 from the free-throw line and 6-of-18 from beyond the arc.
Hall tied up the game at 19-all after an 11-0 run with 4:16 left in the half, scoring 11 points while the Cougars held Saint Mary's to one field goal in the final 8:32 to take a 25-25 stalemate into the locker room.
He continued to produce in the second half but so did the Gaels, who converted on 8 of their first 16 attempts en route to a 4-point lead. Gideon George cut the deficit to 43-41 on a 3-pointer with 9:19 remaining, but Saint Mary's never panicked and didn't trail until Hall found Johnson on the left elbow to cap a 9-0 run with 3:32 to go.
The drag-down, knock-out slug fest ensued into the final minute, when Mahaney missed an ambitious 3-point attempt from the top of the key that gave BYU a final look with 41 seconds to go. Hall made 1-of-2 free throws on the other end to give the Cougars a short lead.
But Mahaney's last-second heroics, a turnaround jumper with 0.3 seconds left, kept the Gaels unbeaten in conference play.
"In terms of execution, I thought the guys did an unbelievable job," Pope said. "Saint Mary's is No. 2 in the country in not allowing assisted field goals, so when you get into a downhill drive, or ball screen offense they're going to fly to shooter because they don't allow shots.
"Dallin took what they give and he probably did it better than any guard that I've had in the four years that I've been the coach here. He took advantage of how they force you to play."
×
Photos
Most recent BYU Basketball stories