Estimated read time: 4-5 minutes
PROVO — BYU's final home game with Gonzaga as members of the West Coast Conference turned into another classic.
Did you expect anything less?
Drew Timme had 19 points and 13 rebounds, and Julian Strawther nailed a 3-pointer with less than 10 seconds remaining in the game as No. 8 Gonzaga rallied from down by 10 points in the second half to edge the Cougars 75-74 in front of a sold-out crowd of 18,987 fans Thursday night in the Marriott Center.
Spencer Johnson had 18 points, six rebounds and five steals to lead BYU (13-7, 3-2 WCC), and Jaxson Robinson and Gideon George added 17 points apiece.
Anton Watson had 18 points and eight rebounds for Gonzaga (15-3, 4-0 WCC), which won its 35th-straight game in the month of January that extends over multiple seasons.
Watson had just 4 points in the second half, but was a menace on the defensive end, including stuffing Johnson's off-balance 3-point attempt in the closing seconds that would've won it for BYU. The junior veteran's attempts to drive on the left elbow were pushed aside by the 6-foot-8 post from Gonzaga Prep, and the Zags survived a third straight game decided by 5 points or less.
"Anton was good; Anton was making plays, including that last one at the end. It was all Anton," said Gonzaga coach Mark Few, whose team outrebounded BYU 47-32. "Nine seconds is a long time, and he did a good job of bottling him up. That was Anton; he was really, really good.
"We missed a lot of shots that we don't normally miss. BYU's physicality, they're intensity on the perimeter; their guards did a great job pressuring us out. Johnson was doing a great job for them. ... It was a good front court for most of the game, and then I thought the back court had some moments."
On the final play, BYU coach Mark Pope complemented Johnson for "making a really nice adjustment" after the initial play broke down. But Watson and the Gonzaga defense was too much to overcome.
"It was a terrific defensive play by Watson, who is a terrific defender," Pope added. "It was a late-game play that definitely won it on the defensive end."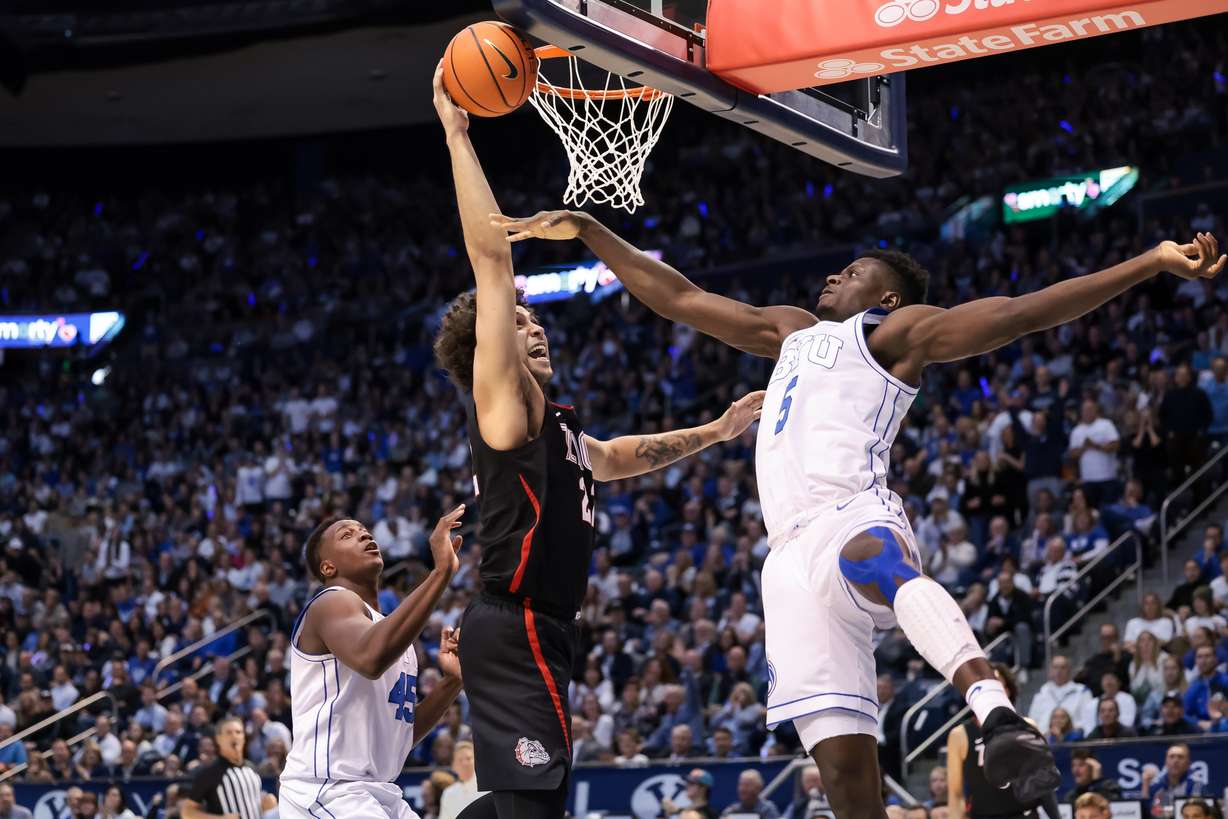 Johnson and Robinson lit up the gym from 3-point range in the second half and combined for eight total 3-pointers for a BYU team that shot 8-of-16 from deep and led by as much as 10 in the second half. The two teams combined to make just 2-of-14 to open the second half, but Robinson nailed back-to-back 3s to tie the game at 48-all with 14:24 to go, and BYU was off and running.
Johnson and Robinson combined for five 3-pointers to take a 54-52 edge midway through the second half. Robinson's 3-pointer gave the Cougars a team-high lead of 61-56 just under three minutes later, and George hit another triple to cap a 12-2 run to go up 66-56 with 7:28 left to play.
"We were getting a lot of them in transition, pushing the ball down the floor really hard," said Johnson, whose team scored 21 points off 16 turnovers but committed 16 turnovers of its own. "It was forcing them into rotations, and guys did a really good job of finding the open man. Jax hit some huge shots."
But these Zags don't quit. They never do.
Timme led the charge back, and Hunter Sallis reduced the deficit to 70-69 with a 3-pointer with 1:53 remaining. George tried to emphatically slam the door with an open 3-pointer out of a timeout, but former Wasatch Academy guard Nolan Hickman converted a turnover into 3 points inside of the final minute to cut the Zags' deficit to one.
Robinson added 1-of-2 free throws on the other end, but Strawther nailed a deep 3-pointer with 9.6 seconds left, and the Zags held on for the 75-74 win on Watson's defensive instincts.
One final game in Provo during BYU's decade in the WCC, and one final classic for the Zags, who improved to 24-7 all-time against BYU with a sixth-straight win dating back to Feb. 22, 2020, in Provo.
"I don't think we make Final Fours without BYU coming in our league, I just don't," Few said. "They've challenged us. ... It's been a treat to come in here and battle."
One final home game with the Zags. One final classic.
"They played their hearts out," Pope said. "We could've executed a little bit on a few plays, but I thought the guys played really hard, they were aggressive, and they wanted to run into pressure. I'm super proud of them.
"Congratulations to Gonzaga; they made the plays they had to down the stretch to win. We'll move forward, and we have a huge game Saturday."
BYU hosts Pepperdine at 7 p.m. MST Saturday.
×
Photos
Most recent BYU Basketball stories