Estimated read time: 3-4 minutes
OGDEN — Utah's impressive snowpack is great for the state's water supply outlook this year, but the deep snow depths are also posing new challenges for the struggling deer population, especially in northern Utah.
That's why Utah wildlife biologists have implemented emergency measures for the first time in six years to feed deer while reducing "repeated stress" that could negatively impact deer in the region, such as wildlife harassment.
The Utah Division of Wildlife Resources says it has enacted emergency deer feeding policy at 12 locations in Rich and Summit counties. On Friday, biologists and volunteers, including landowners, hunters and conservation groups, began feeding deer "specially formulated" pellets to make up for the natural forage buried deep beneath the snow, said Jim Christensen, the division's northern region wildlife manager.
Christensen added that the division will only use the pellets as long as it is needed. The division could expand the emergency area to other locations if conditions remain a challenge for deer. It was last implemented in 2017.
The agency still discourages residents from laying out alfalfa, grass hay or any other possible food, which can lead to serious issues.
"Deer will eat hay. But if that is their only source of feed during the winter, they can have a very difficult time digesting it. We often find dead deer with stomachs filled with hay," Christensen said, in a news release Monday. "We appreciate people wanting to help the deer, but we strongly discourage people from feeding hay or other things to deer. These are special circumstances that follow division policies, involve trained professionals and utilize specialized feed."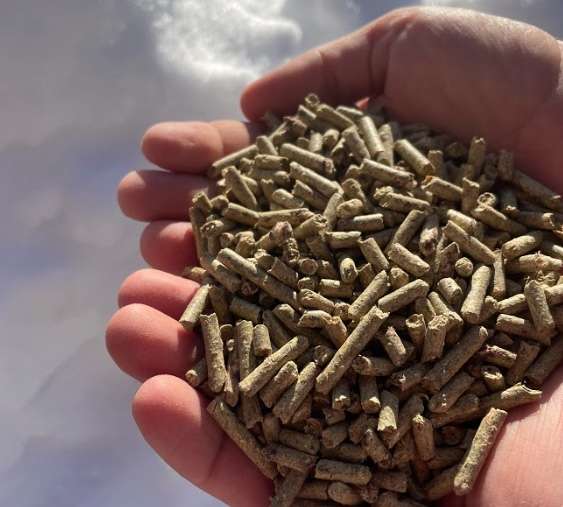 Utah's statewide mountain snowpack is currently 183% of normal for this point in the water year, which began on Oct. 1, per Natural Resources Conservation Service data. The state's northeast snowpack basins are between 150% and 197% of normal, with totals above the statewide figure. Snow depth totals also remain well above normal in the region.
This could pose new challenges for Utah's already struggling deer, says Dax Mangus, big game coordinator at the Utah Division of Wildlife Resources.
Biologists are still working on a 2023 deer population estimate, but the agency estimated there were 305,700 deer in the state in its 2022 count, nearly 100,000 short of its population goal. Officials said the state's ongoing drought is a major reason for the decline, as it depletes food and water in a natural habitat.
Winter is also a tough time for deer, as they rely heavily on fat reserves built up through any of the available food during the warmer months. Mangus explained that mule deer have learned to adapt to harsh weather for the most part, but this winter is one of the times that are "so severe" that emergency feeding is needed.
"Even with emergency feeding, we still anticipate the loss of some fawns and sick or old animals," he said.
Chronic wasting disease, a disease that impacts a deer's nervous system, is another problem affecting the deer population, which is why there won't be any emergency deer feeding in areas where the disease has been found in deer, wildlife officials said. The disease spreads from close contact among deer, which could happen by laying out pellets.
Meanwhile, agency officials added Monday that conservation officers will increase patrols in the area to reduce wildlife harassment. Wildlife interactions are more likely to happen in the coming weeks as people begin "shed hunting" for antlers.
Utah Division of Wildlife Resources Lt. David Beveridge said intentionally harassing wildlife is a class B misdemeanor, which could result in a fine of up to $1,000 and even some jail time. He added that people can report cases through the agency's hotline at 1-800-662-3337, by sending a text to 847411 or online.
×
Related stories
Most recent Outdoors stories