Estimated read time: 7-8 minutes
SALT LAKE CITY — The full Utah Senate on Friday put its stamp of approval on a trio of bills directed at LGBTQ children — the third legislative action in just three days to propel the bills through the Utah Legislature's 2023 session.
The Senate voted 21-7 to pass SB16, the bill to ban sex reassignment surgeries and place a moratorium on puberty blockers and cross-sex hormones for minors. It now heads to the Utah House of Representatives.
The Senate also voted, mostly along party lines, to pass two other bills related to LGBTQ issues: SB93, a bill to block changes to birth certificates for anyone under age 18, save for certain errors; and SB100, a bill to require schools to allow parents to access their children's education records or other information "regarding a student's gender identity that does not conform with the student's sex."
On Thursday, Utah Gov. Spencer Cox, a Republican, said he's "not planning to veto" SB16, calling it the "right bill" to tackle regulations around medical procedures for transgender children.
Children and teens who identify as transgender are much more likely to struggle with suicidal ideation. They are also more often diagnosed with depression and anxiety. Some medical professionals, as well as the American Academy of Pediatrics, say the best way to treat children and teens with gender dysphoria is to provide them with medical interventions sometimes referred to as affirming care.
The bill's sponsor, Sen. Mike Kennedy, R-Alpine, said his bill was crafted as a "firm and responsible but also compassionate response to this very complicated circumstance."
Kennedy has argued there is a lack of long-term research on the impact of these procedures and medications on children. He and the bill's proponents point to countries in Europe, like Sweden, France and England, which have recently paused or slowed the use of medical interventions while exploring long-term effects of the use of cross-sex hormones, puberty blockers and sex reassignment surgeries for minors.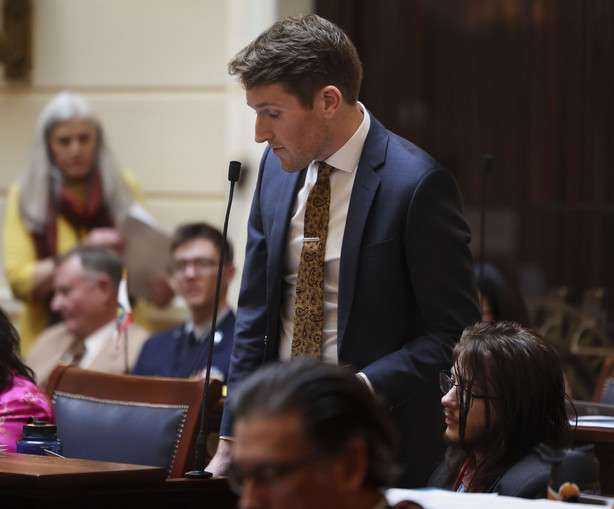 Transgender youth: 'Continue to exist'
Before voting against SB16, Sen. Nate Blouin, D-Salt Lake City, read a statement from his intern, Ari, who identifies as transgender and sat next to Blouin as he spoke on the Senate floor.
"Even before SB16 has passed the Senate, this bill has already negatively impacted my health and wellbeing and is causing adverse effects on Utah's trans community," Ari's statement read. "It is a reminder of the fact that even after being able to transition and to fit in with the rest of society that people like me are not accepted by the majority of this body."
Ari, who did not provide his last name, wrote he wouldn't wish the "constant discomfort with my body or the bullying and belittlement on anyone," and he said SB16 "does nothing but prevent people like me from living comfortably."
"I cannot tell you how many nights I stayed up, wishing I wasn't trans, contemplating whether suicide was better than continuing to live as a trans person," Ari wrote. "I would not be alive if I had not been able to transition, and I am lucky that my attempts to take my life before that time failed. Starting hormones has made my life worth living, followed closely by getting top surgery and updating my birth certificate, the last of which I did as a minor."
Ari wrote "transgender people have always existed," but for years "we did our best to hide from the vitriol we face in public, but now that we're coming out and fighting for our rights, we're seeing pushback like the bill in front of the body today that tries to deny our existence."
To anyone discouraged by the Senate's actions, "I will say this," Ari wrote. "Remember that life will get so much better if you are willing to hold on, and the best thing you can do to overcome those who try to diminish your existence is to continue to exist."
Ari told lawmakers he will "have to face each of you on this floor after this vote, and each of you will have to face me and many other transgender people after today, whether you know it or not." He added that he hopes "should someone else disclose their transgender identity to you, it's because they're comfortable with you and not because they are pleading with you to recognize their humanity."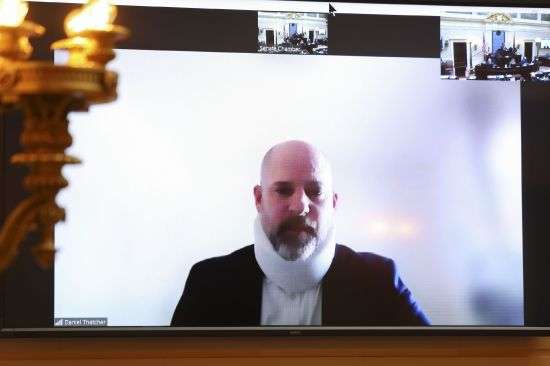 Floor debate
On Wednesday, lawmakers on the Senate Health and Human Services Committee heard personal stories of both the harm and benefits of transgender medical procedures. Parents of transgender children said they believe those treatments saved their children's lives from depression and severe suicidal thoughts.
The bill's detractors, including Sen. Daniel Thatcher, R-West Valley City, argued parents should be able to access what could be life-saving care for their children and teens who struggle with suicidal thoughts.
As a Republican, "I believe in the sacredness of life," Thatcher said before voting no on the bill.
On the floor, Kennedy said his bill seeks to provide a "regulatory framework" to ensure transgender individuals "will receive exceptional care" from medical professionals who "actually have state oversight."
Sen. Jennifer Plumb, D-Salt Lake City, a pediatric physician, said she's never had a law tell her what she specifically could or couldn't do to treat children. She also said she has "really good confidence in the data that I've reviewed" and care provided to transgender patients.
"There is a ton of thought that goes into the care for our transgender community members, especially youth," she said, adding there are requirements for therapy and best practices to look "at the whole individual and the whole family."
"It is a patient and a family and a clinician who decide ultimately what's best for a kiddo," she said.
Plumb also issued a message to anyone feeling "a little targeted and a little unloved and a little unvalidated." She called on lawmakers to make it clear "that we care. We love these kids. We love these families. We know these families love their kids."
She also called on her fellow medical community members and institutions to step into the debate. "I saw the American Academy of Pediatrics step up. I didn't see many (others) do it."
What's next?
Kennedy told reporters after the vote he expects changes to the bill in the House, though he didn't offer specifics on what kind of amendments may be coming. The bill's house sponsor is Rep. Katy Hall, R-South Ogden.
"We'll see what the House has to say," Kennedy told reporters. "Frankly, when it comes out of the House I think it will be a better bill ... I welcome the input."
House Speaker Brad Wilson, R-Kaysville, in a media availability before Friday's Senate vote, said that the House will take up SB16 while complimenting Kennedy's work on the bill, calling it "nuanced in the right way."
"I believe when we're talking about irreversible decisions that should be made slowly," Wilson said. "What (SB16) does is it gives us an opportunity to push the pause button and learn from some of these other states and countries that are actually walking back some of these policies that they've put in place until we can get better information about it."
Kennedy added that his bill, as well as SB132, a bill to provide penalties for health care providers who perform sex transition medical procedures on minors, will be heard in a House committee on Tuesday.
Asked how his belief that families should be able to choose for themselves and their children when it comes to COVID-19 vaccine mandates and requirements jibes with the goals of SB16, Kennedy told reporters "sometimes health care is in a state of flux," and some guidelines at the beginning of COVID-19 have since been "refuted as entirely wrong and more damaging than helpful."
Kennedy added there is "no regulation right now" in the area of transgender health care, and SB16 "does a great job bringing a regulatory framework so that our children are cared for in the safest most effective fashion."
He said the FDA has not authorized puberty blockers and cross-sex hormones for minors. "All of it is off-label. In that case, especially when it comes to children, the state has a right to step in."
×
Photos
Most recent Utah Legislature stories