Estimated read time: 5-6 minutes
PROVO — On the court, BYU basketball is winning. They hold a seven-game winning streak that sets a new standard for the 2022-23 season and ranks among the top 10 longest streaks in the country (with help from one of the nation's top teams Purdue taking its first loss of the season).
But off the court, the Cougars (12-5) are making just as many strides. Perhaps one of the biggest strides is health.
The Cougars are 2-0 in West Coast Conference play for just the fourth time since joining the league in 2011-12 as they tipoff Thursday against LMU (9 p.m. MST, ESPNU) at Gersten Pavilions, where BYU is 9-2 as a member of the conference.
But to truly understand the start to WCC play, it's important to rewind to the opener: a 69-49 win at Pacific that included a shaky offensive start before the return of an injured veteran stabilized the ship.
Spencer Johnson had a feeling he might see playing time when the Cougars opened league play against the Tigers, but even he was a little surprised when head coach Mark Pope turned to him by the first media timeout and said, "Let's go."
The 6-foot-5 junior wing from American Fork had missed five weeks with a knee injury — including the team's humbling losses to South Dakota and Utah Valley — before rebounding with the current win streak.
Even Pope admits he wasn't sure how Johnson would rotate into a system that included Rudi Williams starring from the bench and Fousseyni Traore being the focal point of most opponents' scouting reports.
The Cougars were playing well during a then-five game winning streak that included victories of Creighton and Utah. But on that Thursday, they needed a spark; and Johnson provided it as if he had never left, scoring 15 points with three rebounds in 21 minutes against the Tigers.
"It was hard to be injured for so long; I've never really had to miss games due to injury," said Johnson, who credited strength and conditioning coach Erick Schork and athletic trainer Rob Ramos. "They did a really good job of helping me get back, to keep up my conditioning, but also make sure I was mentally ready to get back.
"They knew they could get me ready physically, but mentally was where we really worked; so we laid out some steps and some plans where I could work on. When he called my name, I was ready to go."
When Johnson returned, BYU basketball dived into its old ways — for the better. For as much as the 11.3 points-per-game scorer boosted the team, what the veteran wing with stops at Weber State, Utah Valley and Salt Lake Community Colege provided on the defensive end was even better.
"When Spencer got hurt, we felt it," Traore said. "We need him, big-time. I always asked, when is Spence going to be back? It was hard for our team.
"Spencer was one of our most consistent guys; and defensively, we were worse. When he came back, I was so happy; he changes our game. He always brings value to our games."
For all of Pope's fears about chemistry, rotation or his junior's physical limitations in returning from a knee injury that sidelined him nine games — easily the most of his basketball career, Johnson said — those fears were assuaged quickly. He's totaled 21 and 25 minutes in his return to wins over Pacific and Portland, respectively, including 9 points, three rebounds and an assist on 4-of-6 shooting in a 71-58 win over the Pilots.
"In previous years, we've had so many guys that our guys had confidence in," Pope recalled. "This team ended up in a space where we didn't have anything that the guys or the locker room would ease their anxieties. But Spence is that for us; he puts all of the guys at ease.
"Just knowing that piece helps with everybody's confidence. He's come into this huge calming presence for us. He does a lot for this team."
Added Johnson: "I came back in stride, and I feel like I didn't miss a beat."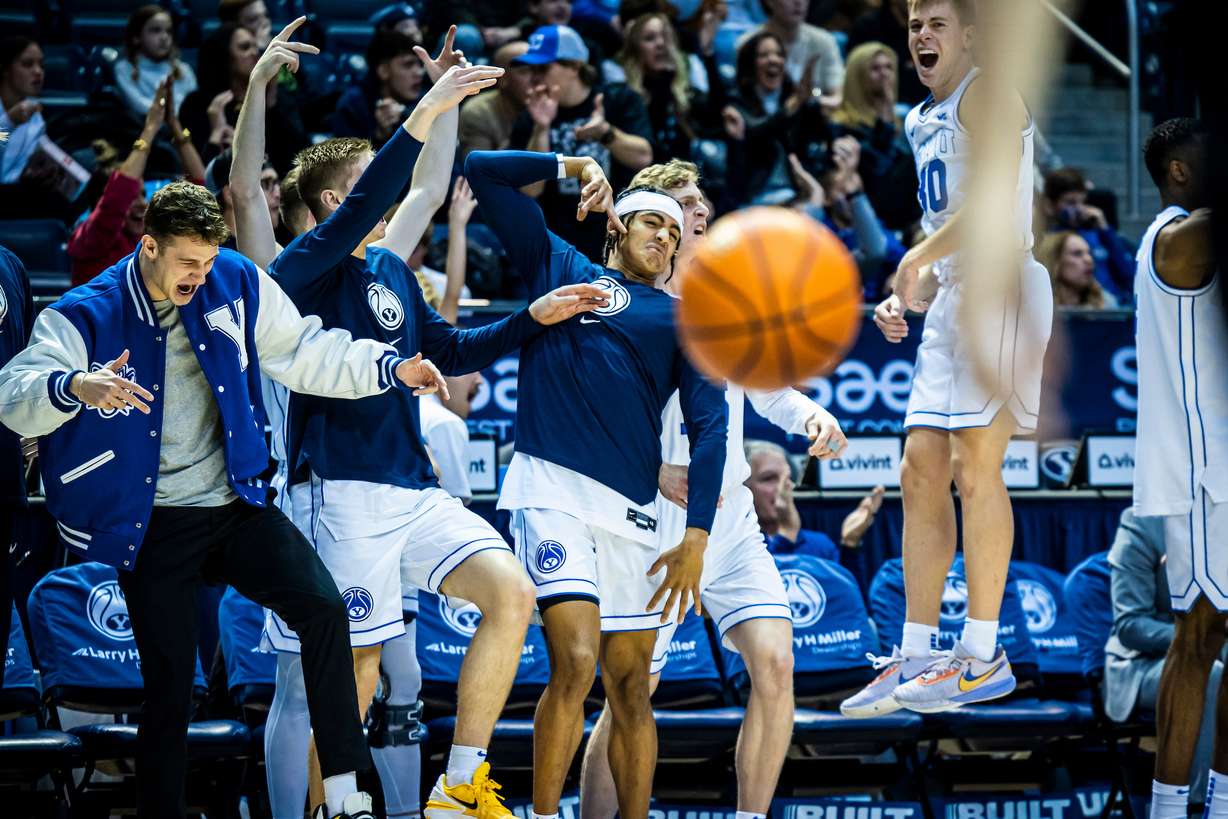 Johnson isn't the only player returning from injury, either. Trevin Knell went through his first full practice Tuesday after sitting out the entire season to date with a shoulder injury and accompanying surgery that went with it.
The return of the 6-foot-5 junior sharpshooter may not be as imminent as Johnson. But he's as close as he's ever been, Pope admitted.
"We're kind of holding our breath right now, kind of wait and see," Pope said. "I'm still telling him he isn't allowed to use his hands on defense or any of those extras. He's basically just allowed to run around and shoot."
The Woods Cross native who ranks 17th all-time at BYU in 3-point field goal percentage, and would certainly added a scoring presence with 81 games of experience, including 24 starts.
But for now, all the Cougars can do is wait, and prepare for the Lions (11-5, 1-1 WCC), with games to follow at San Diego before a top-10 tilt next Thursday against No. 9 Gonzaga.
First, though: LMU.
"They're big, they're physical," Johnson said. "They have some dudes who have been there for a couple of years and know their systems. They push it really hard in transition, so we know we have to rebound and push it in transition."
How to watch, stream and listen
BYU (12-5, 2-0 WCC) vs. Loyola Marymount (11-5, 11-1)
Thursday, Jan. 5
Gersten Pavilion, Los Angeles
Tipoff: 9 p.m. MST
TV: ESPNU
Streaming: WatchESPN
Radio: BYU Radio Sirius XM 143, KSL 102.7 FM/1160 AM
Series: BYU leads, 22-5
×
Photos
Most recent BYU Basketball stories