Estimated read time: 5-6 minutes
PROVO — For all of Fousseyni Traore's improvements on offense for BYU men's basketball, his biggest asset to the Cougars has always been on the glass.
Board men, Traore included, got paid Thursday night.
Traore had 17 points, eight rebounds, three blocked shots and two steals, and BYU outrebounded visiting Weber State 39-27 to hold on for the Cougars' fifth-straight win, a 63-57 win in front of a holiday-sized crowd of 13,229 fans in the Marriott Center three days before Christmas.
Noah Waterman added 14 points, eight rebounds and three assists for the Cougars in their fifth-straight victory, and Jaxson Robinson had 8 points, five rebounds and a pair of free throws with 10.4 seconds remaining to help ice the game.
Gideon George scored 7 points and grabbed seven rebounds for BYU (10-5), including two in the final 30 seconds to help the Cougars hold on for the win.
"The biggest play of the game was G coming up with that rebound at the end of the game," Waterman said. "We needed that, and he came through, got up and with four people around there and snaked that. It was big-time by G."
Dillon Jones poured in a game-high 18 points, seven rebounds and two assists to lead the Wildcats, and Alex Tew added 12 points, two rebounds, two steals and a block for Weber State (5-8), which had a three-game win streak snap that included Monday's stunning upset at previously unbeaten Utah State.
But BYU kept the Wildcats, one of the top rebounding teams in the country that ranked ninth overall in defensive rebounding percentage by KenPom, off the glass and held Weber State to just five offensive boards and 4 second-chance points while shooting 39.6% from the field and 6-of-24 from 3-point range.
"We're a great rebounding team; it all comes down to just our effort," Waterman said. "Some games we aren't great, and that's because we don't put the effort in. Coach talks about it all the time."
A lot of that came down to Traore. But don't discount Waterman's efforts, either, after the 6-foot-11 Detroit Mercy transfer collected his most rebounds since an 83-80 upset Dec. 10 against then-No. 21 Creighton. That game was a lot like Weber State, with similar rebounding profiles, BYU coach Mark Pope said.
Both times, Waterman got it done on the glass in addition to shooting 4-of-7 from the field, 2-of-5 from 3-point range and 4-of-7 from the free-throw line for a team that made 17-of-20 free throws.
"People said Noah couldn't rebound when he came here," Pope quipped, sitting next to the junior from Savannah, New York, whose career started at Niagara. "This dude's putting on a clinic at reboudning. It's awesome."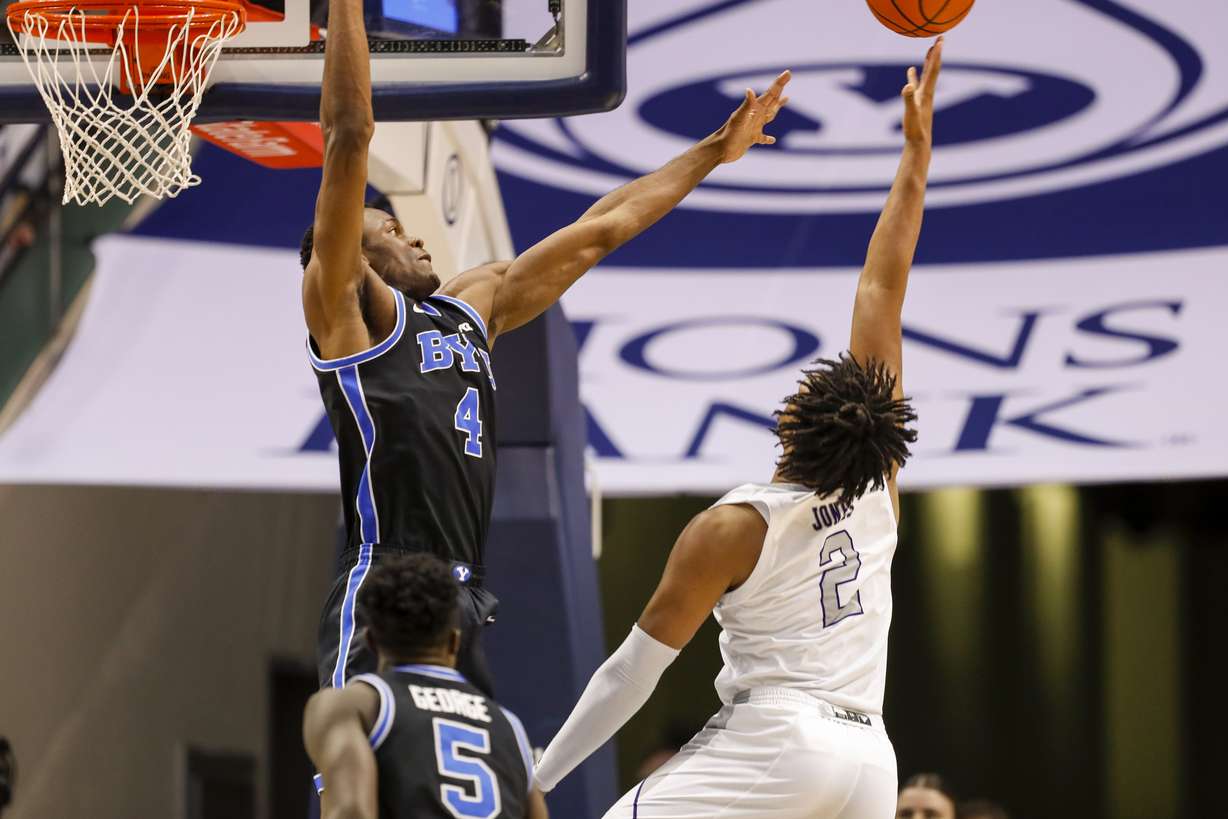 BYU made just two of its first 12 attempts from the field, and Weber State used an 8-0 run en route to a 14-7 advantage midway through the first half behind 9 points from British-born center Tew.
The Cougars rallied behind 10 first-half points from Waterman, including a 3-pointer with 4:12 left for a 25-21 advantage. The Wildcats pulled as close as one the rest of the way, but made just two of their final 12 attempts and ended the half on a 3-minute, 36-second scoring drought to trail 29-24 at the break.
Traore had 8 points and four rebounds in the first half for the Cougars, who outrebounded Weber State 20-15 before the break and scored 14 points in the paint.
George's 3-pointer early in the second half stretched BYU's lead as high as 8 points, but the Wildcats scored on eight consecutive possessions, pulling within two on Jones' jumper with 9:41 remaining.
BYU was held scoreless for more than three minutes until Robinson canned a 3-pointer with 7:23 to go.
Dyson Koehler broke the drought with a 3-pointer with 3:04 left, andn Tew scored of a steal in transition to cut the Wildcats' deficit as close as 55-54 with a dunk a few moments later.
But Traore kept the Cougars ahead as the 73% free-throw shooter converted 7-of-7 from the charity stripe, then got a pair each from Robinson and Dallin Hall — who had a game-high plus-16 after finishing with 4 points, three assists, a steal and four turnovers on 4-of-7 shooting — each added a pair late.
And yet, it wasn't until George secured two clutch rebounds in the final minute that BYU breathed a collective sigh of relief.
BYU scored 75 or more points during each of the first four games of the current win streak, one that dates back to a 75-60 loss to crosstown rival Utah Valley on Dec. 7. Thursday's final contest before opening West Coast Conference play wasn't like that.
But it was a win, and one that will probably provide more teaching moments similar to what the Cougars will see starting next Thursday at Pacific.
"Weber's on fire right now, shooting the ball great, playing at a high level, and coming off an epic win," Pope said. "I've experienced that with teams before, like when I was at UVU and we had some huge wins. Even though they're shooting the ball so well, they just dialed in on their defensive effort; they're switching a lot, they're really physical, they have some length and some real size inside.
"This was good for us to, first, grind out a win. Right now, we're trying to learn how to win. But it also exposed us in some ways where we are going to have some really good film. This very much felt like 3-4 teams in the WCC, where it's a slugfest and super physical. So this is a real gift for us to tear up this film and pick it to pieces, and use it as a teaching experience … It's great to learn and win at the same time. Our guys grew over the course of this game, and we're going to learn a lot in the aftermath of this game."
×
Photos
Most recent BYU Basketball stories