Estimated read time: 5-6 minutes
OREM — Maybe it was against his judgment, and it's certainly been criticized by a few outside observers, but Trey Woodbury's two games played during the 2021-22 season were among the most important of his basketball career.
The Utah Valley guard missed the entire regular-season campaign for the Wolverines but traveled with the team to the Western Athletic Conference Tournament in Las Vegas, mostly for friendship and morale support.
But before tipping off against Chicago State at Michelob ULTRA Arena, Woodbury had a good feeling. His knee, which had hindered him his recovery and kept him from playing, felt pretty good.
His shot felt even better.
"What if I do play?" he joked with UVU coach Mark Madsen and some staff members.
And he did. He scored 5 points, four rebounds and two assists in 16 minutes of a 69-47 win over the Cougars, then added 10 points, three rebounds and three assists in 25 minutes of an 82-74 loss to Abilene Christian.
The UNLV transfer wasn't "back" after that night in his hometown of Las Vegas, but he was definitely a lot closer, and — perhaps most importantly — he proved to himself that he could, indeed, come back.
"I think it just built a lot of confidence in myself," Woodbury said. "I hadn't picked up a ball in months, and I just wanted to play. I played decent enough, and to me, that built a lot of confidence in myself and in the work I've put in over my entire life.
"Even after sitting out that long, I can still be of value and still contribute to help the team."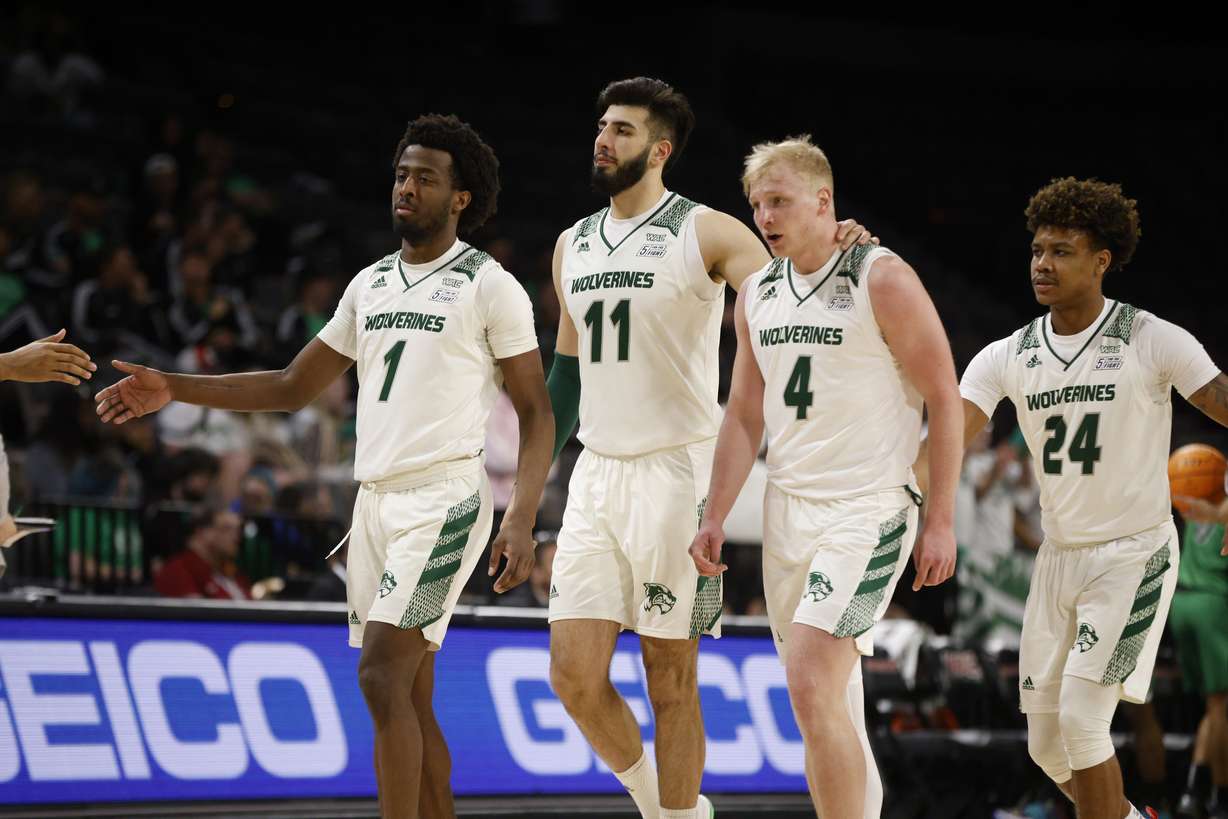 Woodbury has played a critical role in the Wolverines' 4-4 start, one that includes overtime losses to Wake Forest and Morgan State by a single possession before winning two of their last three games heading into Wednesday night's game with crosstown rival BYU at the Marriott Center (7 p.m. MST, BYUtv).
He's one of four seniors on the team, a starter at full health, an athletic dunker, and one of two players with double-digit 3-point makes with 14. But he's more than that, as evidenced by what he proved in catching his coaches and teammates by surprise in that short-term comeback bid last year.
"Trey Woodbury is a winner," Madsen said. "You're talking about someone who led his team to three state championships. He's very competitive in a state that includes Las Vegas, and he can impact the game in so many ways. He's a great passer, a great scorer, and a strong leader.
"He's a huge part of the success we've had here, and I know his teammates are really happy he's back from his rehabilitation."
After a full offseason and summer workouts, Woodbury had no problem declaring himself 100% recovered.
He's certainly played like it, too. The senior shot 6-of-11 from the field for 19 points to go along with eight rebounds and eight assists in a near-triple double effort during an 88-78 win over Long Beach State last week.
That's his second-best scoring output of the season behind a 22-point effort in a win over Northern Arizona for a shooter whose career high was set with 34 points as a sophomore against New Mexico State to end the 2020-21 season.
In other words, Trey Woodbury is finally feeling like Trey Woodbury again.
"It was a long journey," Woodbury said. "After I played last season, I still wasn't 100%, so I kind of shut it down for another month or so to just let it really heal. Then I started hitting it hard for several months.
"But I feel like I'm getting back in shape and getting back in rhythm. But it's been a long journey."
The Cougars (5-4) will likely be without starting wing Spencer Johnson, who suffered a knee injury during a loss to Butler at the Battle 4 Atlantis in The Bahamas. BYU is 2-1 since Johnson hurt his knee, including Saturday's 69-68 failed comeback against South Dakota at Vivint Arena.
"He's just trying to get better," BYU coach Mark Pope said Tuesday after Johnson didn't practice, before joking. "He's convinced he'll be ready tomorrow, but I suspect he might not.
Some of Johnson's teammates have said the former American Fork standout would like to be healthy in time for the Cougars' trip to Las Vegas to face No. 21 Creighton on Saturday. Others have said the Dec. 17 home date against Utah is a target.
His prognosis and recovery has Pope simply on a "day-to-day" timetable.
"I think it's probably going to be a little while," he said. "I get very different data from him and from our medical staff."
Pope also knows that the Utah Valley squad coming to the Marriott Center looking for its third win over the Cougars in the past six meetings is good, too. Besides Woodbury, who is averaging 13.1 points, 4.1 rebounds and 4.0 assists per game, the Wolverines are led by reigning WAC Player of the Week Le'Tre Darthard, who had a season-high 25 points in the 10-point win over the Beach.
Darthard, a junior from Denton, Texas, who spent one season at McCook Community College, averaged 10.0 points, 2.5 rebounds and 1.4 assists in 28 games last year, including 26 starts. The 6-foot-4 guard could be a handful for the Cougars, as could leading scorer Justin Harmon (14.1 points, 4.1 rebounds per game) and 7-foot center Aziz Bandaogo (12.0 points, 10.1 rebounds.
"They're really, really good," Pope said. "They're a veteran backcourt; it feels like those guys have been there forever. They're filled with really capable scorers.
"They're frontline is filled with unbelievable length with their starting center that is ridiculously long and vertical and active. They're a really, really good team, and they've got great depth coming off the bench."
How to watch, stream and listen
BYU (5-4) vs. Utah Valley (4-4)
Wednesday, Dec. 7, 2022
Tipoff: 7 p.m. MT
TV: BYUtv
Streaming: BYUtv.org
Radio: BYU Radio Sirius XM 143, KSL 102.7 FM/1160 AM
Series: BYU leads, 5-2 (4-1 in Provo)
×
Most recent UVU Basketball stories