Estimated read time: 5-6 minutes
SALT LAKE CITY — BYU basketball is making 20-point comebacks a habit.
This one came up just short, though.
Kruz Perrott-Hunt poured in 26 points, including four 3-pointers, and South Dakota canned 12 triples while leading for all but two minutes in a 69-68 win Saturday afternoon over BYU at Vivint Arena, snapping the Cougars' 17-game win streak on the home court of the Utah Jazz.
It's BYU's first loss in the NBA arena since a 68-61 setback to Michigan State in 2007, a run that included an unblemished mark in the short-lived Beehive Classic held at the NBA arena.
Rudi Williams had 20 points, three assists and three steals for BYU (5-4), and Fousseyni Traore added 12 points and 11 rebounds for the Cougars. Freshman Dallin Hall supplied a career-high 14 points and six assists off the bench for BYU, which cut the deficit as low as seven with just over two minutes to play.
Traore hit a pair of free throws after being fouled on an offensive rebound with 23 seconds left that pulled the Cougars all the way back from a 21-point deficit in the second half to within three, 67-64. Hall added a 3-point play moments later, missed the free throw, and the Coyotes (5-4) gave the Cougars another shot.
Williams hit both ensuing free throws off the in-bounds pass, but his potential game-winning shot at the buzzer fell short as South Dakota held on.
"It's certainly a disappointing outcome and a lot of frustration," BYU coach Mark Pope said. "I'm really proud of our guys for playing hard and competing hard in the second half. We just aren't a very good team right now; we're not a very tough team right now. But we are working hard.
"We've just got to grow. There's a learning curve to learning how to compete, a learning curve to learning the price of winning, and we're in the muck of trying to learn these lessons."
South Dakota didn't hit a field goal in the final 10 minutes, but built up a 21-point lead and stayed ahead by making 17-of-22 free throws. Perrott-Hunt was 8-for-8 from the charity stripe, and Paul Bruns added a 4-of-4 effort en route to 15 points and six rebounds for the Coyotes.
BYU shot 34% from the field and 7-of-33 from 3-point range.
Four days after setting a program record with 19 made 3-pointers in a win over Division II Westminster on the same NBA court, the Cougars missed on their first 12 attempts from beyond the arc before Jaxson Robinson canned the home team's first triple with 3:37 remaining in the first half. That set up a massive hole, one that swelled easily to double digits in the first half.
BYU was without veteran wing Spencer Johnson (knee) and sharpshooter Trevin Knell (shoulder), to boot.
Perrott-Hunt had a game-high 15 points in the first half for South Dakota, including a 3-pointer with 6:52 on the clock to stretch the Yotes' lead to 27-16 following an 11-2 run.
Bruns added 10 points and three rebounds before the break for South Dakota, which shot 45% from the field and 8-of-13 from deep. The Cougars were just 1-of-14 from 3-point range in the first half.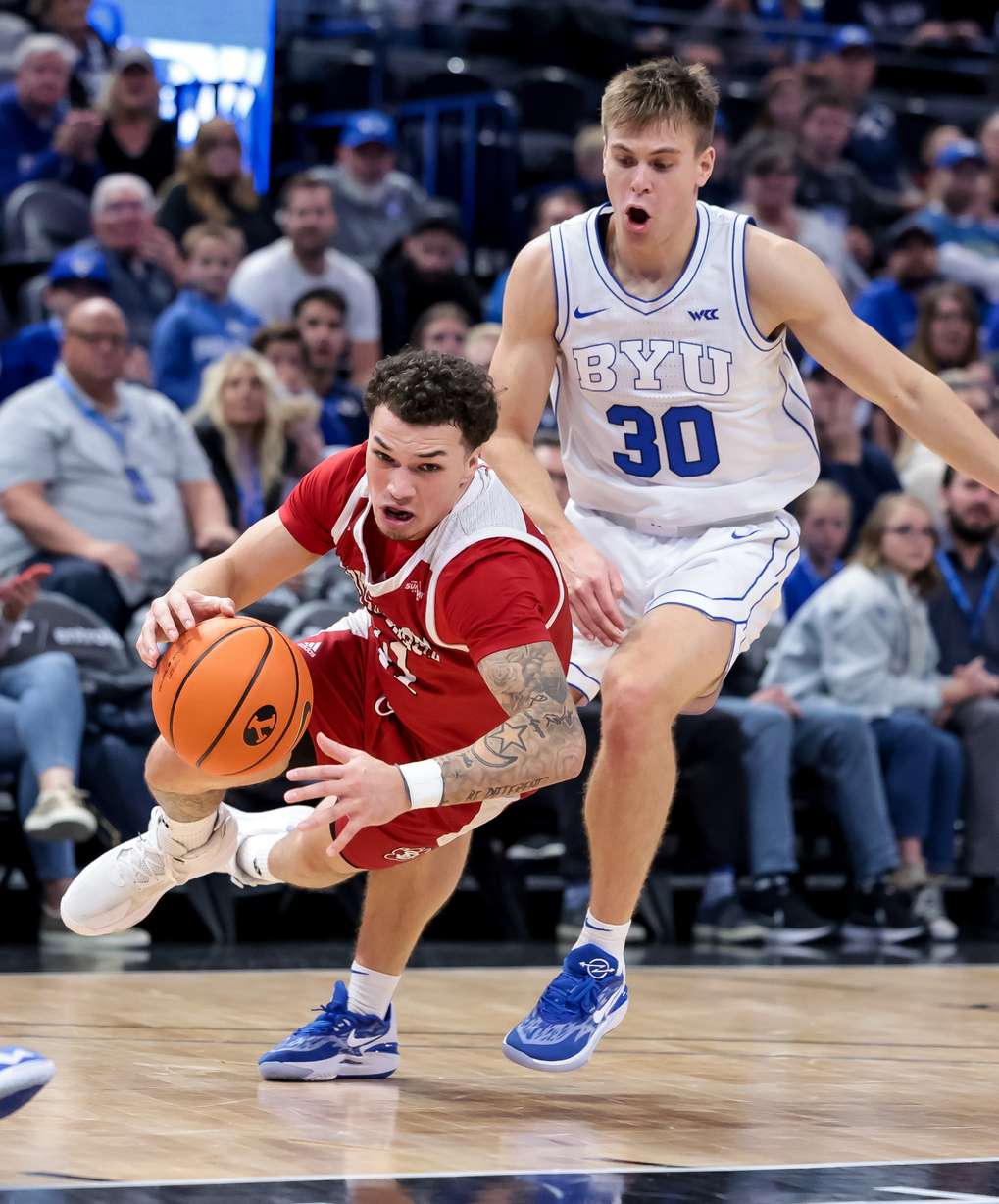 Led by former Utah State and Utah assistant Eric Peterson (who improved to 1-4 against the Cougars all-time, including a loss to BYU as an interim coach while then-Utah State coach Craig Smith was sidelined with COVID-19), the Yotes were coming off a 19 3-pointer game of their own Monday in a 97-58 win over NAIA Mount Marty, and were more than confident from deep, as well.
A week later in Salt Lake City, South Dakota better than 60% from the field for most of the first half, finished at 42% despite the late-game shooting woes, and connected on 12-of-23 from the 3-point line and scoring 12 points off 14 turnovers to counter 20 turnovers forced by BYU.
"We couldn't guard them at all in the first half," Pope said. "We were really stagnant offensively. Probably the most concering thing in the first half was just our struggles to guard. That's not supposed to be the make up of this team.
"We have to go back to the drawing board a little bit there."
Pope spent several minutes in the locker room addressing the team after the game — so long that Vivint Arena personnel began clearing the concourse, the locker rooms and the media areas underneath the arena in preparation for a Jazz-Trail Blazers game later Saturday night. By the time he met with a handful of local media on the concourse, Jazz fans were beginning to file through the front gates and his players and assistant coaches had departed to the bus.
After Pope spoke with the team, several players even addressed their teammates, though Pope didn't get into many specifics.
"I think a lot of guys are just eager to get better," he said. "A lot of guys were thinking about themselves, meaning they were starting with themselves about what they can do better to help us compete at a higher level. This is a really special group of young men, and they are really engaged in this learning and growing process. They want to get better. It was just a frustrating night, for sure."
BYU returns to the Marriott Center on Wednesday to host crosstown rival Utah Valley. Tipoff is scheduled for 7 p.m. MST on BYUtv before the Cougars fly to Las Vegas for the Jack Jones Hoopfest against No. 7 Creighton on Saturday.
×
Photos
Most recent BYU Basketball stories