SALT LAKE CITY — The NFL draft is coming up and players from the state of Utah are making waves. With the help of multiple seven-round projections, here is where analysts are commonly placing the state's local talent.
First Round
Jordan Love, QB (Utah State)
Love's size, natural throwing ability with tight spiral and a big arm have NFL teams projecting him to be taken ahead of other great college quarterbacks such as Justin Herbert (Oregon), Jalen Hurts (Oklahoma) and Jacob Eason (Washington). Look for Love to be taken early to mid-first round. Common projected teams are the Los Angeles Chargers, Las Vegas Raiders and Miami Dolphins.
Jaylon Johnson, CB (Utah)
Johnson's physical traits and athletic ability have scouts pegging him as one of the top cornerback prospects in the draft. His aggressiveness and positioning have teams ready to take a chance to have him on their teams.
"It's definitely a blessing. This is something that I've trained for and prepared for my whole life," Johnson told KSL.com. "Having a God-given talent and ability is something that he gave me, and for him to put me in this position definitely is humbling. This is something that I've trained for my whole life.
"I didn't train to finish my career in college, I trained to play in the NFL and to play at the highest level," he added. "Everything that I've worked for is to put me in this position, and now that I'm here, I just thank God for getting me here and allowing me to take what he gave me and take it to the next level."
Look for Johnson to go late in the first to early second round.
Second Round
Zack Moss, RB (Utah)
Moss' build, power, balance and patience stood out to scouts during the NFL Combine, but his speed wasn't great during his 40-yard dash. In his individual pro-day appearance, he advanced his 40-time by .10 seconds, which helped his stock. He is currently projected to be taken off the board late in the second round to early third round to teams such as the Tennessee Titans, Buffalo Bills and Miami Dolphins.
Third Round
Bradlee Anae, DE (Utah)
Anae's edge-setting ability and quick explosiveness were strengths NFL scouts identified at the NFL Combine. His stock rose during his Senior Bowl appearance where he totaled three sacks and a hurry that forced an interception. Expect Anae to be taken in the middle to late third round.
Terrell Burgess, S (Utah)
Burgess quietly skyrocketed up the draft boards as scouts examined a stacked Utah defense in the NFL Combine. Burgess' preparation, athletic ability and discipline were highlighted by NFL teams across the board. Burgess is projected anywhere from the third to sixth round, but most projection boards have him as a mid to late third round pick.
Fourth Round
Leki Fotu, DL (Utah)
NFL.com referred to Fotu as having a "mammoth frame while carrying his weight very well" in their draft assessment after the NFL Combine. Scouts love his mass, motor and power and feel that will translate well into the NFL. Fotu is projected to be picked up in the early to middle part of the fourth round.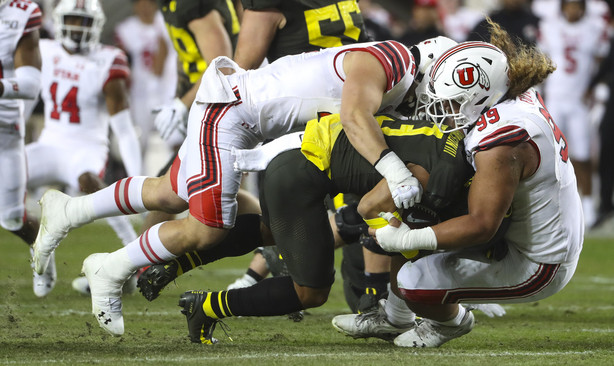 Fifth Round
Julian Blackmon, S (Utah)
Blackmon's physical attributes and football IQ are favorable in the eyes of a few NFL teams heading into the draft. His knee injury sustained in the Pac-12 Championship is a question mark for the Utah safety, but NFL teams are projected to pick him up in the latter parts of the fifth round.
Sixth Round
Tyler Huntley, QB (Utah)
Huntley was arguably snubbed after not being invited to the NFL Combine after he recorded some of football's top numbers for the quarterback position. In an unofficial pro day, Huntley showed off his speed, where he took first place for the quarterback position in every timed category. Draft projections have Huntley taken anywhere between the sixth round and free agency. Most projections have him squeaking into the sixth round.
Seventh Round
Francis Bernard, LB (Utah)
Bernard's play recognition and quick diagnosis of play direction stood out to NFL scouts throughout his career at Utah. Scouts also recognize he faced challenges early in his college career but acknowledge he has become a good teammate and productive prospect since sitting out during the 2017 season. Look for Bernard to be taken toward the middle of the seventh round. Some projections have him selected as a priority free agent if he is not taken through seven rounds.
David Woodward, LB (Utah State)
Scouts love Woodward's nose for the football and his ability to cause fumbles and play aggressively. They also acknowledge his success rate of finishing his tackles and scrappiness. Some NFL scouts say their biggest worry about Woodward is his injury history; Woodward, on the other hand, insists he's feeling good after his injury against Air Force.
"I actually pulled myself out of that game, but I'm feeling good," Woodward told KSL.com. "I went and saw some specialists for it but I'm feeling good and healthy and ready to go now."
Free Agents
John Penisini, DL (Utah)
Penisini caught scout's eyes with his hand placement and booming power at the nose guard position. Most projections show him as being a high free agency signing, which would put another Kyle Whittingham defensive lineman in the NFL.
Javelin K. Guidry, DB (Utah)
Guidry entered the NFL draft early, and his blazing speed was eye popping for scouts in attendance at the NFL Combine. His speed alone makes him a dangerous defensive back option for teams across the league. Guidry is projected to be a high free agency pick-up.
Darrin Paulo, OL (Utah)
Paulo is known for his ferociousness guarding the quarterback's blind side for the Utes. He was named to the Pac-12 All-Conference First Team and was invited to the East-West Shrine Bowl in 2020. Paulo is projected to be an undrafted free agent.
Gerold Bright, RB (Utah State)
Bright is a converted wide receiver with running back experience. Scouts love his toughness and big play potential. He is on the smaller end of the spectrum, but will fight for every yard he gains. Bright is projected as an undrafted free agent.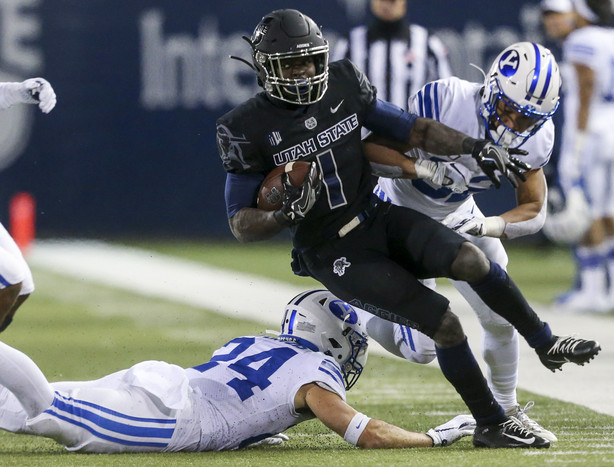 Dominik Eberle, PK (Utah State)
Eberle is one of the top kickers in this draft class. He is a PFF honorable mention All American, First Team All-Mountain West, Lou Groza Award finalist. Scouts love his strong leg and his ability to be consistent from long ranges. He is projected to be a high free agency signing to those teams with kicking needs.
Tipa Galeai, DE (Utah State)
Galeai is projected to be a high free agent signing due to his physicality and quickness. Scouts love his agility and fluidity on the defensive side of the ball and expect him to make a difference on an NFL team.
Siaosi Mariner, WR (Utah State)
Mariner's senior season was his best of his college career, where he chalked up 10 touchdowns and 987 yards on 63 receptions. He is projected to be an undrafted free agent.
Caleb Repp, TE (Utah State)
Repp is another tight end/receiver option out of Logan who caught four touchdown passes in 2019. He totaled 36 receptions and 455 yards in his senior season and is projected as an undrafted free agent.
DJ Williams, CB (Utah State)
Williams is known for his good feet and competitive edge at the defensive back position. He was named the Defensive MVP of the New Mexico Bowl in 2018 and is projected as an undrafted free agent. Williams had 72 tackles and two interceptions in his senior season.
Aleva Hifo, WR (BYU)
Hifo is a shifty wide receiver and returner for the Cougars. In 2019, Hifo totaled 1,336 yards through the air while averaging 15.9 yards per punt return. Hifo not only wants to show NFL teams his playmaking ability as a wide receiver, but also on special teams if an NFL team chooses to use him in that way.
"I'm definitely planning on and looking forward to being able to return and participate in any special teams. Everyone knows in the league, that's where it all starts," Hifo told KSL.com. "Special teams are just as important as offense and defense and it shows your reliability to a team.
"More scouts have reached out in the last two weeks then there have been in the last few months, so being able to see where I stand with them and seeing some of the things that they expect from me as a player when draft day comes has been very informational," Hifo added.
Hifo is projected as a high free agent signee.
Ty'Son Williams, RB (BYU)
Williams' senior year came to a premature close after suffering an ACL tear during a game against the Washington Huskies. Williams was a graduate transfer from South Carolina and ran for 264 yards and three touchdowns during his time in Provo. Although he could have applied for a medical hardship and earned a sixth season of eligibility, Williams chose to go the NFL route instead. He is projected as an undrafted free agent.
Austin Lee, DB (BYU)
Lee totaled 111 tackles during his three seasons in Provo, and scored a touchdown against Idaho State off of an interception he returned 26 yards to the end zone. Lee was one of the better defensive backs for the Cougars during 2019 and is looking to a shot in the NFL. He is projected as an undrafted free agent.
Dayan Ghanwoloku, DB (BYU)
Ghanwoloku was another solid cornerback for the Cougars during his four seasons in Provo. He totaled 207 tackles with seven interceptions as a four year starter. Ghanwoloku is projected as an undrafted free agent.
Adam Rodriguez, DE (Weber State)
Rodriguez was dominant as a linebacker and edge rusher for the Wildcats, where he earned All-American and First-Team All-Big Sky honors. Scouts like his hand placement, instinctiveness and discipline. He is projected as an undrafted free agent.
Jonah Williams, DE (Weber State)
Williams was an All-American in 2019 as he helped lead Weber State to a Big Sky Championship and an FCS semifinal appearance. He is known for his size and strength where he totaled 15 sacks for 120 yards during his four years in Ogden. Williams is projected as an undrafted free agent.
"Small school guys like me and Adam Rodriguez, we bank a lot in having a big pro day and having those guys come out and show them how good we are, and we didn't have that opportunity," Williams told KSL.com. "We took a different approach to it and we did our own pro day and did those combine events by ourselves.
"We sent video of those workouts to scouts who were able to see our movements and times, which is about as good as you can get with all of this going on. Getting that film to them is beneficial for everyone and we still get to be seen by them and contact them and do interviews and things like that through the phones."
×