Estimated read time: 5-6 minutes
BOULDER, Garfield County — After 23 years of delighting customers with organic, locally produced, regionally and seasonally appropriate cuisine, one of Utah's most acclaimed restaurants is at risk of shutting its doors.
"We are sorrowful to say that after 23 years, Hell's Backbone Grill and Farm is at risk of closing our doors," owners and co-chefs Blake Spalding and Jen Castle wrote in a letter on a GoFundMe page* seeking financial assistance for their restaurant.
Hell's Backbone Grill and Farm began over two decades ago as an idea from Spalding and Castle to open a "deeply rooted, ethical, locally based destination restaurant in one of the most remote towns in America," the restaurant's website states.
Located in Boulder — population of 236 — Hell's Backbone grew from a restaurant started with $3,000 and a year of free rent into a critically acclaimed destination, in 2020 earning a prestigious nomination from the James Beard Foundation as a finalist for "best chef" in the mountain region, which also includes Colorado, Idaho, Montana and Wyoming.
The restaurant follows Buddhist principles, its website says, making decisions through a Buddhist filter with a commitment to sustainability, environmental ethics, and community responsibility.
Much of the restaurant's produce is supplied by its 6-acre farm with fruit grown in Boulder's heirloom orchards and meat supplied by local ranchers.
"Throughout our 23 years as restaurateurs, we've always identified as deeply self-reliant. Even during three difficult and stressful pandemic years — and even when we received threats for advocating for the monuments — we declined offers from friends to help us fundraise for our survival," the letter said. "We were determined to work things out on our own. We had, after all, opened a restaurant in the most remote town in the lower 48 states — we had confidence in our ability to overcome obstacles."
After battling to stay afloat for the last few years, Spalding and Castle realized they needed outside assistance and help from the customers and fans that have contributed to the restaurant's success.
There's a magical place run by two bad-ass (& generous & kind) chefs who've been making the Utah desert a better place by their existence. Help 'em keep doing it.
Save @HellsBackbone Grill & Farm.
https://t.co/Leh5zr5AV7

— Meera Subramanian (@Meeratweets) November 30, 2022
"Spiraling costs and a shockingly reduced summer visitation to the whole southern Utah region have turned things upside down, and we now recognize that we can't move forward alone," the letter says.
Spalding and Castle have set a fundraising goal of $324,000 dollars, aimed at addressing three areas of "critical need."
The first of these needs is debt payment. The letter said that the restaurant has taken on a pandemic-related debt load of $500,000.
"As with countless other restaurants, we received loans and various relief from the federal government, which enabled us to keep our doors open and pay our staff and vendors — but the hard truth is that the loan money wasn't enough, and now those loans have come due," the letter said.
After the summer's low visitation numbers, Spalding and Castle said that they are using borrowed money to make payments on borrowed money, which "every grown-up knows is a bad idea," the letter says.
The second critical need identified by Spalding and Castle is finding the restaurant's "forever home."
Since they've been renting the space in Boulder since the restaurant's conception, the pair is looking for a permanent space.
"We need to find a more stable circumstance to feel good about growing older as we do this work. We're exploring several options, our favorite being the possibility of buying the building that we currently rent on the grounds of the Boulder Mountain Lodge — the same beautiful space you know and love — the building that's grown along with us," the letter reads.
Finally, the third aspect that Spalding and Castle hope to address with the raised money is infrastructure upgrades.
---
We remain optimistic for a new chapter that's brighter than we could have imagined. And we're hopeful that you'll walk through those doors with us, hand in hand.
–Blake Spalding and Jen Castle
---
Despite their "scrappy and tenacious" nature, the letter says that working with marginal and sometimes broken equipment is burdensome for Hell's Backbone's employees.
"We've outgrown our thrift-shop origins (and the fridges and pots and pans we've been using since we opened). Any additional revenue could go to much-needed updates to farm and kitchen infrastructure, so we can continue delivering the quality of hospitality that you've come to expect — and maybe even level up a bit," the letter says.
In the letter, Spalding and Castle acknowledge that, in reality, they need much more than the $324,000 that serves as a "symbolic starting point," derived by multiplying 108,000 by three — an ode to the roots of Hell's Backbone.
"In Buddhism, 108 is an auspicious and sacred number, the completion of a cycle of mantras on a mala of beads," the letter reads. "This is also an amount we believe will secure our short-term survival. But to be transparent, we hold tightly in our hearts to a bigger dream than surviving. We have so many new things we want to introduce — new visions and events and experiences we're eager to create for you."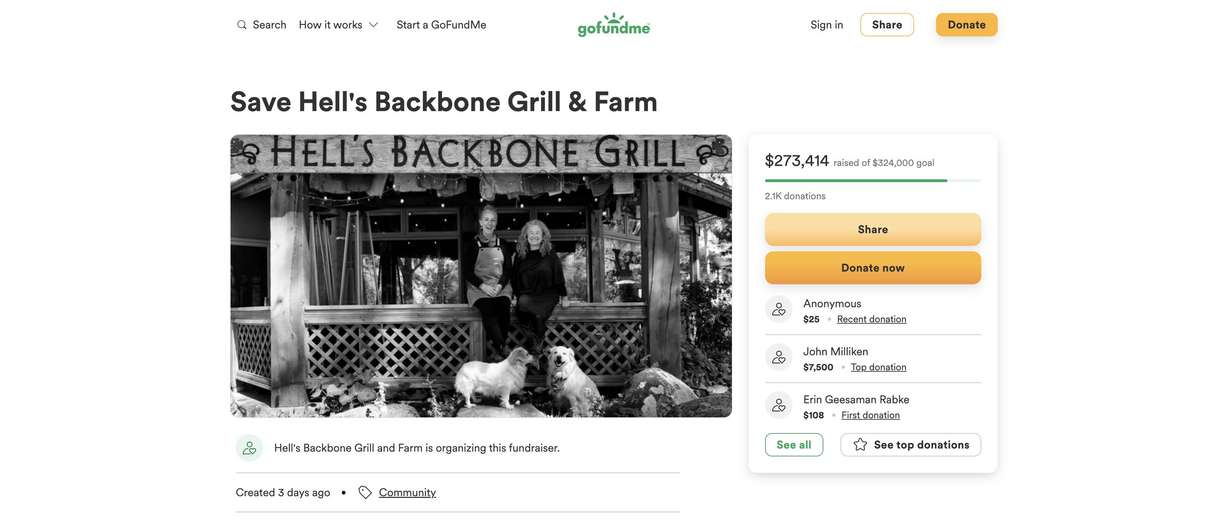 As of Thursday, the GoFundMe page* has raised $271,546 from over 2,000 donations.
Spalding and Castle on Tuesday posted an update to their GoFundMe page, expressing their gratitude for all that have donated, spread the word, and shared stories of the restaurant.
"This morning, we woke up here in Boulder with gratitude in our hearts, and for the first time in a minute: a breath of relief. Perhaps this impossible venture is one that we don't have to do alone, and perhaps the future is brighter than we imagined," Spalding and Castle wrote on Tuesday.
"We remain optimistic for a new chapter that's brighter than we could have imagined. And we're hopeful that you'll walk through those doors with us, hand in hand," the letter says.
---
*KSL.com does not assure that the money deposited to the account will be applied for the benefit of the persons named as beneficiaries. If you are considering a deposit to the account, you should consult your own advisers and otherwise proceed at your own risk.
×
Related stories
Most recent Southern Utah stories