Estimated read time: 8-9 minutes
PROVO — Hinckley Ropati never imagined he'd be in that position, following a bevy of blockers and sprinting for the end zone against Boise State to score a touchdown for BYU in the Cougars' 31-28 upset win over the Broncos.
Years earlier, he never would've imagined playing for the Cougars at all. Sure, he grew up a faithful member of The Church of Jesus Christ of Latter-day Saints near Downey, California, and even completed a two-year church mission in the Philippines.
But when previous BYU coaches made a visit to his high school during his junior year and declared him "too small" for the Cougars' system, Ropati took that personally. Then standing around 5-foot-8 and 180 pounds (maybe, if that, he admits), he now understands the coach had a point.
Still, it hurt. And when the former Dixie State was one of the few schools to extended a scholarship offer to him, Ropati could've found himself lining up for the Trailblazers this weekend as Utah Tech makes its first-ever visit to LaVell Edwards Stadium for Saturday's senior-day kickoff against the Cougars (1:30 p.m. MST, BYUtv).
"I didn't want to come to BYU at first. I had an animosity towards BYU when I was in high school," he said recently during an interview with the Coug Connect podcast, describing in detail how coaches passed him over, ignored the oversized sweatshirt he was wearing during his first meeting, and essentially told him to play elsewhere.
"That, obviously, dampened my spirits," Ropati added. "It was the one school I was looking forward to, but it also lit a fire under me. From that day, I kind of hated BYU; I wanted to do everything I could to prove that they missed out."
So how did Ropati, now measuring 5-foot-10 and 215 pounds of solid muscle, find himself rushing for the end zone against the Broncos during a breakout 110-yard performance, including a 48-yard touchdown on a screen pass?
The answer involves the road less traveled, a dying mother's wish, and persistence through trials leading up to the school that offered him his first chance way back in high school.
"I've got nothing but love for (Utah Tech)," Ropati said. "Obviously, when Saturday comes, it's different, but I have nothing but love. They were the first ones that believed in me coming out of high school. They were the first offer I had.
"They've got a special place because they believed in me and put my name out there."
After that meeting with the former BYU assistant, Ropati had a good thing going at Downey High, where he was a star both on offense and special teams. His abilities attracted a lot of attention for what was then Dixie State, and as the St. George school was preparing a move from Division II to Division I's Football Championship Subdivision, it represented his top offer coming out of high school.
So Ropati accepted it. He committed early and submitted his paperwork to serve a mission.
About 18 months into his mission, Ropati began to have second thoughts. Maybe the Trailblazers, who were in the thick of their transition and shuffling coaching staffs, weren't his only option. Maybe the former high school football, volleyball and track and field standout could make a bigger leap. So Ropati came home, and bet on himself, and committed to nearby Cerritos Junior College.
"Six months before I was about to come home, I had this feeling that I could play at that level," he said. "You have to be your No. 1 believer that you can make it through the JUCO route."
During his freshman season at Cerritos, Ropati ran for 647 yards and 10 touchdowns in 11 games. He started to dream of playing at the next level and focused on West Virginia, Stanford or "maybe a local school."
"It was awesome," he said. "It was definitely a grind. I worked a night job in security from 11 to 7 every night, and that was definitely a difficult time, working from late at night to school to practice every day. But I wouldn't have it any other way."
Then BYU came back into the picture. Aaron Roderick, who had recently taken over as offensive coordinator, paid a visit to Cerritos for another prospect. But when he found out the Falcons had a Latter-day Saint running back who had recently returned from a mission and was exploding in the California JUCO scene, they talked.
Roderick didn't offer a scholarship, but he did tell Ropati the Cougars were keeping an eye on him. Candidly, he admits he wasn't thrilled at his former dream school back in the picture.
Eventually, that offer came, and Ropati still wasn't sure if he wanted to accept it.
But his mother was.
Lina Folau Ropati was sick, but one of her dreams was to see her children go to BYU. Hinckley Ropati is the second-oldest of seven children, and to have one of them play college football at BYU was a dream.
You could call it a dying wish.
"One of her last requests was that I needed to be there at any place," an emotional Ropati recalled. "After my junior year (of high school), I told her I would go anywhere else. I told her I wanted to stay local. But that's how I got here.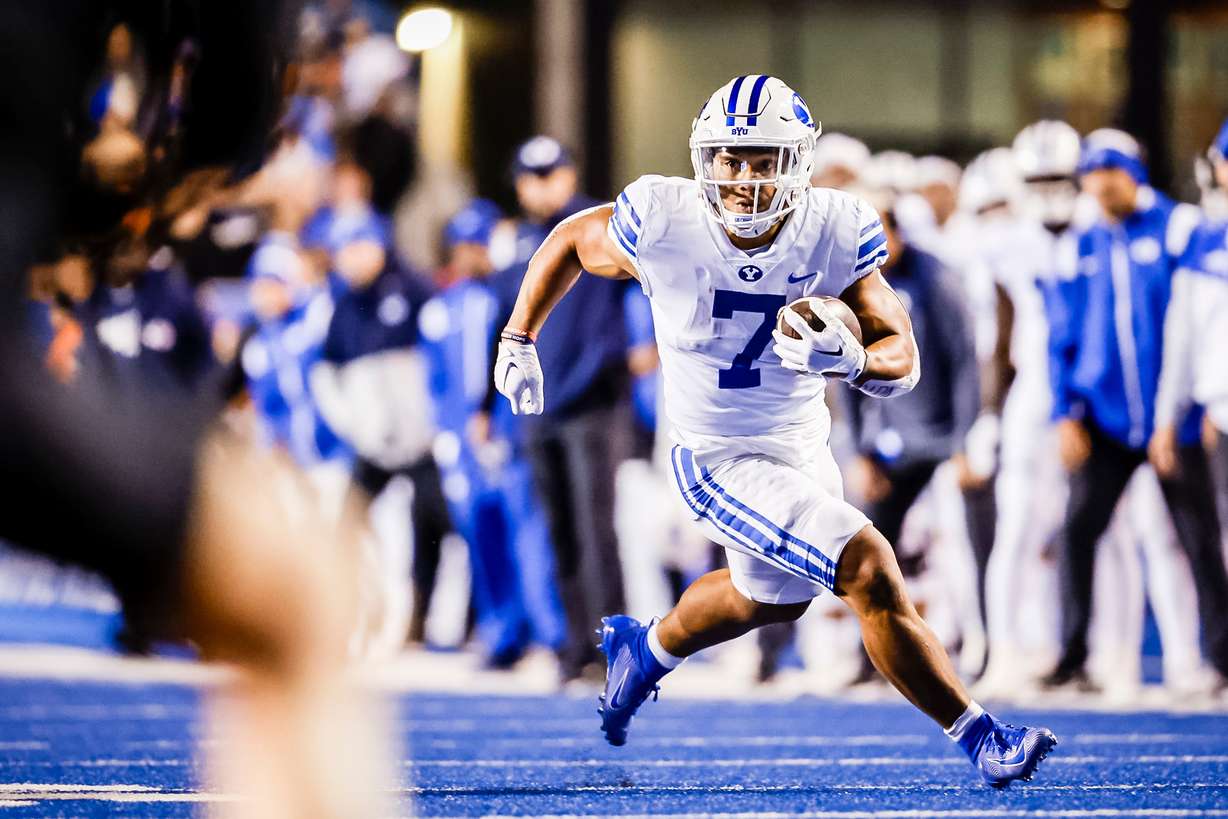 "My mom was definitely my No. 1 supporter," he added. "Everything I am and all that I am is because of her; the way I approach the game, the way I love, the way I approach my relationships."
Ropati met running backs coach Harvey Unga in April 2020. That's when he fell in love again with his former dream school.
"After talking to the coaches and getting a feel for the culture," he said, "I felt this was the place I wanted to be."
After a year at Cerritos, Ropati arrived at BYU during the COVID-19 impacted season of 2020 and quickly settled into a new state, new school and new apartment with teammates Tyler Allgeier, Neil Pau'u and Uriah Leiataua.
While impressing his coaches during camps and practices, Ropati earned little playing time — mostly due to injury. He played in just five games as a sophomore in 2021, and totaled four carries for 15 yards in a 59-14 win over Idaho State.
When Allgeier left school and was drafted in the fifth round by the Atlanta Falcons, Ropati had a path in front of him. Filling in behind incumbent running back Lopini Katoa and Cal transfer Chris Brooks, the junior worked his way into the rotation and had a chance at significant minutes on Oct. 8 against Notre Dame.
Ropati sprinted onto the field when his number was called on offense. He took the handoff from quarterback Jaren Hall, dived forward 4 yards … and then fumbled the ball. Ropati recovered, but coaches pulled him immediately thereafter.
He had a chance — and then, just like that, it was gone.
"Coach Kalani always preaches to us: The most important thing in this program is taking care of the ball," Ropati said. "He definitely made sure I learned that. From that game on, I just had to improve on ball security. Every day at practice, that's the only thing I focused on. They made sure I learned that lesson, and I'm very grateful for it."
Ropati went back to the bench. He filtered in behind Brooks and Katoa, and Las Vegas speedster Miles Davis had a breakout game to sap even more minutes from his development.
All he wanted was another chance, so when Brooks was injured and couldn't make the trip to Boise, Ropati was ready.
The rest is history.
"College football is cutthroat," Katoa said. "You might get one opportunity like he did (against Notre Dame), and that might be the last one for a while. You just have to keep your mind right, not doubting your own skills, and staying ready for your next opportunity. But it's easier said than done; it's a battle every day."
All he needed was another chance. Eventually, it would come, Unga kept telling him.
"We've seen glimpses of that before in the past, and he comes out to practice every day and works his butt off," Unga said. "It didn't surprise me, and I don't think it surprised a lot of people. It was fun to see him out there doing his thing."
After Ropati broke one tackle, followed behind offensive linemen Blake Freeland and Connor Pay past another, and watched Brayden Cosper and Chase Roberts open holes for him further downfield into the end zone, he celebrated his first touchdown at BYU surrounded by teammates in front of a stunned Boise crowd on a cold winter's night.
"Me and him definitely had a moment after he scored," said Katoa, who almost graduated last season before opting to return for one final season during the Cougars' bowl week. "I definitely know what it takes to stay right, to get your mind right, and bounce back. I was so proud of him."
But all Ropati could think about on that scoring run was one person: his beloved mother, watching him from heavenly miles above Albertsons Stadium, pushing him forward.
"I kept thinking the entire game that she was in the end zone, waiting for me to score," Ropati said. "I think that's the most I've ever been motivated.
"I wish she was there just so I could hug her one more time. I would give up anything just to hug her one more time."
×
Most recent BYU Football stories