Estimated read time: 8-9 minutes
SALT LAKE CITY — A major stretch of I-15 from Salt Lake City to Farmington is in line for major changes, which may include more lanes to address the growing population along the Wasatch Front.
The Utah Department of Transportation unveiled a handful of possibilities for its I-15 Environmental Impact Statement project on Thursday ahead of three public open house meetings on the matter this week. Tiffany Pocock, a project manager for UDOT, explains that the project aims to improve the "health and mobility for everyone who uses the I-15 corridor" from 400 South in Salt Lake City to Shepard Lane in Farmington.
She outlined the plan during an online open house on Monday, explaining that all options on the table could be eliminated or refined as the process to select a plan continues.
What's on the table
The mainline of I-15 in the area has three general-purpose lanes and one HOV lane in each direction of Salt Lake County, as well as four general-purpose lanes and one HOV lane in Davis County. The width of the freeway's pavement ranges from 180 to 205 feet, according to UDOT.
The agency says, on average, it took drivers just under 20 minutes to complete the drive between Salt Lake City and Farmington during morning peak times in 2019. If current population trends hold up and no changes are made, the department estimates it will take an hour to complete the same drive by 2050.
UDOT's preliminary report offers widening concepts that could extend the freeway space from 226 feet to as much as 286 feet by adding more general-purpose lanes and express lanes in each direction. Ideas on the table also feature high-occupancy toll lanes in each direction or reversible high-occupancy toll lanes. The latter of the two are lanes that can switch between moving north or south depending on the time of day or other circumstances that require more lanes in a particular direction.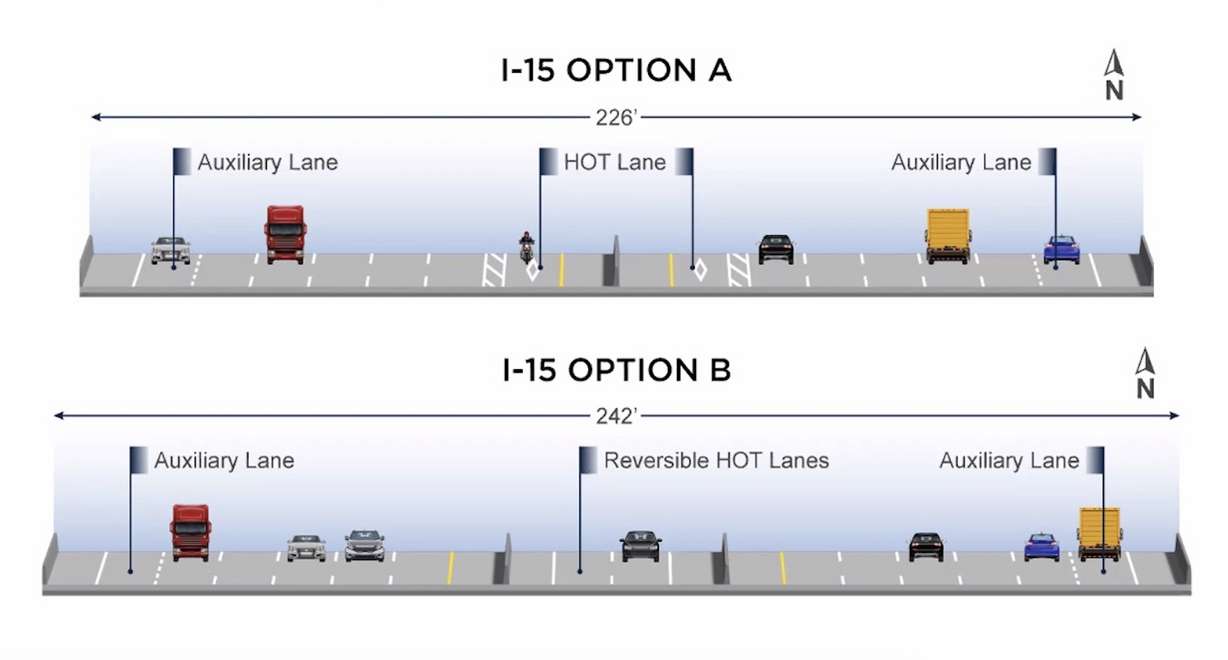 The widest option in the document leaves the possibility for as many as 14 total travel lanes — 23 when including not just lanes but shoulders, too, according to one UDOT graphic. However, Pocock clarified the purpose of the current process is to identify concepts more than exact freeway widths and lane amounts.
Adding in either high-occupancy toll lanes or reversible high-occupancy toll lanes cut the 2050 travel time projections to 28-30 minutes and 21-22 minutes, respectively, depending on the direction.
Other parts of the plan focus on interchanges and streets by the freeway in the selected areas, while reconfiguring roadways near I-15 interchanges to include sidewalks, bike lanes or shared-use paths for those not driving in northern Salt Lake and southern Davis counties.
None of the extension plans affect Utah Transit Authority's efforts to double-track its FrontRunner line from Salt Lake City to Farmington, which will eventually allow UTA to increase the frequency of its commuter trains up to every 15 to 30 minutes in the future. Shane Marshall, a consultant for UDOT, said both projects are a part of a long-range plan that factors in both cars and transit.
"While the transit isn't specifically included in this project, it's part of the overall solution to the transportation need of the entire Wasatch Front," he said.
The possibilities unveiled in the report were created using initial public feedback, after the project launched in April, that was sparked by the freeway's aging road surface. But some of the bridges and other structures along this particular route are also nearing the end of their life cycles. There are also stormwater drainage concerns in the area.
The initial responses helped craft what's called a purpose and need statement, which is used as a guide in the process of the project.
"We listened to the community members up and down the corridor through workshops, (a) formal comment period, attending community events and presenting to city planning commissions in other small working groups," Pocock said. "We made decisions not just with vehicles in mind but also those who walk, ride a bike or scooter, or use other active ways to get around and who are connecting to transit."
Concerns with the plan
However, there are at least some residents in the impacted area who aren't happy with the options UDOT has on the table. The Salt Lake City transportation safety advocacy group Sweet Streets immediately lambasted the options on the table when the document was released on Thursday.
Shelby Stults, one of the group's board members, told KSL.com on Tuesday that there are concerns that adding more lanes will result in induced demand, a transportation concept that adding more lanes will only attract more drivers, thus creating similar traffic problems on a wider scale in the future.
"The project is detrimental to air quality both in the region and in the city," she adds. "If you have more car traffic, you're going to be creating more emissions through the vehicles traveling throughout that expanded highway."
---
This is something that is personal to me. ... I want to make sure that the character of my neighborhood is something that I feel comfortable (about) and my neighbors feel comfortable walking and cycling in our neighborhood.
–Shelby Stults, Rose Park resident and board member of Sweet Streets
---
She also points out that it could affect homes and businesses closest to the freeway right now. Kevin Kilpatrick, an environmental planner with UDOT, explained that engineers are still figuring out the impact. More is expected to be known when a draft environmental impact statement is released next year.
"We don't have a good answer on that just yet," he said, after a question was brought up about it in Monday's open house. "We know there's a possibility for impacts to properties adjacent to I-15 with any of these alternatives but we're still early on in the engineering process. So until we kind of have final impact plans, we won't necessarily have a final answer on that."
While the plan is out of the city's hands, Salt Lake City transportation director Jon Larsen said Tuesday afternoon that he's also "very concerned" about what the widening could mean for neighborhoods by the freeway.
Cost is another uncertainty that will be better known next year.
Pocock said the price tag will be determined as they narrow the field of options in the coming months, though she adds that the Utah Legislature has already appropriated $1.6 billion toward this environmental study turning into a "built alternative." This appropriation means there wouldn't be new tax funds needed unless the cost of the entire project exceeds that amount.
The are some things that Larsen and groups like Sweet Streets like about what UDOT is proposing, such as improving the 600 North overpass in Salt Lake City, an interchange that takes trucks off 600 North, a new bike lane on Beck Street, as well as sidewalks and bike lanes near overpasses.
That said, Stults fears that those gains could be offset by bringing more vehicles into the area, which may result in a "hostile environment" for residents near the freeway.
That's actually one of the main reasons why she's invested in the project. She's a resident of Rose Park who worries that widening the freeway could cause a ripple effect on the streets in her neighborhood.
"I think it's a great neighborhood and I care a lot about it," she said. "This is something that is personal to me. I want to make sure that the character of my neighborhood is something that I feel comfortable (about) and my neighbors feel comfortable walking and cycling in our neighborhood. This project is going to bring a lot more car traffic."
What happens next?
This is the type of feedback that UDOT wants to know through its current public comment period, Pocock said. The agency's goal is to gather comments that indicate how the options on the table impact commuters, residents and the communities in which they live — positively or negatively.
UDOT will hold two additional in-person open house meetings regarding the development plan this week. Those will be held at Rose Park Elementary (1105 W. 1000 North in Salt Lake City) on Tuesday and the South Davis Recreation Center (550 N. 200 West in Bountiful) on Wednesday. Both meetings are scheduled to begin at 5 p.m. More information about the meetings can be found on UDOT's website.
The public comment period for the plans outlined on Thursday will continue through Dec. 16, also on the website, This feedback will go into a draft environmental impact statement, which will go through another public comment period before a final statement and record of decision are completed ahead of any construction.
A draft environmental statement is expected to be published sometime in 2023, resulting in another public comment period before a final project is selected. A record of decision is on track to happen by 2024, according to Pocock. Though construction will only happen after a final decision is made, Marshall said crews will likely seek to work both night and day to complete the project.
"The goal will be to complete (it) as quickly as possible," he said. "It's not just exclusively at night but more of a 24/7 operation to get it done as quickly as possible."
×
Related stories
Most recent Utah transportation stories