Estimated read time: 3-4 minutes
SALT LAKE CITY — An aging section of I-15 from Salt Lake City to Farmington may soon receive a makeover.
Utah transportation officials said Thursday they are set to open an initial scoping phase to find the current problems and potential ideas people who drive on the freeway from 400 South in Salt Lake City and Shepard Lane in Farmington have. The stretch of I-15 covers 13 total exits in Salt Lake City, North Salt Lake, Bountiful, Centerville and Farmington, but also impacts the communities of Woods Cross and West Bountiful.
"We're looking to identify the transportation needs in this area and work to find potential solutions to address those needs," said Tiffany Pocock, the I-15 project manager for the Utah Department of Transportation. "Hearing from those who live and travel here is a key part of that process."
In a video about the project, Pocock explained that the concrete and asphalt pavement in the selected area is about 50 years old and needs to be swapped out. It isn't alone; nine of the 35 bridges along the stretch are recommended for replacement, while one is recommended for a deck replacement and another 19 are recommended for preservation work.
That's a problem as the population within the Wasatch Front continues to expand. It limits the types of projects needed to help out with the region's growth.
"Most existing structures do not have clearance to accommodate any additional lining of I-15 in areas if needed," Pocock said.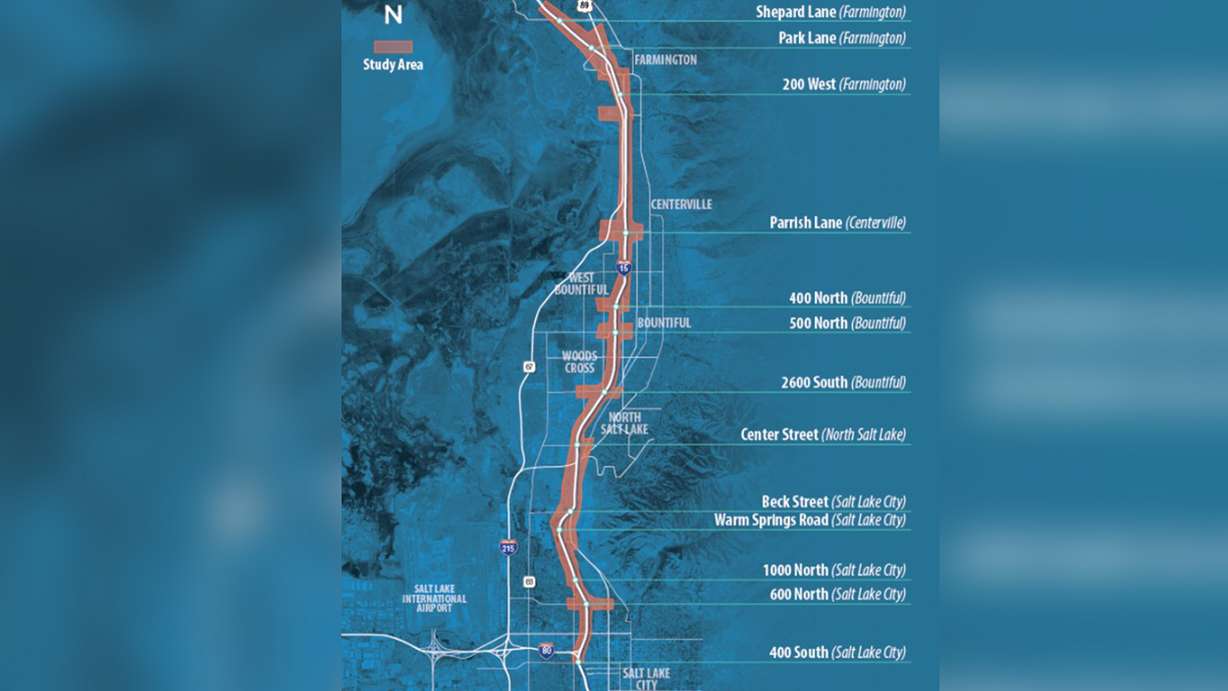 In addition, she said there are "several areas" along the stretch of the freeway that don't drain properly, meaning pipes and culverts in the area need to be replaced. Other possible changes include reducing sharp curves and widening shoulders to improve visibility and reduce crashes in the corridor, Pocock said.
And without any major reconfiguring, UDOT estimates the time to travel the section of freeway will jump from 18 to 19 minutes in recent years to 55 to 66 minutes by 2050, based on population growth trends. Engineers believe that would end up spilling out onto local streets as people look for alternative routes.
That's why UDOT is also looking at ways to improve sidewalks, crosswalks, bike paths and trails to help people get across the freeway's entrances and exits.
"Moving people includes not just those in cars but people walking safely on sidewalks, riding bicycles and using public transit," Pocock said. "The system should provide good health for individuals and communities."
But before any changes are made, UDOT starts the process with a scoping to understand the challenges of the stretch of the freeway and what people who use it on a regular basis need from it. This helps engineers craft projects that offer solutions to the problem.
The current scoping phase aims to study everything from land use to air quality, noise, economics, equity, environmental justice and more. The public comment period for this phase opens Monday and will continue through May 13. People will be able to submit comments either through UDOT's project website, by email to i15eis@utah.gov, or by mail to 392 E. Winchester Street Ste. 300 / Salt Lake City, UT 84107.
Once that's completed, the agency follows a series of steps in drafting an environmental impact statement before finalizing that document and issuing a record of decision. This process, which is projected to continue through 2024, is when project designs and details become more concrete. There are a few other public comment periods along the way.
From there, it's up to funding, planning and construction before a makeover of I-15 from Salt Lake City to Farmington becomes a reality.
×
Most recent Utah stories