Estimated read time: 3-4 minutes
WEST VALLEY CITY — West Valley police are asking for the public's help in finding the body of an elderly woman believed to have been brutally killed by her grandson last year.
Maren Carlson, 99, has not been seen since at least November. Police believe she was killed by her grandson, Garman Shaun Cunningham, 50, of West Valley City, who then disposed of her body. In December, Cunningham was charged with aggravated murder in his grandmother's death and aggravated kidnapping for allegedly holding his wife hostage for over a week.
But in March, Cunningham died while at the Salt Lake County Jail. On Thursday, in a prepared statement, West Valley police noted that Cunningham "died by suicide." Police also identified Carlson for the first time by name on Thursday. Previously, court records only identified her by her initials.
The investigation began Nov. 12 when police were called to Cunningham's residence, 3360 S. Greenmont Drive. His wife had called 911 claiming she had been held hostage and tortured by Cunningham since Nov. 1. On the day police were called, she was able to escape her home and go to neighbor's house.
Responding officers found the woman had been strangled, beaten, cut, burned, handcuffed and threatened with a gun while held captive, according to charging documents. After Cunningham was arrested, his wife told detectives about Carlson being brutally beaten, and eventually killed, by Cunningham.
"(The wife) stated that Cunningham took (his grandmother's) body to the garage and she heard him wrap (her) in plastic and tape. Cunningham told (his wife) that he drove up the mountain and dumped (his grandmother's) body off the side of the road by rolling her body down an incline in hopes nobody would see her," the charges state.
West Valley police on Thursday said they believe Carlson's body was disposed in the Uinta-Wasatch-Cache National Forest, possibly off the Mirror Lake Highway or state Route 35.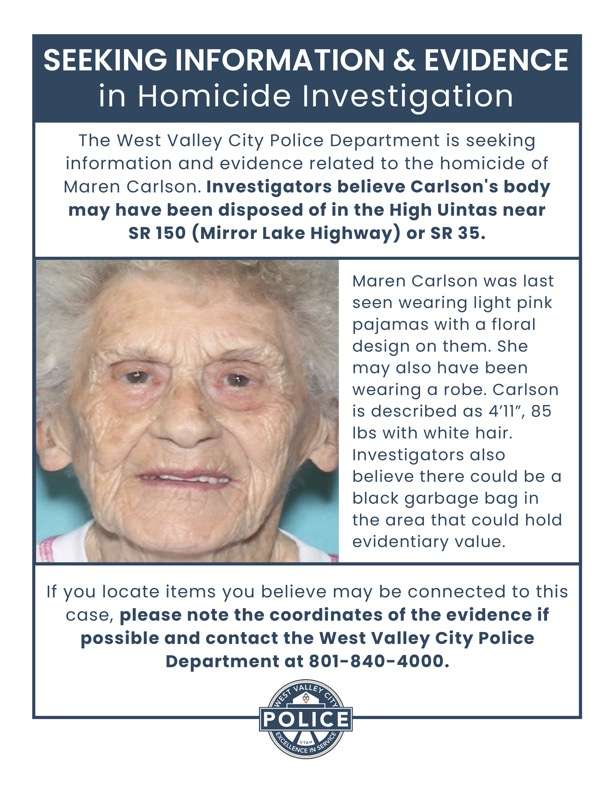 "Investigators from the West Valley City Police Department, assisted by the Summit County Sheriff's Office, the Wasatch County Sheriff's Office, their search and rescue teams, and multiple cadaver dog teams, have conducted multiple search operations to locate the body of Maren Carlson without results," police said.
Now, investigators are asking anyone who may go into that area to be on the lookout for possible clues.
"As the fall and hunting seasons bring more Utahns to the mountains, the West Valley City Police Department is asking for those spending time around the Kamas area to keep an eye out for evidence in a homicide case," the department said.
Carlson was last seen wearing light pink pajamas with a floral design, and may have also been wearing a robe. She was 4 feet 11 inches tall and weighed just 85 pounds, according to police.
"Investigators also believe there could be a black garbage bag in the area that could hold evidentiary value. We ask anyone who locates items they believe may be connected to this case to note the coordinates of the evidence, if possible," and to contact West Valley police at 801-840-4000.
×
Most recent Police & Courts stories