Estimated read time: 6-7 minutes
SALT LAKE CITY — Mohamoud Diabate came to Utah to contend for a national championship.
That statement may seem a bit unusual considering Utah has never appeared in the College Football Playoff or been within reach of the national championship game, but it was still a factor for Diabate when he transferred from Florida and made his way west to Salt Lake City.
The senior linebacker originally from Auburn, Alabama, said he looked into teams from the ACC, Big Ten and SEC, but he felt Utah had a great opportunity for another successful season — one in which he could compete as a starting linebacker and be a part of something special.
"You look at the teams who were in the New Year's Six, and it was like, which one of those teams are bringing back a lot of people, which one of those teams have a chance to repeat the same success. So when I looked at it, I was like, a lot of the core of this team was coming back, with basically the whole core — the quarterback, the tight ends, the running back," Diabate said.
"Defensively, they're getting back a lot of things, except for inside linebacker and pass rusher. Those are two things that I feel I do exceptionally well. So, I felt like that was a good decision. Utah's been dominant out here in the Pac-12, and we expect to do the same thing; that's why I came out here."
And Utah is happy to have the veteran linebacker, who would step in to help fill the void left when first-round NFL draft pick Devin Lloyd and Nephi Sewell left the program after last season. It was a perfect fit for both parties involved.
Diabate joined the program in spring but was held out after undergoing labrum surgery before his move to Utah. But he wanted to be on campus as soon as he could to learn the culture of the program, familiarize himself with his teammates and get a jump on the playbook.
So far, it's all paid off and Diabate has "played exceptional," according to head coach Kyle Whittingham. He remains the leading candidate to get the start on Sept. 3 against his former team, but Whittingham cautioned that no depth chart has been set in stone yet and that there are about six candidates that are vying for the position that have performed well in camp.
"We won't have a depth chart, probably not even before the game. We're just going to go into the game — we'll all know, obviously, but there's no reason to announce it," Whittingham said. "But we've got about six guys that are really playing well. Mo Diabate is one of them. Karene Reid, Lander Barton, Justin Medlock and then two or three other guys that are in the mix that really are doing a good job."
Coming into fall camp, the linebackers were one of the position groups with several questions as to how the team could replace Lloyd and Sewell. But those questions have seemingly fizzled out and it's become an area that linebacker coach Colton Swan said he's "extremely confident" in to enter the season.
Will it be perfect and an area that doesn't lose a step from last season? Probably not, but the gap between where Utah was at and where they were expected to be with their previous starters leaving to the NFL has been filled by a deep room of willing players ready to leave their mark on the program.
It's a position group that defensive coordinator Morgan Scalley said he has full confidence in going into the season.
"Coach Swan's a great teacher, and you've got a lot of buy-in in that group," Scalley said. " ... But I feel good about this group, feel good about — I'm not going to name everybody, but they've done a good job of creating some depth there."
Swan agreed, though he recognized that "it's hard to replace a first-round draft pick." But the hope for Swan is that with Diabate, Karene Reid, Lander Barton, Justin Medlock, Ethan Calvert, and others, that he has enough pieces to keep the defense humming along.
"I've got some guys that are coming in that are filling those shoes and doing a great job of it, and the hope is not to miss a beat with the class that I've got coming up," Swan said.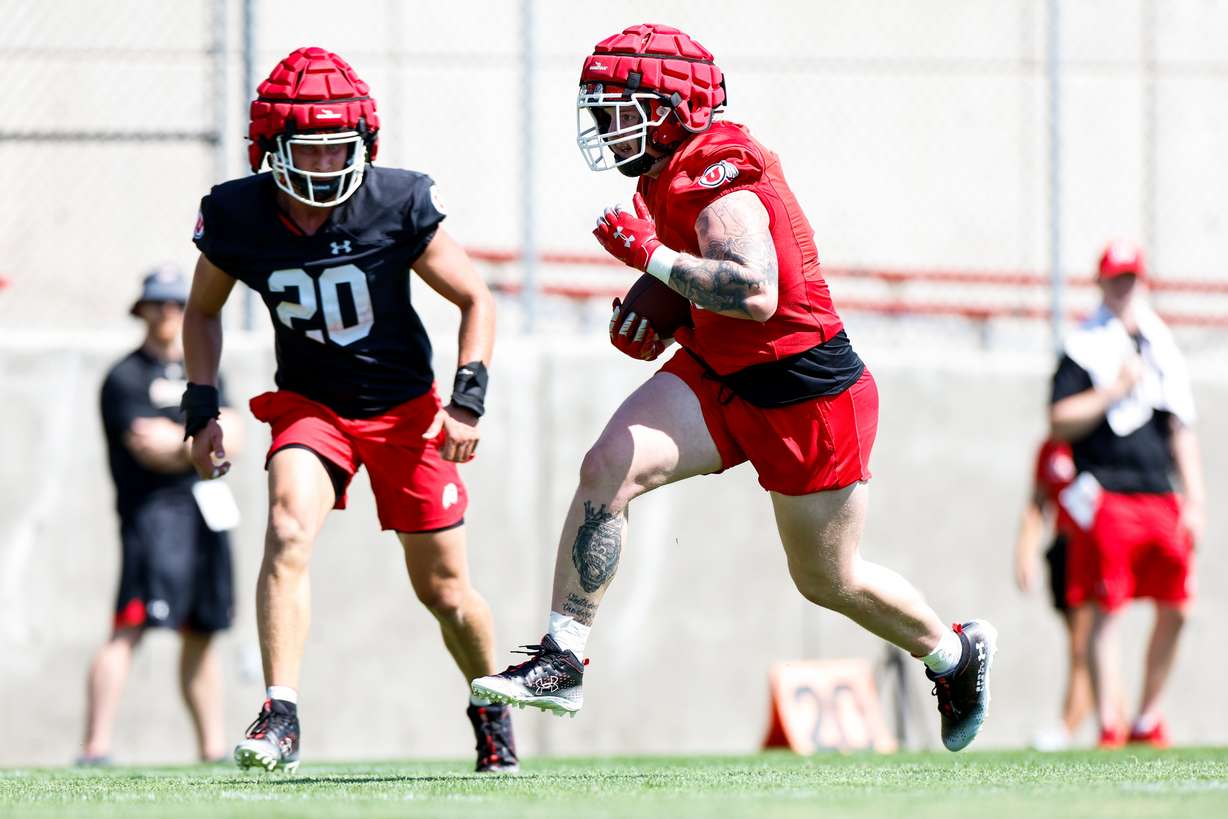 With Diabate and Reid as the veteran players and the ones with the most experience, their leadership will go a long way in the linebacker room once again becoming a strength for a Utah defense that has traditionally reloaded at the position.
Whether it be Cody Barton and Chase Hansen stepping in after Gionni Paul graduated, or Lloyd filling the roll of Barton and Hansen, it's a matter of who will step up for Utah and not if someone will.
With two weeks before Utah kicks off the season, it could be one of at least four or five players that has an immediate impact. And Swan had positives to say about each of them — a room full of talent that's going to be hard to give reps to everybody.
Swan breaks down his linebackers
On Diabate: "He's doing a great job. ... Long, athletic, fast. His mindset of football is very good. He's got a great mindset. He's able to pick up everything that I'm putting down, which is a great sign. He's got great energy, great body language. He's everything you want.
"He bought into everything that we have given to him when it comes to how we do things: our culture, how we practice, how we play, our style; even in the linebacker room, all of our little nuances and cultures, and he's done a great job. He's a sponge, he soaks everything up, he's hungry and loves football, and he's done a great job with the transition."
On Reid: "He is a very conscientious kid. Throughout his offseason, this fall camp, the sign of a good player is understanding and knowing your weaknesses and working on them, and he's done that ever since our last game; and he's grown mentally, he's grown physically, his game has expanded. You're gonna see some good things from that kid."
On Barton: "He's this big, nice blank canvas when I got him, and I was able to put some strokes on it and start painting. He's really cerebral, he's a very conscientious kid, he's smart, he can handle a very good workload — not to mention he is a freak athlete. He's a well-rounded football player, he's got great size, great speed and great intellect. ... He's shown great things thus far in camp and doing a great job."
On Medlock: "Another kid that's come in the same age as Lander, same times here in the spring, and has done a great job. He's got a really good football mind and has the ability to decipher different types of plays. He's got very good foot fire. Very smart young man, very athletic, brings a really good punch to him. He loves football and I see nothing but growth from him. He's a very nice blank piece of canvas to work with, as well."
On Calvert: "Ethan's done a great job. He's coming off an ACL injury that he had in the Weber State game, which is less than a year away. And to see his progress through that injury, I've been extremely happy with where he's at; he's had a great fall camp. His knowledge of the defense and his physical progression has been great coming off of that injury and been really, really impressed and where he's headed."
×
Photos
Most recent Utah Utes stories