Estimated read time: 5-6 minutes
This archived news story is available only for your personal, non-commercial use. Information in the story may be outdated or superseded by additional information. Reading or replaying the story in its archived form does not constitute a republication of the story.
VINEYARD — For the first time in 10 years, the Utah Transit Authority has added a station to its FrontRunner line — this time in Vineyard.
The new stop sits between Orem and American Fork on the 83-mile transportation line that runs from Provo to Ogden.
Utah Gov. Spencer Cox celebrated the opening of the new station, saying it's an example of building something to help future generations and that Vineyard, itself, is an example of high-density housing being done the right way with good infrastructure.
"I believe in building. I believe that as people we should be builders. … We need to be builders of people, but we also need to be builders of things," the governor said.
Cox said in the United States, building cities quickly — as Vineyard has done — was a reason the country leads the world, but this historical building has slowed. He said the state is working to find ways to build things like this FrontRunner station even more quickly and less expensively in the future to create a better public transportation system and more infrastructure for the future.
Cox said transit is very important, and that the state needs to "think bigger and bolder" because continuing to add lanes to I-15 is not a viable way of continuing to address transportation needs.
"We have so much more to build," he said. "The double tracking is so important. We have to make this run quicker, make it more convenient for people so you don't have to wait a half hour to catch the train, right? We can do that, and we are going to do that. It's so important."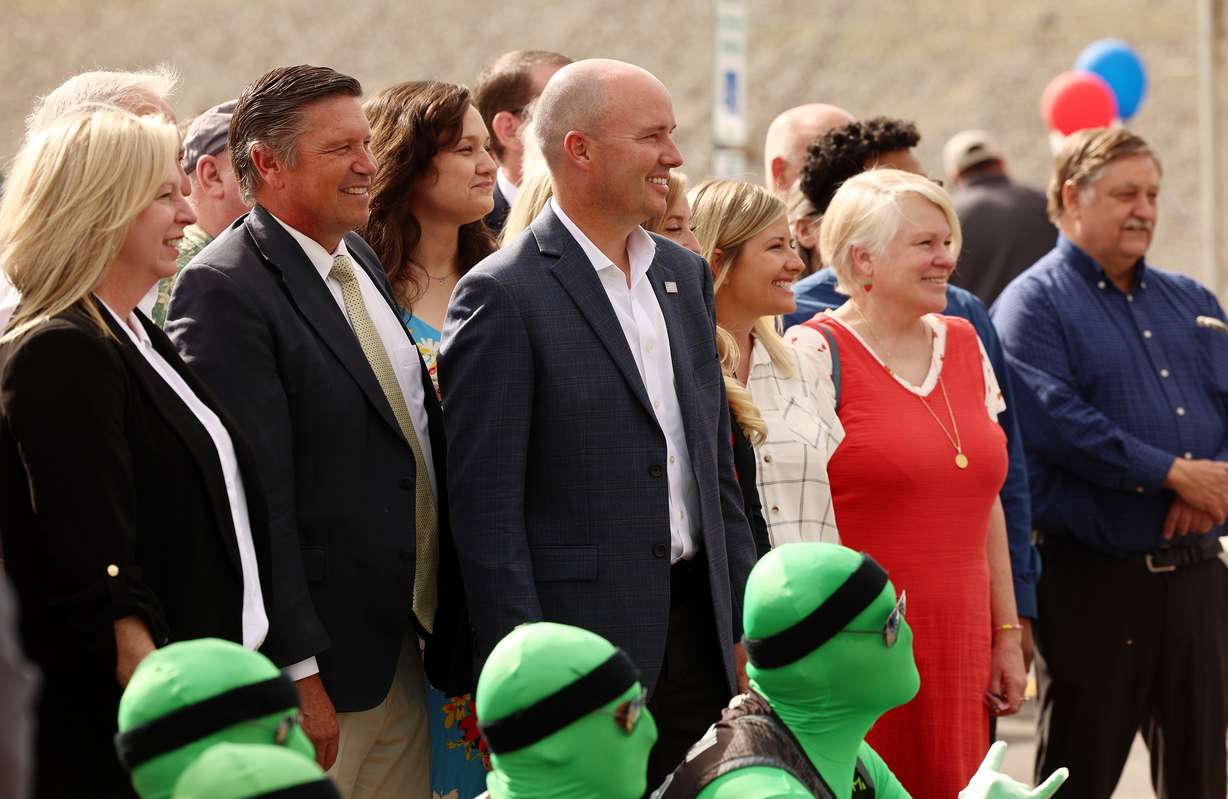 Jeff Acerson, a member of the UTA's board of trustees, said this station will be a viable option for many people traveling from new housing developments and will be his station of choice when traveling to Salt Lake City. He said it links with a bus route with multiple pedestrian or biking paths and with other transportation methods.
Acerson said he is seeing more students and commuters returning to public transportation, helping reduce traffic on Utah's roads.
As part of building this station, UTA put 1.8 miles of double track north of the station. UTA contributed nearly $17 million to the project, and the station was also funded through a $5.6 million appropriation from the Utah Legislature.
Not just a FrontRunner station
Vineyard Mayor Julie Fullmer said her city was an underdog community, closed in by railroad tracks and Utah Lake on the west side of the freeway without many roads leading to it. Despite that, today the city is one of the largest mega project sites and greatest developments in the state — one she said will shape Utah's future developments and drive the economy.
She said within the next few months, developers will break ground on homes and start building a community that will stretch between the station and the lake and will bring more people to their city. It will be known as Vineyard Station.
"We're one of the largest regional developments in the state poised as a transportation nexus and ... economic center next to the largest university, growing at 10,000%, becoming the lifeblood to this area for students, young families, talented professionals, retirees, all coming together to make this dream city," Fullmer said.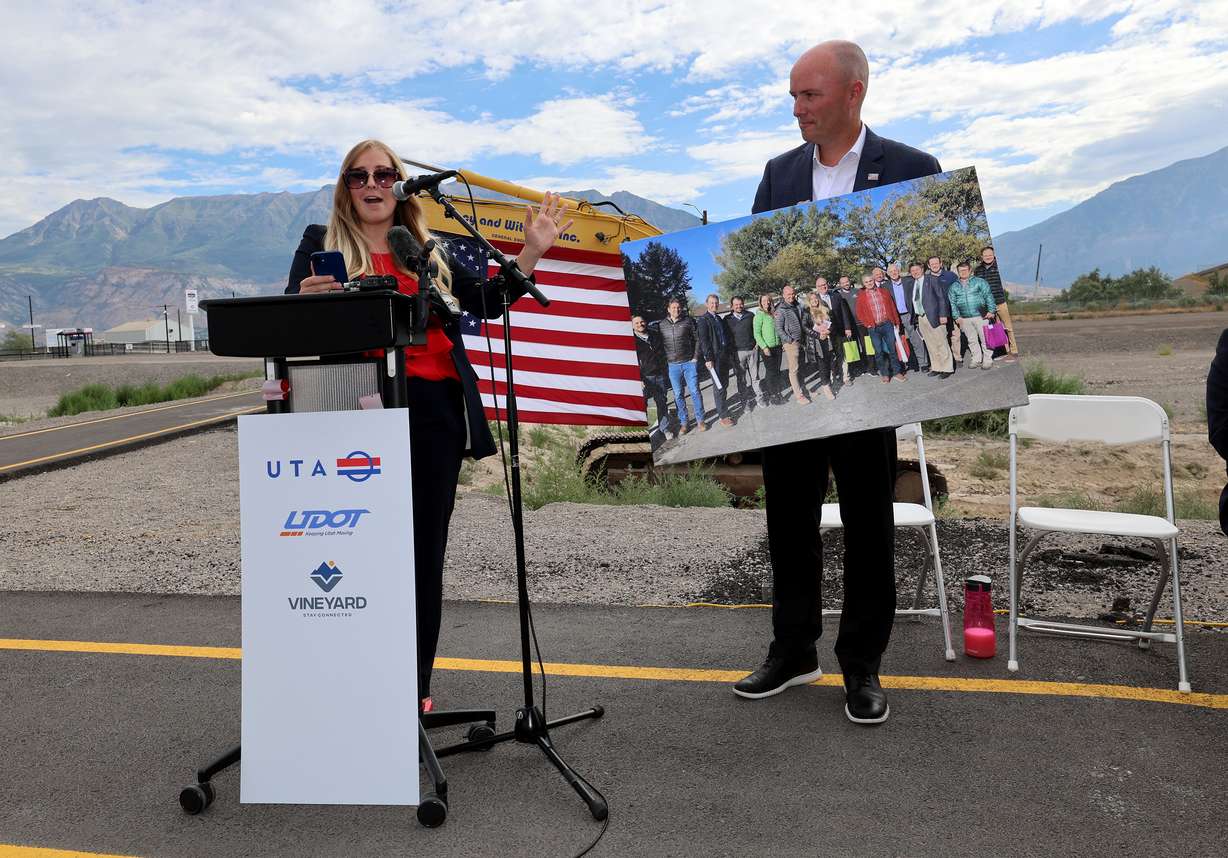 She credited that to a group of innovators and leaders who were willing to take risks on multiple innovations and investments. Fullmer also said they have had support from Vineyard residents and the project is a joint venture that includes the people who live in Vineyard.
"The shoreline is not an impediment, but rather something that will bring people to this valley as a gem in our community," she said.
The community will have a walkable promenade, built over the next few years, with 12 acres of open green space lined with businesses stretching from the station to Utah Lake and Vineyard Beach Park. Fullmer said a drone show planned for Friday evening to celebrate the station's opening represents that they are also developing 3D space.
"This is a moment that is very historical in Utah. It's going to change the way that we develop sites," the mayor said.
Jeff Speck, a city planner and author of "Walkable City," said Utah has two futures to choose between: one that is spread out and dependent on cars or dense communities that are walkable, the latter being the healthier of the two. He said the average cost of a vehicle is $10,000 a year, and having a society reliant on cars means 40% of people who are not able to drive are reliant on others to help them.
---
It's everything in one place, and it will be not just the downtown Vineyard but, I think, the downtown for the whole region. And everyone who lives here will be within a reasonable walk of a very effective transit service that links them to the whole region.
–Jeff Speck, city planner, author of 'Walkable City'
---
Speck helped design the Vineyard Station community in a way that will be walkable, with small blocks and streets. He said of all the plans he has worked on for over 30 years, this future community is the most complete — with thousands of homes, millions of square feet of commercial space, and billions of dollars invested.
"It's everything in one place, and it will be not just the downtown Vineyard but, I think, the downtown for the whole region. And everyone who lives here will be within a reasonable walk of a very effective transit service that links them to the whole region," Speck said.
Jeff Woodbury, a senior vice president of Woodbury Corporation, which is partnering with Flagship Homes to develop the community, said they are excited to be building a transformational community. He said that the design is meant to encourage people to be using the streets for gathering and arts, and there will be many walkable streets.
"What we're trying to do is really make the whole thing a park," he said.
Woodbury said construction will start with a large park in the middle, then the community will then be built around it — the opposite of how most developments are built.
He said this project is different from any others he has worked on in that it is the first time that instead of giving objections to various ideas, people considered how to make changes so they are able to reach the vision. Woodbury said he thinks people will be able to see the benefits of that collaboration in the finished product.
×
Photos
Related stories
Most recent Utah transportation stories