Estimated read time: 5-6 minutes
PROVO — In recent years — or at least since Aaron Roderick took over as offensive coordinator of the BYU football team — a new star has emerged every year on offense.
From Zach Wilson's breakout season in 2020 to Tyler Allgeier in 2021, the Cougars haven't slowed down with their fun, fast offense that has put points on the board and kept fans in their seats with shifts, drifts and vertical routes for days.
With the return of quarterback Jaren Hall, a massive offensive line up front, and a host of starry-eyed receivers, that doesn't seem easily changed any time soon for a team that returns the most production in college football.
Still, one glaring hole on the depth chart remained through spring ball, and one that needed to be filled: the third wide receiver position, or WR3.
By the first day of training camp Thursday morning, the answer was found: Keanu Hill.
Paired alongside established veterans Gunner Romney and Puka Nacua, Hill was the perhaps the biggest surprise fixture across the offensive depth chart when it was first released after spring football. Kody Epps, Chase Roberts and Brayden Cosper were also in the mix before Hill won out.
So what makes the 6-foot-4, 210-pound redshirt sophomore from Bedford, Texas, stand above the crowd?
For starters, just that.
"His size, especially at receiver, is special," Nacua told KSL.com during BYU football media day in June. "Me and Gunner get mentioned as big receivers, but Kebo is bigger than both of us. But he also understands his tempo so well. And game time reps will help him find even more his own rhythm.
"I think he's finding his pace and his rhythm. I'm excited for it."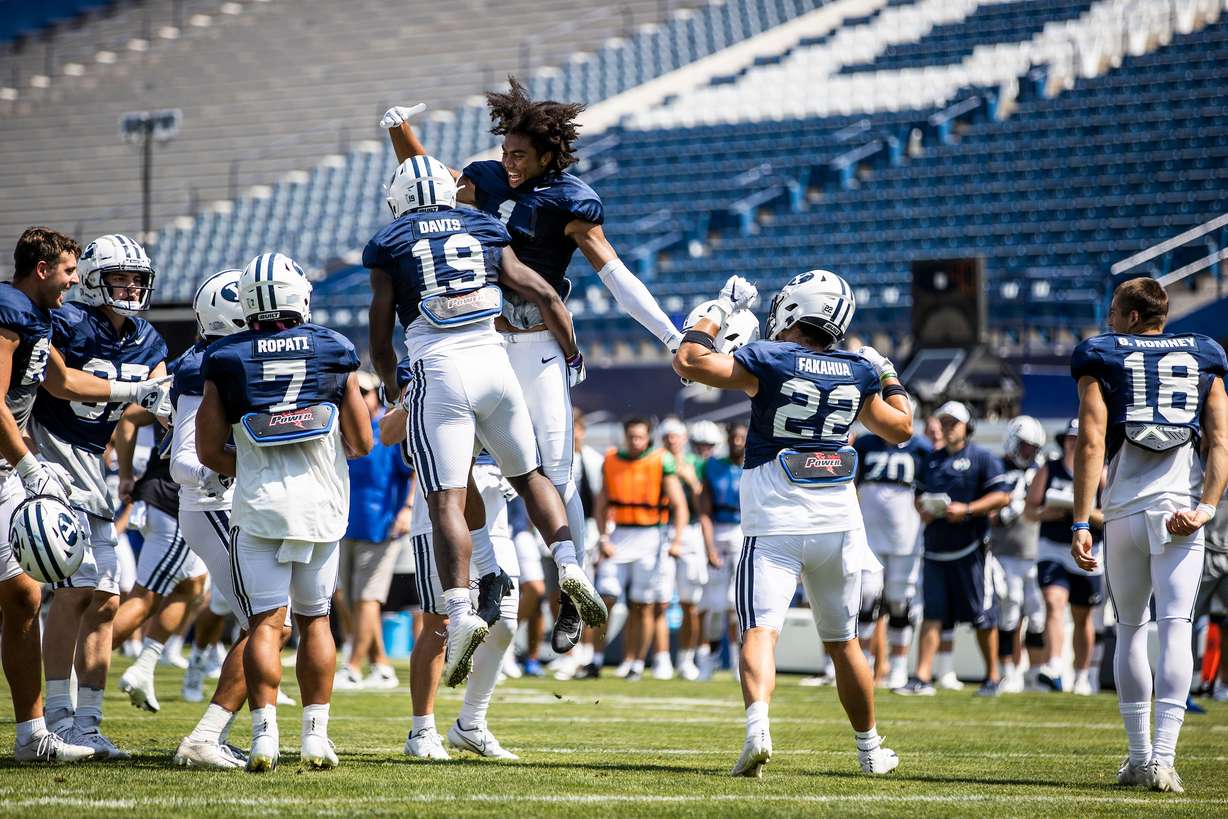 In three seasons at BYU, Hill has caught 25 passes for 453 yards and three touchdowns, the bulk of them coming last season. He's one of 26 players on the team to feature in all 13 games in 2021, but started just one — when he caught four passes for 72 yards and a score in a 35-31 win over USC.
Now moving up the depth chart, Hill has a chance to replace reliable wideout Neil Pau'u, now in training camp with the Buffalo Bills. To notice his name on the same line as players like Pau'u, Nacua and Romney is no small feat, either.
"It means a lot. It means they trust me a lot, that they believe in my skills and my talents," Hill said. "It really means a lot to be up there with Puka and Gunner — but I've always got guys like Chase, Kody, Cosper, all the other guys to push me."
Size. Hands. Route-running. But that last part is perhaps Hill's biggest asset; take it from another clean runner.
"I think he's really coming into himself as a route runner," Romney said. "Before he was just kind of using his athleticism and big body. He's a lot more fine-tuned with the craft of being a receiver; he's understanding the technicalities and what it takes to get separation.
"He knows what it takes to be a successful receiver at this level, and I think he's just working at that."
But Hill is more than just a big body. Since arriving in Provo three years ago, the receiver his teammates call "Kebo" has quietly perfected his craft. He's become one of the most meticulous route runners on the team, spending hours after practice refining his game and emerging as a reliable playmaker near the end of last season, with 13 of his 18 receptions in the final five games.
Maybe that's why in the regular-season finale in the LA Coliseum, with seemingly half of BYU's roster bruised and battered and otherwise injured, the coaches felt content starting Hill to help the Cougars finish off a 5-0 mark against the Pac-12.
That confidence continues into 2022.
"As always, it's up to competition, but Keanu Hill has earned the right to be that solidified third guy headed into game one," said wide receivers coach Fesi Sitake, who is also BYU's passing game coordinator. "Anytime he's on the field, he plays with passion and I expect big things from him this year. We've got a lot of young guys that are going to be pushing on a weekly basis and playing.
"I want to play as many as deserve to play without disrupting the flow of any individual player."
Since last season, since spring camp, and even over the summer since earning the job at WR3, Hill has kept training, too. He's worked out with former BYU receiver Margin Hooks, the Waco, Texas, native who starred at BYU from 1996-2000.
Hill knows that earning the job is only half the battle, if that. He's got to keep it, too, and against a field that marks perhaps the deepest receiving corps BYU has had in Kalani Sitake's six years with the program.
"We have so many weapons," Hill said. "Even if they're not starting, we have so many weapons coming off the bench. It's a dangerous offense, for sure."
But one big weapon at the No. 3 wide receiver spot. Emphasis on big.
"He's going to be bigger than any DB he goes against," Romney said. "The more he learns how to use that, the better and better he's going to get.
"He's already good at it. But putting his physical print on the game is going to make him that much better."
×
Photos
Most recent BYU Football stories