Estimated read time: 10-11 minutes
PROVO — In the days following BYU football's 31-28 loss to UAB in the Independence Bowl, a lot of players had some big decisions to make over the holiday season.
No, we're not talking about holiday gift giving, either.
Several players faced the decision of staying in school for another year, declaring for the NFL draft, or — as is becoming commonplace in the age of the transfer portal — finding a new school to finish their collegiate careers. Several of them have already made that decision.
Fourteen players were celebrated on the Cougars' senior day game against Idaho State, which honored three players whose eligibility has exhausted, and 11 others who had the option of returning for at least one more season but were seriously considering moving on and turning professional, in some form or fashion.
Those players include: defensive back Jared Kapisi, defensive lineman Uriah Leiataua, wide receiver Samson Nacua, running back Tyler Allgeier, defensive back Matthew Criddle, offensive lineman JT Gentry, center James Empey, linebacker Drew Jensen, running back Lopini Katoa, defensive back Jason Money, wide receiver Neil Pau'u, wide receiver. Gunner Romney, defensive lineman Earl Tuioti-Mariner and offensive lineman Joe Tukuafu.
Of the group, only Kapisi, Leiataua and Nacua had exhausted their college eligibility. But several others have already made decisions; Jensen and Criddle have both elected to move on in separate interviews, and Pau'u accepted an invitation to the senior-laden Hula Bowl, a college football all-star game that will be played Jan. 15 in Orlando in preparation for the NFL draft.
Let's start with the players who are staying for at least one more year, before moving to those bound for the NFL Draft in April.
Gunner Romney, WR, Chandler, Ariz.
Gunner Romney is ready to run it back.
After an injury-curtailed junior campaign in what was originally intended to be his final season at BYU, the fourth-year junior announced Wednesday he was headed back to college for his final season of eligibility.
The 6-foot-2, 195-pound wide out made the announcement on his Instagram page, with the simple words "unfinished business" accompanying his photo.
"I'm coming back to BYU for another year," Romney told Deseret News reporter Dave McCann. "I felt it was the best decision for me overall. It's not just a football decision, it's a life decision. My dream to play in the NFL will still be there next year."
Romney is back to build on a 2021 campaign that saw him rack up 594 yards and three touchdowns while playing in just 10 games and missing nearly a third of the season due to a partially torn MCL Oct. 23 against Washington State.
It was the same ligament he sprained in the season opener against Arizona in the first game following a season where he posted 767 yards and two touchdowns in 2020. In four years at BYU, Romney has 1,900 yards and nine touchdowns, averaging 16.24 yards per catch.
The decision may surprise some, who thought Romney was on his way to the NFL or other professional opportunities following his fourth year. It's all the more surprising after Romney's brother Baylor announced he was calling time on his BYU career on New Year's Eve, when he put his name into the transfer portal but also hinted that his injury-plagued career may be done, as well.
Baylor Romney graduated this past December, and his younger brother plans to graduate with a degree in economics by December 2022 before he and his wife Sadie leave Provo.
"Me and Baylor have been talking a lot lately," Gunner Romney said. "It was kind of an emotional process as we reminisced over the last four years. But, at the same time, we both had to decide what was best for ourselves. We are brothers and support each other. It was best for him to move on and play somewhere else or be done with football and it was best for me to stay."
Romney adds offensive firepower to a BYU group that will also add Cal running back Christopher Brooks and Stanford fullback Houston Heimuli, in addition to six mid-year enrollees like former Orem High five-star tackle Kingsley Suamataia. That's in addition, of course, to the return of starting quarterback Jaren Hall, who reaffirmed his decision to come back to BYU over the holiday break.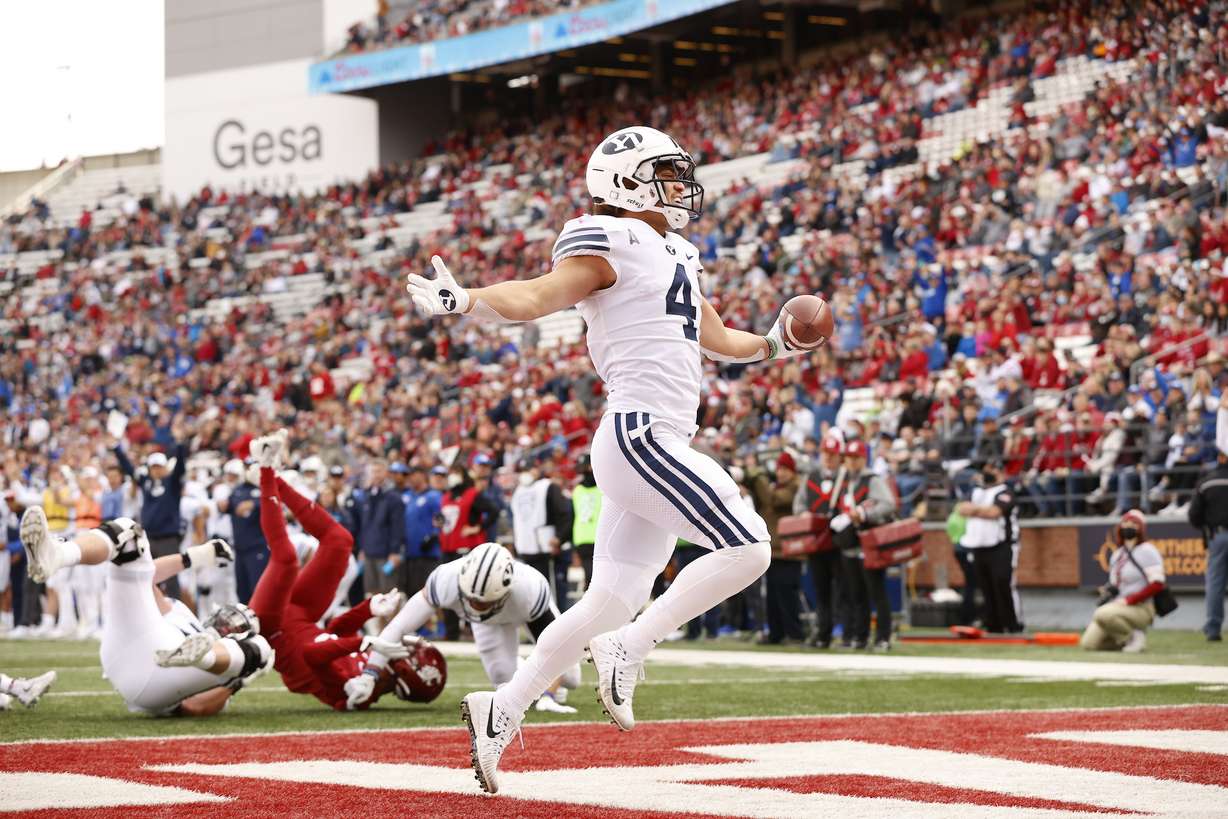 Lopini Katoa, RB, American Fork
After initially opting for 2021 to be his senior year, Katoa made an about-face and declared during the Cougars' bowl preparations in Shreveport that he would be coming back for another year.
"It will not be my last; I'm coming back next year," said Katoa, who ran for 242 yards and two touchdowns and caught nine passes for 28 yards and a score in 2021. "I think for now, it's all on this year, and everybody is hoping to capitalize off on the right now. After that, we'll go from there."
The 6-foot-1, 215-pound running back finished second on the team a year ago with 444 yards and a five rushing touchdowns, and also added 292 receiving yards and three touchdowns. The versatile tailback with hands of a wide receiver was third as a true junior with 44 yards of total offense, including four starts, a season-high 90 yards on 14 attempts against San Diego State, and a season-best four receptions for 90 yards in the Boca Raton Bowl against UCF.
A year later, he was one of 23 players to appear in all 13 games of an injury-hampered 2021 season, and finished as the No. 3 rusher and leading kick returner with an average of 20 yards on four returns.
Clark Barrington, OL, Spokane, Washington
A redshirt sophomore by eligibility, Barrington wasn't expected by many to declare for the NFL draft but had the option as a fourth-year player in 2021. But the 6-foot-6, 302-pound All-American left guard took any drama out of the question early when he quickly and easily answered a question about returning for the 2022 season.
Barrington was one of two full-time starters on the offensive line for the Cougars in 2021, and finished as BYU's highest-graded offensive lineman for the No. 17-ranked total offense in the nation that averaged 457.1 yards per game in the regular season.
NFL draft-bound
Tyler Allgeier, RB, Fontana, Calif.
Allgeier went from unheralded walk-on to record-setting tailback in a span of four years, including a redshirt season and a remarkable COVID-19 campaign. Then, he did it again in his final year with the program.
The 5-foot-11 running back opted for the NFL draft before the New Year, leaving as one of the top backs in BYU history despite barely playing as a freshman and spending most of the next year as a linebacker. But the all-time leading rusher in Kaiser High School history only needed two seasons to leave his indelible mark on the Cougars' program, first running for 1,130 yards and 13 touchdowns en route to an 11-1 campaign in 2020, then surpassing that mark with 1,601 yards and 23 scores in 2021, topping Luke Staley's single-season rushing record set in 2001.
"I came to BYU in 2018 as a walk-on, ready to challenge the doubters and hungry to prove that I belonged," Allgeier wrote Dec. 28 on Instagram. "Four years later, after switching positions and earning my scholarship, I have achieved my football goals at BYU and believe that I am ready for the next challenge.
"After much thought and prayer, I will be declaring for the 2022 NFL draft and pursuing my lifelong team of playing in the NFL."
Despite four years in the program, Allgeier still had two seasons of eligibility remaining due to a redshirt and COVID-19 year. He also said that he plans to finish his degree at BYU "in the near future," a promise he made to the grandfather who helped raised him along with his single mother, a grandparent who died recently from complications from lung cancer.
The Fontana, California, product also owns the single-season BYU record for most rushers, and leaves the program as the No. 5 overall rusher in school history with 2,899 yard. His 36 touchdowns are tied with Harvey Unga, the Cougars' former all-time leading rusher and Allgeier's position coach, and just behind Staley's all-time mark of 41 rushing touchdowns.
The Accidental All-Timer
James Empey, OL, American Fork
After five years in Provo, it came as little surprise Monday night when Empey posted on Instagram that he had played his final game in a BYU uniform.
The 6-foot-3, 303-pound junior from american Fork ended the speculation early after missing the final five games of the 2021 season with a leg injury suffered in a 21-19 win over Washington back on Oct. 23.
In all, Empey — who was named one of six finalists for the Pop Warner College Football Award given to the nation's top senior who has made a difference on the field, in the classroom and in the community as a role model to the youth football organization's young athletes — started all 41 games of his BYU career over the five years he was available, and was named an FWAA Freshman All-American in 2018 and 2021 preseason All-American by Phil Steele and Athlon Sports.
A team captain as a senior and member of the Cougars' leadership council, Empey was a three-time watch list candidate for the Rimington Award and twice for the Outland Trophy given to the nation's top lineman. The three-time CoSIDA Academic All-District selection graduated this summer with a 3.84 GPA in finance and a minor in nonprofit management from BYU's prestigious Marriott School of Business.
"As I've reflected on my five seasons at BYU, it's hard to express my feelings and gratitude for the experiences, relationships, and opportunities that I've had," Empey wrote on Instagram. "I want to express my gratitude to all coaches past and present, football staff, and especially my teammates for believing in me and pushing me to be my best self in all aspects of life. You have influenced my life in more ways than just football."
Incredibly gifted WR from @BYUfootball, Neil Pau'u @pauuneil is crossing the country to showcase his speed, athleticism, route running, and hands in the BounceHouse. @DraftDiamonds are found at the #HulaBowl@SAGECards@draftguyjimmy@scott_nflpic.twitter.com/WxJLYLgpaz

— Hula Bowl (@Hula_Bowl) December 14, 2021
Neil Pau'u, WR, Santa Ana, Calif.
A fifth-year junior with one season of eligibility remaining due to the COVID-19 pandemic, Pau'u embraced a long career in Provo and one of the great comeback stories of the BYU football program in the modern era prior to accepting a spot in the Hula Bowl in January.
The 6-foot-4, 215-pound wide out initially followed his older brother Butch to BYU and enrolled in time for the 2017 season. But after playing sparingly in 25 games in his first two seasons, combining for just 255 yards and three touchdowns, Pau'u was suspended for the 2019 season after receiving a DUI near campus following his sophomore season.
Still, Pau'u stayed close to the program, enrolled in classes during his missed season and returned in time for the 2020 season — when he started nine of 12 games and finished second on the team with 45 receptions and third with 603 receiving yards for a BYU offense that ranked third nationally in scoring at 43.5 points per game and sixth in total offense at 522.2 yards.
He proved himself again in 2021, averaging 11.43 yards per reception for 526 yards and six touchdowns in 10 games before finishing the season early with an ankle injury suffered on Senior Day against Idaho State.
"I wouldn't change a thing that happened to me and the teams I've been a part of while here," Pau'u said in declaring for the draft. "We have had ups and downs but most importantly had fun while doing it.
"I want to hank my coaches, the team support staff, training staff, and especially my teammates, both past and present, for pushing me to be better. You have changed my life in ways I couldn't put into words. You have stuck with me through the hard times and supported whatever decision I've made."
×