Estimated read time: 2-3 minutes
THE GREAT OUTDOORS — Camping and comfortable? Now, that's what I'm talking about!
These hammocks are actually pretty amazing. Personally, I enjoy napping in hammocks, but to sleep in one overnight strains my back. However, this local outdoor startup has solved that problem.
"I was lying in a regular hammock one day, trying to get comfortable, when I had this idea … what if my head and feet were lower and I didn't have pressure on my sides?" This spark inspired a Sandy resident and founder of Haven Tents, Derek Tillotson, to develop this revolutionary sleep system. Gone are the days of laying on uneven ground, or being bent like a banana.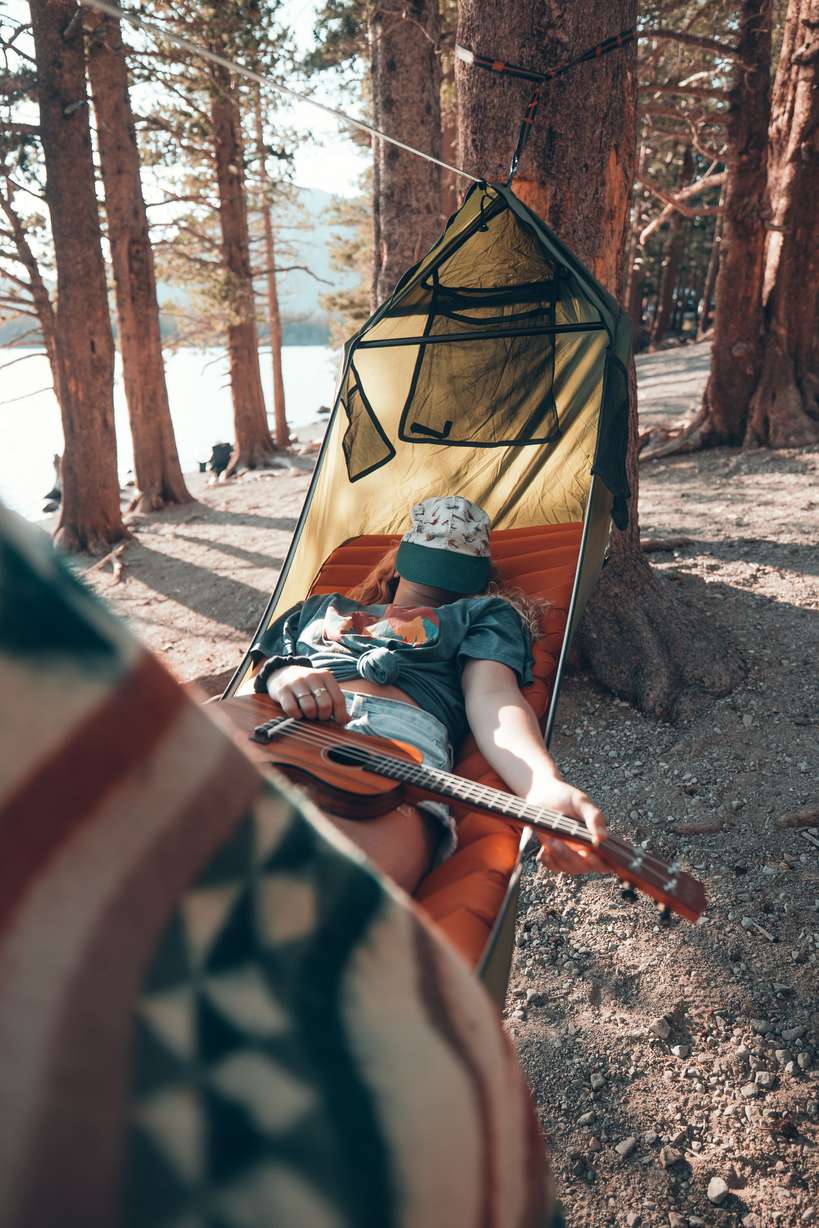 The coolest part of this hammock is that you lie completely flat.
The patented design creates a flat sleeping platform, allowing users to sleep comfortably on their back, side, or even their stomach. "It's like you somehow carried your bed from home into the woods," said Tillotson. "And our customers agree, we hear that all the time in reviews."
The Haven Tent was designed as a hammock, but can also be pitched right on the ground as a bivy tent. The system relies on an air mattress for insulation and structure for the sleeping platform. Six large pockets inside offer plenty of space for storage. Internal spreader bars hold the space open, while an integrated bug net and rainfly truly make this space a "haven" in the outdoors.
Tillotson may have tested his first prototypes right here in the Wasatch mountains but Haven Tents are now in demand worldwide.
After launching on Kickstarter in 2019, Haven Tents absolutely blew up with the COVID-19 pandemic-related outdoor boom. In fact, it grew so much in popularity, the company struggled to keep up with demand. Tillotson recalled, "As soon as the tents came in, we would sell out. Customers would turn their friends onto the system. For the first couple of years, our sales were mainly based on word of mouth."
Earlier this year, Haven Tents raised more than $400,000 on Kickstarter with the launch of the Haven Safari. A more durable glamping version of their lay flat hammock. Things are picking up, and with a big investment in inventory, Haven Tents is ready for a busy camping season.
Haven Tents ships from their warehouse in Sandy and offers a local pickup option by request.
"The best part is seeing our tents pop up on social media. Haven Tents show up in Norway, Japan, Australia and, of course, all over the U.S. People love it and are out using it!" Tillotson.
If camping is part of your plans, may as well make sleep the highlight. Check out this local company, Haven Tents, online at haventents.com.
×
Photos
Most recent Outdoors stories