Estimated read time: 6-7 minutes
BOUNTIFUL — The Utah running community said goodbye to one of their own this month, when 18-year-old Reese Thorne died peacefully in his home, surrounded by family.
Reese, who was born with cerebral palsy and another genetic disease, was unable to speak or walk but he loved to run.
Over the years, seemingly countless friends made that possible by pushing him in a stroller over the course of a total of 391 races. One of those friends is Zach Talley who began racing with Reese in 2016, completing a total of 81 races with him including many marathons and even more half marathons.
"The first time I pushed Reese, it was the Layton Marathon in 2016, and it was so hard," Talley said. "I couldn't imagine ever doing it again, but when I finished pushing him, I saw his face and the enjoyment that it brought to him. I then realized it's not about me. It's not about how hard it is; it's about him getting out that day."
For the next six years, Talley and Reese would race together, and much like any runners, the duo set some big goals including competing at the Boston and Chicago Marathons. Those dreams were well on their way to coming true when they recently earned a qualifying time of 3:05, which is quite fast even while not pushing a stroller.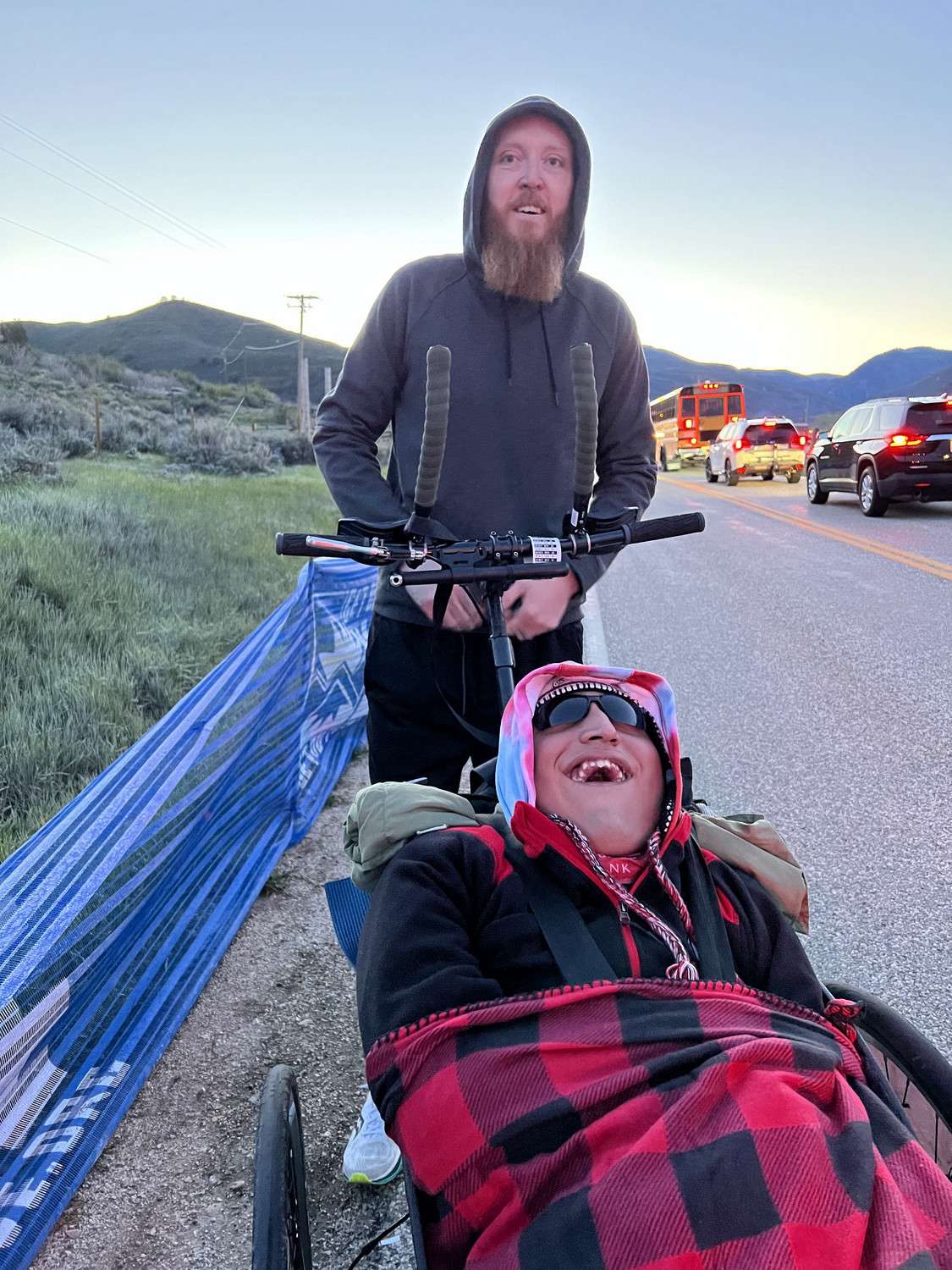 Reese's mom, Carla Thorne, said that Reese loved a thrill, and running fast was just one way to satisfy her son's need for speed. She also said it was important to her, even with his life challenges, that her son experienced life.
"Reese is an identical twin, and we fostered them both when they left the (newborn intensive care unit)," Thorne explained.
Thorne went on to explain that Reese's brother died at 8 months old, and it was at that point they learned of the genetic disorder that the brothers shared.
"Both of them had a genetic disorder and we were told that there was no record of any child in the world with his condition living past 2 years old," Thorne said. "Reese just kept getting bigger and older, and we kept waiting and wondering what was going to happen. Finally I said that we had to live our life. Our family motto became 'no regrets,' and we decided that whatever was going to happen — no regrets.
"We were going to boat, we were going to ski, and we were going to do these things and give him opportunities, but in the end, no regrets. I hope I did the very best for him because that's what I promised him."
'I miss that smile'
As the years went on, Reese's family and friends did what they could to give him a life filled with experiences and, according to Thorne, while her son was nonverbal, his smile said it all.
"His smile. I miss that smile," Thorne said. "He has all the reason in the world not to smile. He's gone through so much baloney. Never did he not smile. Even in the hardest of times, he'd look at you and be like, 'No, it will be alright.'"
Talley also remembered Reese's smile, saying it was the smile that reaffirmed he loved to run.
"Oh, his smile," Talley said. "Yes, he was nonverbal. He was trapped in his body but when we ran, he knew that for the next three-and-a-half hours, he would get to feel the wind on his face and be free. People would ask me all the time how I knew he enjoyed it, and it was the smile on his face and how excited he'd be when he knew he was about to go running."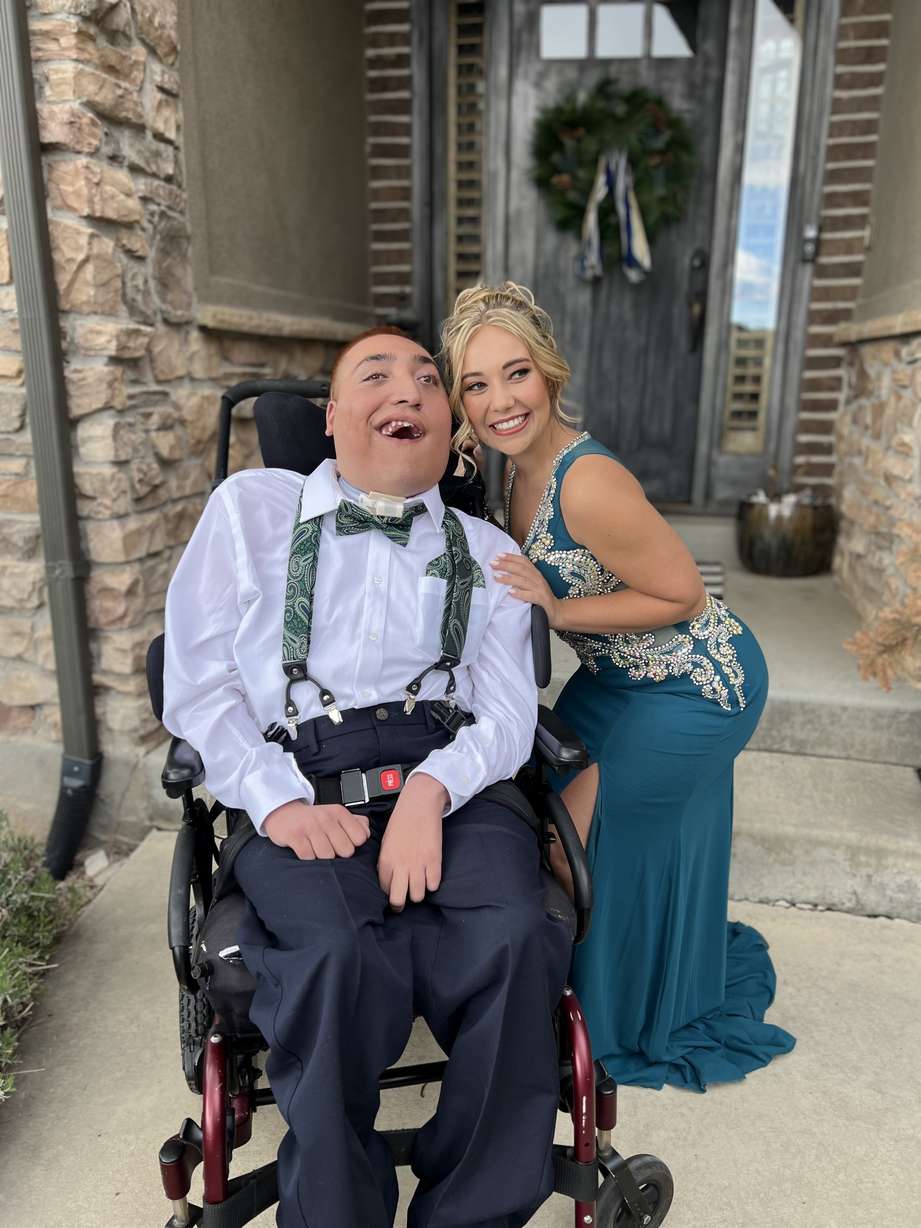 A final year to remember
Having qualified for the Chicago and Boston Marathons, Reese was looking forward to a year of some big races. Not only that, but it was Reese's senior year at Bountiful High School. With that, not only came walking in the graduation ceremony, but spending a very special day with a longtime friend at senior prom.
"It was a fun, fun year," Thorne said. "He went to prom with a girl named Kamille Odom, who he had been very best friends with since kindergarten. They became lifelong friends, and she always told him when he was younger that they were going to go to senior prom together. I was so happy that they made that happen. She and her uncle sang at his service. It was really sweet."
Another favorite pastime of Reese's was boating. In fact, each Sunday during summer, his family would load up the boat and take Reese out to watch him smile in the wind. It was while getting ready to go out on a recent trip when Reese smiled for the last time.
"We were getting ready to go to the lake on Sunday, which is what we would do just about every Sunday," Thorne said. "We had Reese outside, and we told him to hang on while we got the boat ready. My daughter was with him, and said that he didn't look very good. I turned around and I said that I didn't think he was breathing. My husband said, 'What do you mean?'
"He didn't have a heartbeat, and he wasn't breathing."
'Lace up your shoes, Reese; it's your turn now'
Thorne expressed how heartbreaking it was to see her son slip away June 12, while also saying that it was the best time and place for him to go.
"It could have been much worse," Thorne said. "He could have been in the hospital with a bunch of strangers and everyone trying to be a hero. I had always said when his time comes, I hope it's at home, and I hope he's with us, and I hope he's not in the hospital. If it happened anywhere, I'm glad it happened at home with his siblings that love him so much. We were all around him."
Talley said that Reese taught him many things he plans on taking with him through life.
"Reese taught me more about myself and what I am capable of than I had learned in 30 years," Talley said. "He taught me about joy and to be in the moment and not to worry about anything else.
Talley plans on running the Chicago and Boston Marathons in memory of Reese, and said he knows his friend will be there with him.
"I hope I can make him proud at Chicago and Boston," Talley said. "I know he will be with me every mile of the 26.2 miles, listening to me curse and pushing me to be a better version of myself."
"Someone posted a comment for Reese that I'd like to share," he said. "'Lace up your shoes, Reese; it's your turn now.'"
×
Photos
Most recent Uplifting stories