Estimated read time: 2-3 minutes
CASTLE GATE, Duchesne County — Wonky weekend weather that brought strong thunderstorms and flooding to parts of Utah also produced a brief EF-2 tornado that caused "significant" vegetation damage through a canyon in northeast Utah on Sunday, the National Weather Service confirmed in a report released Tuesday evening.
The twister touched down near Argyle Canyon Road and U.S. Highway 191 by Indian Canyon — a remote area about 12 miles northeast of Castle Gate — just before 9:15 a.m. on Sunday. It traveled a little over 2 miles in four minutes before it ended. While short, it packed a punch, producing estimated maximum wind speeds of 125 mph and expanding out to a maximum of 880 yards in width during that span, the report states.
While no injuries were reported, and it didn't cause any reported property damage, the weather service report notes the tornado did cause "sporadic" vegetation damage at an elevation of about 9,200 feet near Indian Canyon. The stretch of damage "descended down the length of the valley" to a nearby creek at about 8,500 feet elevation.
"Over this period, both the strength and width of the tornado increased substantially with a continuous damage path through a mixed aspen and conifer forest," the agency's report states. "The maximum damage was found in this area and was significant. Almost all trees over a large hillside facing the road were violently blown down, snapped or topped into a clearly convergent axis."
The tornado eventually crossed the highway and moved up a hillside, climbing back to about 9,100 feet elevation, causing more "considerable damage" to vegetation north of the U.S. Highway 191 in the area before it dissipated.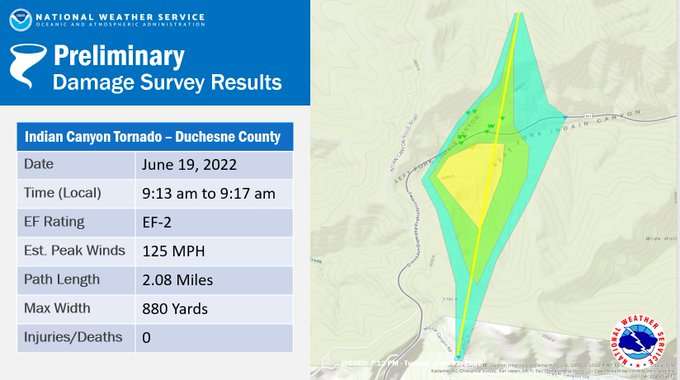 Tornadoes are rare but not completely uncommon in Utah. The Beehive State averages about two reported tornadoes every year since 1950, according to the weather service.
The series of storms also produced flash flooding and even a rockslide near Helper on Sunday, which injured two people who were in an SUV when two large boulders crashed through the windshield of the vehicle. Helper is located just south of Castle Gate on U.S. Highway 191.
×
Photos
Related stories
Most recent Utah weather stories