Estimated read time: 4-5 minutes
PROVO — After a disappointing 23rd-place finish in the 3,000-meter steeplechase at NCAA West preliminaries as a freshman in 2017, Courtney Wayment and her parents drove to Eugene, Oregon for the NCAA outdoor track and field championships to watch her BYU teammates and other collegiate stars in Track Town, USA.
It was there, on the bleachers and with her head in her hands, that Wayment's road to leaving her mark on Hayward Field began.
On a rain-soaked track five years later, she did just that.
Wayment led throughout the 3,000-meter steeplechase final, powering through to a meet-record 9 minutes, 16.00 seconds to pull away from the field by nearly nine seconds en route to a steeplechase national title Saturday afternoon in Eugene.
After a six-time All-American career with a pair of indoor titles including the reigning 5,000 meters championship, the 2021 distance medley relay title — and a runner-up finish in cross country for good measure — the former Davis High star finished her collegiate campaign with the individual indoor/outdoor/cross country trifecta, and a spot in the world championships.
"Winning is the best one of all of them," Wayment told ESPN after her race. "In 2017, I had a really good freshman year and didn't do well at regionals. My parents and I drove here; we sat right over in the stands over there. I remember in the final, I just sobbed, because I wanted so badly to be on that track.
"Today was to inspire all the people, the young women out there, that were once me in 2017. You can do it, and you just have to give it a shot."
Yale's Kayley Delay finished second in 9:25.08, followed by West Virginia's Ceilidh's McCabe in 9:31.14 and Colorado's Madison Boreman in 9:33.02.
Wayment broke the previous national meet record time of 9:24.41 set by New Mexico's Courtney Frerichs on June 11, 2016. Her 9:16.00 also set a school record and a new personal best for the former Davis High standout.
It's also the fifth-best mark in U.S. track and field history, and qualifies Wayment for the World Championships, beginning July 15 in Eugene. Every runner with a better time than Wayment is a current professional athlete, and she blew away the field in Saturday's final, leading wire-to-wire and getting stronger while remaining untouched down the final 110 meters.
"The plan was rely on my fitness, and all the things that I have done to get to this moment," Wayment said. "If anyone's going to come with me, I'll just put my foot on the gas a little bit more."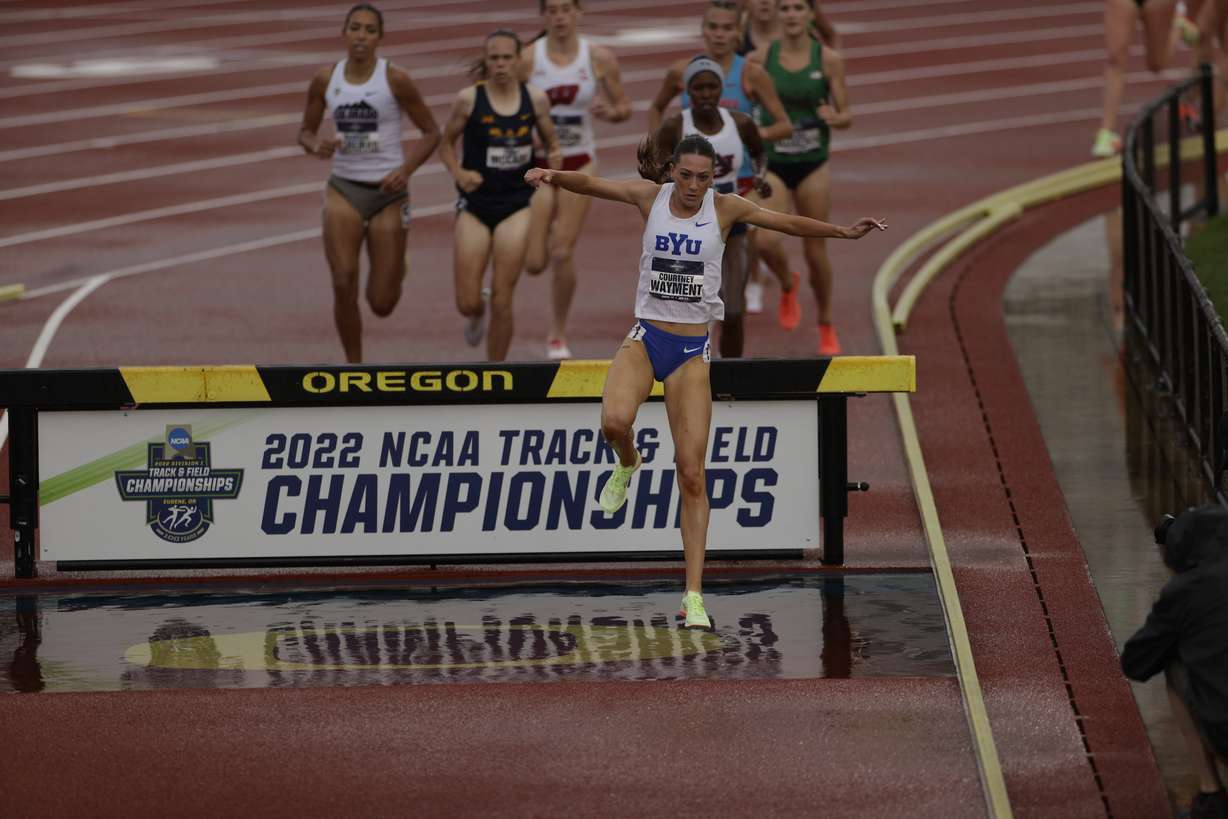 Wayment's title adds to Ashton Riner's javelin title — the Cougars' first championship in a women's field event in 30 years — helps the 14th-ranked Cougars to a top-10 finish for the second-straight year. BYU finished tied for ninth with Colorado with 21 points. Florida won the team title with 74 points, followed by Texas (64), Kentucky (50), LSU (39) and Texas A&M (39).
It's the first run of consecutive top-10 finishes for BYU since 1999-2000.
Also for the first since 2000 — and just the third time in program history — the BYU women took home two individual titles, the most concurrently since Tara Rohatinsky Northcutt won the 10,000-meter championship and Susan Taylor added the 1,500-meter title in the same meet in 2000.
BYU sophomore Cierra Tidwell-Allphin tied for ninth in the women's high jump, clearing a mark of 5 feet, 10 3/4 inches for second-team All-American status. Teammate Sable Lohmeier El-Bakri added a 19th-place finish in the women's discuss with a toss of 50.07 meters (164-3).
Utah's Cara Woolnough finished the 5,000-meter run in 15:45.26, good for 12th place in a race where Florida's Parker Valby finished second in 15:20.10 to clinch the Gators' first-ever women's team title. North Carolina State's Katelyn Tuohy was just shy of a meet record in 15:18.39.
Woolnough's time was good enough for second-team All-America honors, the 15th All-American in the Utes women's track and field history.
The LEGEND of Cara Woolnough finishes an incredible season and career at Utah with some serious status!!

Second Team All-American with a 12th place finish in the 5000m FINAL!! 15:45.26!!

Cara, YOU are the legend. What a season, what a career!! #goutes#utahtfxcpic.twitter.com/HLgFWuXQZG

— Utah T&F/XC (@Utah_trackfield) June 11, 2022
Saturday was also the final day of the women's heptathlon, including for BYU senior Halley Folsom Walker.
Folsom Walker opened the day with a mark of 5.40 meters (17-8 3/4) in the long jump for 21st place, before adding a seventh-place finish in the javelin with a throw of 40.41 meters (132-7).
But the senior saved her best moment for last, surging in front down the stretch of the 800-meter final to win the event in 2:08.59, adding 985 points and rocketing seven spots up the leaderboard to eighth place and first-team All-America honors.
Walker totaled 5,692 points for eighth place in the event, 693 points behind Florida sophomore Anna Hall, who won the heptathlon with 6,385 points.
×
Photos
Most recent BYU Sports stories