Estimated read time: 5-6 minutes
OUTSIDE THE PARK — Since science and Hollywood discovered a way to bring dinosaurs back to life 29 years ago, the world has never been the same — for better or worse. While the first "Jurassic Park" film, released in 1993, was an instant classic, the subsequent variations on the theme have not always measured up to the original.
This week we finally get the sixth, big-screen release of the "Jurassic" franchise: "Jurassic World Dominion." On this momentous occasion, we have to ask ourselves, has there ever been a sixth movie in a series that is as good or better than the first? The answer is probably not.
So, how does "Jurassic World Dominion" stack up to its predecessors? Let's find out.
The Good
Cast
The first thing that stood out to me is how this film brings nearly all of the original cast members back — such as Jeff Goldblum, Sam Neill, Laura Dern and BD Wong — while also incorporating the newer generation of Jurassic alums like Chris Pratt, Bryce Dallas Howard and Isabella Sermon.
This film has a big cast and pulls off a rather clever way to incorporate everyone, eventually, into this movie — something I will get into a little later. The standouts this time around are Pratt, Goldblum, Dern and Neill. It is actually a lot of fun to see all of them simultaneously and intriguing to watch how writers tied their stories together.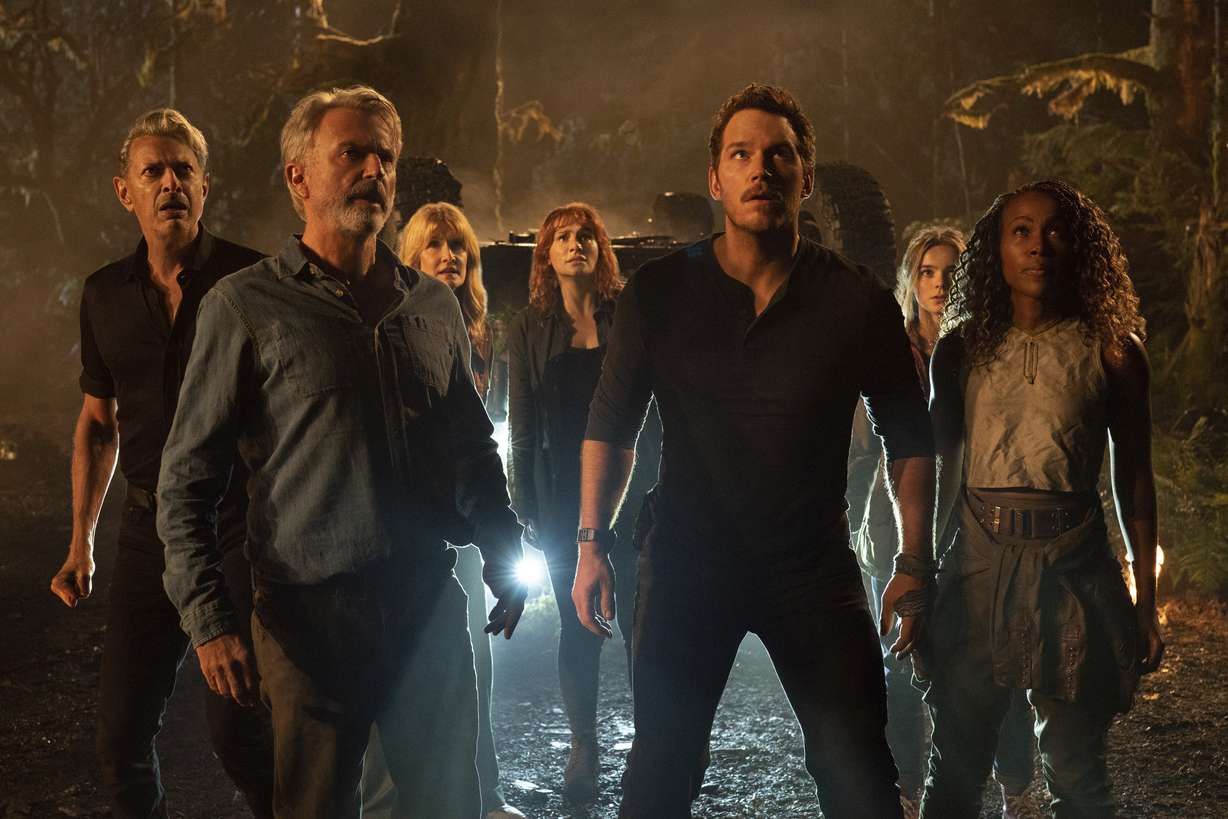 Storyline
Don't get too excited when I say "storyline" is one of the good things about this film, because it is also one of the bad things about this film.
What I will say I like about the story is the trick they pull to bring the whole cast together. Essentially, the film is written as if it were two separate stories that both come together in the last act. Both stories run concurrently resulting in the old cast reuniting after all these years while the new cast is picking up where they left off.
Even though the ending of the film ultimately brings them all together, the fact that there are two equally compelling stories being told at the same time in and of itself holds a lot of entertainment value.
Action sequences
The first "Jurassic Park" contained some of the most iconic and groundbreaking scenes in cinematic history. Unfortunately, once it has been done the first time, it's never quite as good the second and third times — but that hasn't stopped the "Jurassic" franchise from trying. "Jurassic World Dominion" is no different.
However, there are enough very entertaining and action-packed sequences throughout this film to keep you on the edge of your seat. Keep in mind these scenes are not all made equal; many are cliches while a few are truly unique.
There is one beautiful scene that stands out in this film that I would put up against any of the other scenes "Jurassic Park" has ever given us. This scene, in particular, involves a never-before-seen species of dinosaur that is terrifying on its own. What makes this scene special is the tension we feel as the dinosaur stalks one of the humans through a forest and river. The scene is beautifully shot and terrifying at the same time. I promise you will know it when you see it. This one gave me chills.
The Bad
Storyline
As promised, I am getting back to where the storyline in "Jurassic World Dominion" fails us as a movie-going public. Right from the opening credits, I sensed there was going to be a breakdown. My first clue was a pair of giant meat-eating pterodactyls nesting peacefully atop an enormous skyscraper as if somehow that would be totally acceptable for humans under any circumstance.
My biggest problem with the premise of this film is that it tries to get us to believe that all dinosaur species and humans can live together peacefully in this modern world. This film shows some of the biggest and most dangerous creatures to have ever walked the earth in the past 66 million years living peacefully among humans and other modern animals of the world.
The truth is, we would all be meaty snacks to these killing machines. The way they wrap up the movie with the message that all species should live together peacefully just felt ridiculous. There is a reason humans hold their position in the food chain, and it is precisely because — aside from some manageable crocodiles and Komodo dragons — these giant lizards all died millions of years ago.
Cheese
It probably goes without saying there were going to be some cheesy parts in this movie, and there are. I was prepared for this; I just wasn't prepared for how cheesy some of the scenes would actually be.
There is one scene toward the end where I literally thought a T. Rex and another dinosaur similar to the T. Rex were going to give each other a high five. I actually wish they would have tried, at least then the film would have come across as somewhat self-aware and it probably would have been one of the funniest things I've seen in a movie.
Sadly, no. They tried to play it off as a big dramatic moment and it just fell flat. I think the person sitting next to me could actually hear the sound of my eyes rolling.
Conclusion
Am I going to say don't go see this film again? Absolutely not. Though, the film was entertaining and kept its audience on the edge of their seats.
Was it a great movie? Absolutely not, but I still walked out of the theater very entertained. If you want a giant over-the-top movie to eat popcorn and forget the outside world, too, then this movie is for you.
Editor's note: "Jurassic World Dominion" is officially rated PG-13 for intense sequences of action, some violence and language.
More moive reviews:
×
Photos
Related stories
Most recent Arts & Entertainment stories