Estimated read time: 4-5 minutes
SALT LAKE CITY — A sliver of Utah is now considered at the highest level of drought after spring produced significantly below-average precipitation across the southern part of the state.
The U.S. Drought Monitor lists 5.7% of Utah in "exceptional" drought in its latest report, which is the first time any part of the state has returned to the worst drought conditions since the start of 2022. Almost two-thirds of the state reached the status during the first week of June last year, but the percentage fell to zero as a result of summer monsoons followed by productive storms in October and December.
This week's report also lists that nearly 83% of Utah is in at least extreme drought, which is over 11 percentage points higher than last week's report. Every portion of the state is in at least a moderate drought, which was also the case a year ago; about 99.9% of the state is listed in at least a severe drought.
"Based on 90-day (standardized precipitation index) and hydrology considerations in the Sevier River basin, extreme to exceptional drought was expanded across parts of Utah," federal climatologist Brad Pugh wrote in a weekly report accompanying the Drought Monitor map. "Widespread severe to exceptional drought persists throughout much of the Southwest, Great Basin and California."
It's not much of a surprise that the drought is worsening given that meteorological spring wasn't very kind to the Beehive State this year. The collective precipitation collected during the months of March, April and May were the 16th lowest in Utah dating back to 1895, according to National Centers for Environmental Information data released on Wednesday.
A final storm, which dumped over 4 inches of water in some parts of the state, likely helped move spring 2022 down the history books. Last month was only the 39th-driest May in Utah history, the closest to average among the three months.
However, Utah's seasonal precipitation was very divided. Most of southern Utah ended up with precipitation levels considered "much below average," while the rest of the state ended up with levels either considered near average or below average but not as close to the bottom.
The exceptional drought's return covers parts of seven counties in south-central Utah, including large chunks of Sevier and Garfield counties. Most of the rest of the region is listed in extreme drought.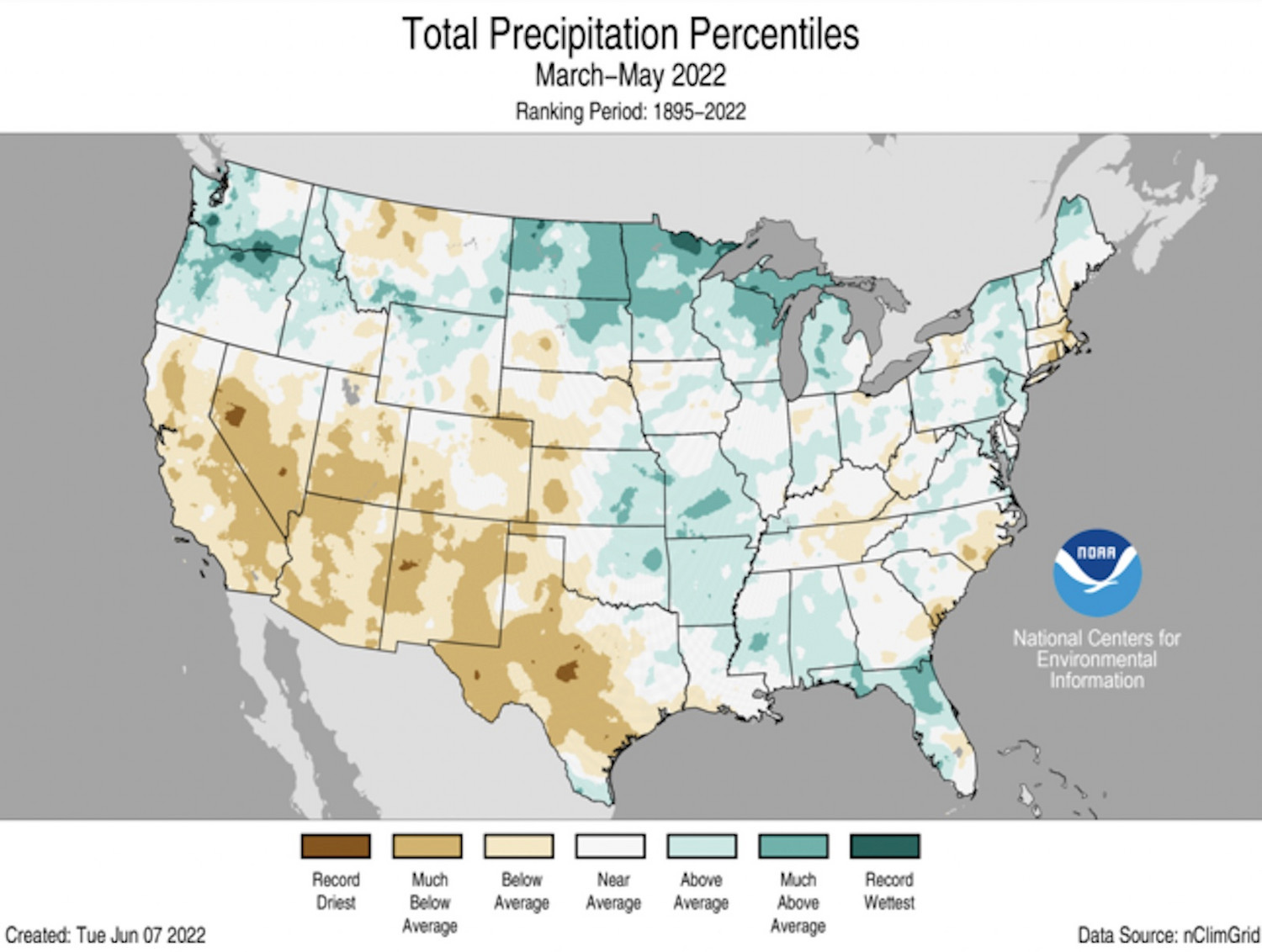 Utah's reservoirs are collectively at 63% of capacity, according to the Utah Department of Natural Resources. It lists many of the smaller reservoirs in northern Utah as near and even above average at the moment; however, Piute (7%), Upper Enterprise (17%) and Yuba (18%) closer to southwest Utah are among the reservoirs struggling the most right now.
Lake Powell in southeast Utah, meanwhile, is slowly improving as a result of a pair of water agreements aimed to bring more water to it. It's listed at 27% of capacity after falling to a record low of 24% earlier this year.
A hot and dry weekend
One welcomed surprise from spring is that it wasn't near the hottest on record. This year's spring ended up as the 45th warmest since 1895, landing in the "near normal" category, according to the National Centers for Environmental Information.
But this summer is expected to be hot. Almost all of Utah has the highest likelihood of above-average temperatures during the month of June, July and August.
The first heat wave is also headed Utah's way this weekend with potentially record-breaking highs nearing 100 degrees across the Wasatch Front Friday, Saturday and Sunday before a cold front arrives to start next week.
The National Weather Service also issued an excessive heat warning for parts of Washington County because high temperatures are expected to range from 104 to 107 degrees Friday and Saturday, while overnight lows will only drop into the mid-70s.
"Drink plenty of fluids, stay in an air-conditioned room, stay out of the sun and check up on relatives and neighbors," the alert states. "Young children and pets should never be left unattended in vehicles under any circumstances."
Windy conditions may result in higher fire danger and more red flag warnings in southern Utah, said KSL meteorologist Matt Johnson.
Johnson explained that the weekend heat is the result of a pair of high-pressure systems hovering over the Southwest. The more prominent high-pressure ridge continues to build up over Arizona and New Mexico.
A cold front coming from the Pacific Northwest is forecast to snap the hot stretch Monday, possibly bringing in showers too. High temperatures are forecast to fall back down into the 70s across the Wasatch Front on Monday and Tuesday, and in the 90s for St. George.
Full seven-day forecasts for areas across Utah can be found online at the KSL Weather Center.
×
Related stories
Most recent Utah drought stories