Estimated read time: 4-5 minutes
MILLCREEK — Phoebe McNeilly opened the Central Wasatch Commission's new environment online dashboard Monday afternoon to play around with the site and show the commission's members exactly what they can see on the board.
McNeilly, a project lead at the University of Utah, breezed through vegetation datasets — including documentation of every plant and tree in the forest right now — and zeroed in on a section about deforestation and replanting within the Cottonwood canyons during this demonstration.
"Many don't know that in the early (pioneer) years, there was extensive logging. There were lumber mills — that's how we have Mill A, B, C, D and E in our canyons," she said.
That eventually came to an end with the formation of the U.S. Forest Service in the early 1900s. The agency stepped in and created a nursery at the modern-day Spruces Campground. This nursey helped repopulate the trees that were cut down in the five few decades of pioneer settlement.
"So you can scroll through these. You can see pictures of the different events and see a history of what's been happening in our canyons," she said, toggling through the website.
This is just one example of the extensive environmental data now available through the online tool that launched Monday, after years of planning. The new "long-awaited" dashboard contains information about the region's air quality and climate, geology and soil, vegetation, water and wildlife that anyone can access for review, said Central Wasatch Commission Chairman and Summit County Council Chairman Christopher Robinson.
The idea of the project is to have an online tool for anyone from policymakers to the public to use to gather current and historic environmental conditions in the mountains between the two counties, which can help in the land management strategies.
The Central Wasatch Commission partnered with the University of Utah to help gather and publish the data on the dashboard. McNeilly explained that it was formatted for everyone from "K to gray" to use.
"We want this to be a really rich data source for the public," she said.
The project was actually outlined in the 2015 Mountain Accord, which also set up the commission composed of leaders from Salt Lake and Summit counties, but it took years of work before getting it right, according to Robinson.
"Over these past years — some seven years now — it's evolved from what was originally going to be just sort of a snapshot. Its scope was going to be less interactive," he said. "Now, what we're releasing today is a dynamic and interactive online tool that allows the public to access data, often in real-time, about specific environmental elements in the central Wasatch."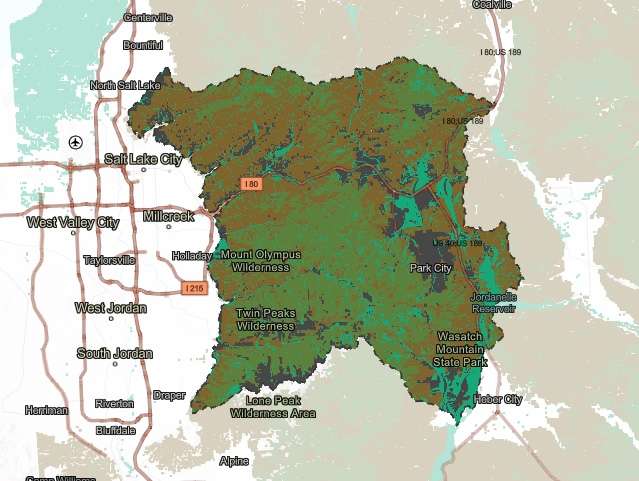 Both policymakers and environmentalists alike in attendance for the dashboard's launch said they are enthused by the project's potential because it already has practice use.
The Central Wasatch Commission is looking into better transportation modes between the two counties, and there's a project focused on improving Millcreek Canyon transportation. The Salt Lake County Council also recently banned mining in mountain recreation zones after a mine proposal in Parleys Canyon late last year resulted in a public uproar.
The most divisive issue, however, might be the Little Cottonwood Canyon transportation, which set a Utah Department of Transportation record in public comments. UDOT was originally scheduled to make a decision this spring but that could be delayed into 2023.
The growing popularity of outdoor recreation and Utah's ongoing population growth means that the canyons will likely continue to be at the forefront of land management decisions.
Sandy Mayor Monica Zoltanski said she believes the new dashboard will make it easier to be informed and being well-informed helps in making "better decisions" regarding policies in the central Wasatch Mountains.
"This will, in turn, mitigate impacts and harms to our environment," she said. "There's a lot of great information in there."
It can also be used as an educational tool to further understand the region. The commission plans to work with the Utah Office of Outdoor Recreation to implement the dashboard into outdoor recreation programs so children are more familiar with plants and animals in the region, Zoltanski added.
The database may also be used in higher education learning. It can also be used in the business world in addition to government and education use, said Carl Fisher, the executive director of the nonprofit environmental group Save Our Canyons.
Fisher believes that knowing everything possible about the outdoor space helps people come up with ideas that help protect the plants and animals that could otherwise be lost forever because of human interaction.
"This is an incredible resource," he said. "This dashboard can be an incredible tool for helping to not only understand and appreciate some of the environmental characteristics of the central Wasatch Mountains but hopefully it'll lead to action to kind of reinforce and protect some of those characteristics that could be lost."
×
Most recent Environment stories