Estimated read time: 4-5 minutes
SALT LAKE CITY — The first time Salt Lake City Councilman Darin Mano came to the Utah Pride Festival, it changed his life forever.
He was a senior at the University of Utah, living in Sugar House in 2007, when he decided to venture over downtown to check out the festivities as he tried to balance his identity with his upbringing. He knew by this time that he was gay, quietly keeping that away from what he describes as his conservative and religious family.
Mano watched as people in colorful clothes and wearing rainbow-designed flags cheerfully paraded through the city streets. While he believes this was the first moment he experienced pride in who he was, he found himself too scared to get out of his car and join.
Fifteen years later, he found himself in a completely different position as he reflected on this moment, standing beside a large Progress Pride flag outside of the Salt Lake City-County Building. With the Utah Pride Center, the Utah AIDS Foundation, Harvey Milk Boulevard and plenty of businesses and colorful artwork to boot, he's willing to stake a claim that he represents "the gayest district in the city."
His thoughts then suddenly shifted to this year's festival and parade, which is projected to bring over 60,000 people to the downtown area this weekend.
"There's going to be a lot of first-timers this year at Pride," he said, describing what may be a mix of people who are ready to come out, parents who just found out their children are gay and want to support them, and people coming to the festival who have lost a loved one to suicide.
This mix of people who may be struggling as he was over a decade ago is why he hopes everyone, gay or straight, attends festivities this weekend.
"But part two of that is look for that person standing off to the side, shake their hand, ask what their name is, ask what their pronouns are, use their pronouns correctly, learn about their story, maybe buy them a drink or a hot dog and invite them to dance with you or your friends," he added. "Prove to that person that's experiencing pride for the first time that our community really is as inclusive and open as we claim to be. That we really are a safe place for everybody."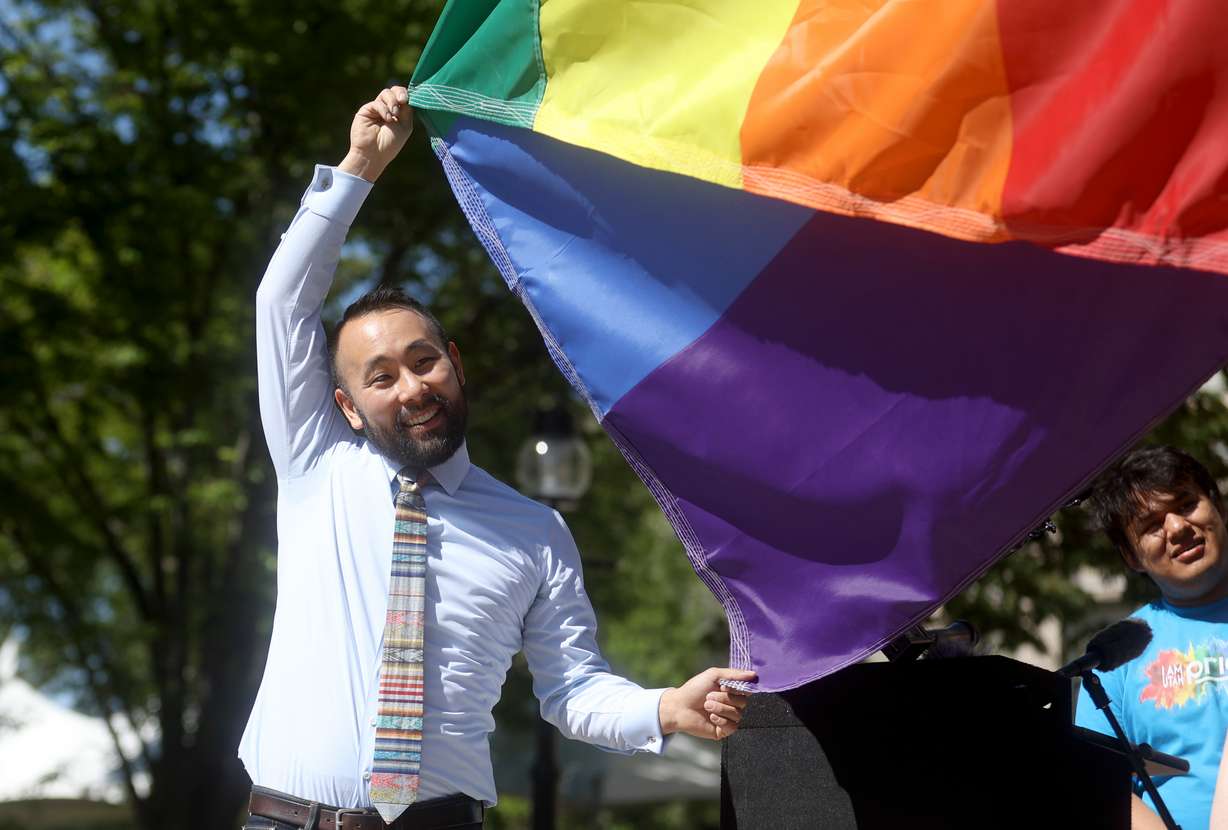 Moments after he spoke, Mano, other Salt Lake City leaders and members of the community took turns cranking a lever to raise the flag on a flag pole Wednesday morning. The flag-raising ceremony kicked off Pride Month and a week of city events celebrating LGBTQ pride, highlighted by this weekend's Utah Pride Festival and parade.
Utah Gov. Spencer Cox also signed a proclamation earlier in the morning declaring June as LGBTQ+ Pride Month in the state. The declaration encourages "relevant and vital conversations about what it means to love each other, understand our differences and support our LGBTQ+ friends and family members," noting that there are "higher rates of mental health challenges" among those who identify on the spectrum.
This year's Pride Month has a bit of a different meaning within Salt Lake City leadership. For starters, this is also the first Pride Month in which a majority of the Salt Lake City Council openly identifies as LGBTQ.
---
The work's not done. ... We need to keep working for further equality in our state and in our city.
–Salt Lake City Councilman Darin Mano
---
Salt Lake City Mayor Erin Mendenhall also touted that the city is coming off its first-ever 100 on the Human Rights Commission Municipal Index Score in 2021, which represents "inclusive municipal laws, policies and services are of LGBTQ people who live and work there."
"Salt Lake City was established as a place for people who wanted to live their true lives, live their best (selves) and, in a way, that's what this place has continued to be — a place that celebrates our diversity because that's actually the fabric of the community we love and keeps us going," she said.
Yet with as much progress as there has been over the years, city leaders fear what happens after Pride Month. They note that it takes more than just one perfect Human Rights Commission Municipal Index Score and one month of celebrations to ensure equality exists.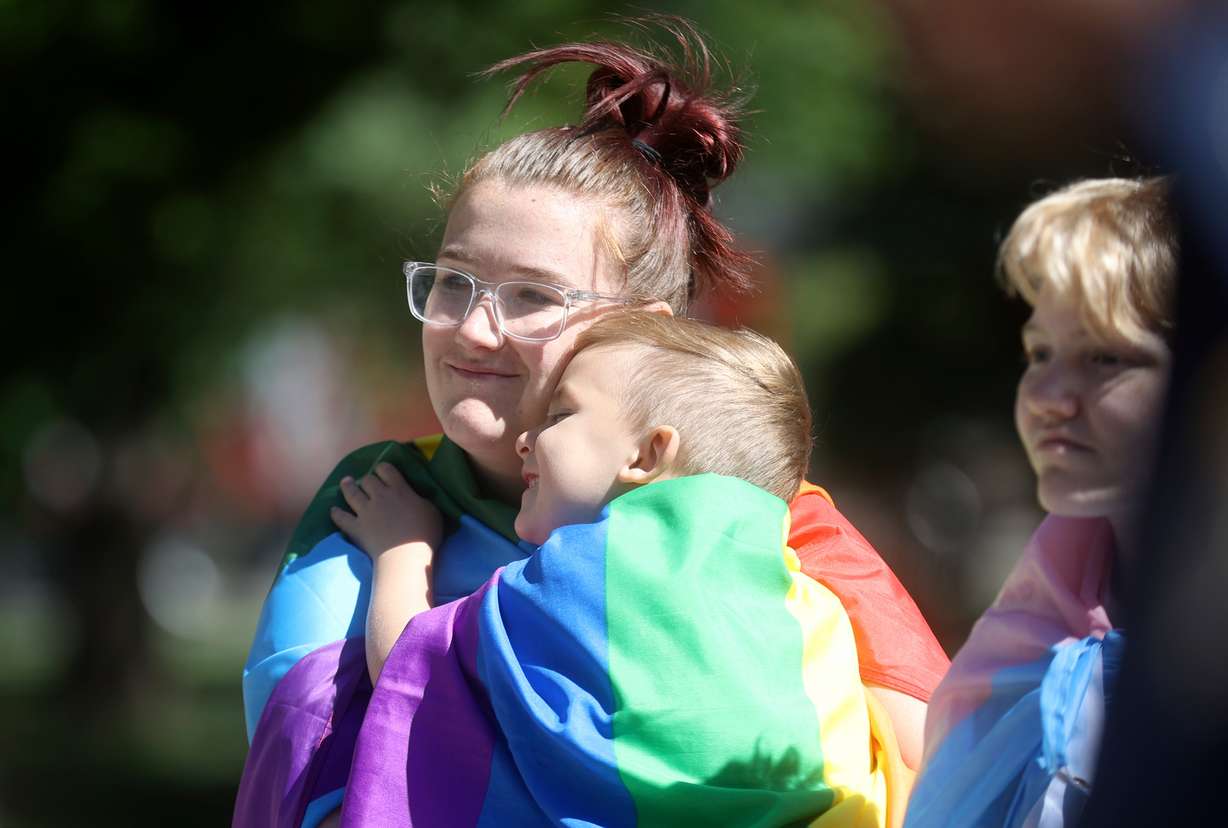 The Utah Department of Public Safety reported there was a 90% increase in hate crimes against LGBTQ members in the state from 2020 to 2021. The total number of hate crimes in Utah also rose from 72 to 135 during that time, a jump of nearly 88% overall. Attacks against members of the LGBTQ community account for nearly one-third of the attacks.
The Pride Month of June resulted in the most incidents last year, per information collected by the Utah-based company Domo.
In addition to crafting policies that are more inclusive, Mano points to the work that organizations like the Utah Pride Center do on a daily basis as a reminder it takes steps every day to help ensure that Utah and Salt Lake City are more inclusive.
"The work's not done," he said. "We got a perfect 100 score on our HRC equality index, but that doesn't mean that we're done. We did a good job that year and we need to keep working for further equality in our state and in our city."
×
Photos
Related stories
Most recent Utah stories