Estimated read time: 5-6 minutes
PROVO — The journey from Oxford, Mississippi, to BYU's campus in Provo caravans over 1,658 miles, a cross-country trek through three time zones, six states and seemingly endless stretches of interstate highways.
But for Mississippians Collin Reuter and Ozzie Pratt of the BYU baseball team, the journey is one step closer.
The high school teammates from Magnolia Heights, a short 40-minute drive from the SEC campus of Ole Miss, have made an instant impact in a standout freshman season at BYU, which will open the West Coast Conference baseball tournament against fifth-seeded LMU at 8 p.m. MDT Wednesday at Banner Island Ballpark in Stockton, California.
"Ozzie and I have been best friends since we were 7 years old," Reuter told KSL.com. "He committed, and then I got the offer and decided to go play baseball with my best friend.
"I've known the Pratt family, including coach Pratt, for a long time. It just feels good to be here and to play with them."
The long-time freshmen friends are a key reason why the Cougars (33-20, 16-12 WCC) are making their first postseason appearance — of any kind — since 2019, and hope to do more as they chase an NCAA Tournament berth in the six-team conference tournament.
The duo earned All-WCC freshman team honors this week, two of 11 BYU players to earn all-conference honors highlighted by first-team selection Austin Deming. Reuter, a 6-foot-3 catcher from Olive Branch, Mississippi, has been a star for the Cougars, starting 42 of his 52 games behind the plate and finishing second on the team with six home runs, 28 runs scored and 24 RBIs on a .237 batting average and .259 slugging percentage.
Not to be outdone, Pratt — the nephew of BYU interim manager Trent Pratt — was top five on the team in both hits (45) and stolen bases (five), while adding a .288 average and .385 slugging in 48 games, including 39 starts.
The two often hit back-to-back (or close to it) in BYU's lineup, and that's often by design as two products of the Baseball Performance Academy, a premier national club program based in San Juan Capistrano, California, that has produced numerous high school All-Americans like Pratt.
"We grew up playing baseball together, and we're best friends," Pratt said. "I committed to BYU my ninth grade year, and he committed some four months later. I talked him into coming to the same high school as me my junior and senior year, even."
Pratt, of course, has roots on the Wasatch Front. His father Russell, who played baseball at Utah, and mother Heidi, who played softball at Utah Valley, both grew up in the Tooele Valley. The nephew of BYU interim coach Trent Pratt even spent parts of his childhood in Tooele, visiting family for Christmas and Easter and visiting at least once per year until moving to Provo full time to attend college.
Enough experience, at least, that he grew as used to the Utah snow as much as he did the Mississippi warmth and humidity — something Reuter is still learning to feel out after initially hailing from Olive Branch, Mississippi, before joining Pratt at the small private school in Magnolia Heights prior to his junior year.
"I've seen snow, but back home it's more like ice," Reuter joked. "It's real powder out here; it feels really good. And I like eating it. It actually tastes really good — the snow back home is not good."
And even though Pratt committed to the Cougars by his freshman year of high school, his uncle — and current head coach — barely said a word to him about it.
"I saw all the bad things in him because he's my nephew," said interim coach Trent Pratt dryly, adding that most of Ozzie's recruitment came from former coach Mike Littlewood and recruiting coordinator Brent Haring. "They both loved him; he's got a little spark plug, he plays hard, and he's not afraid of anything."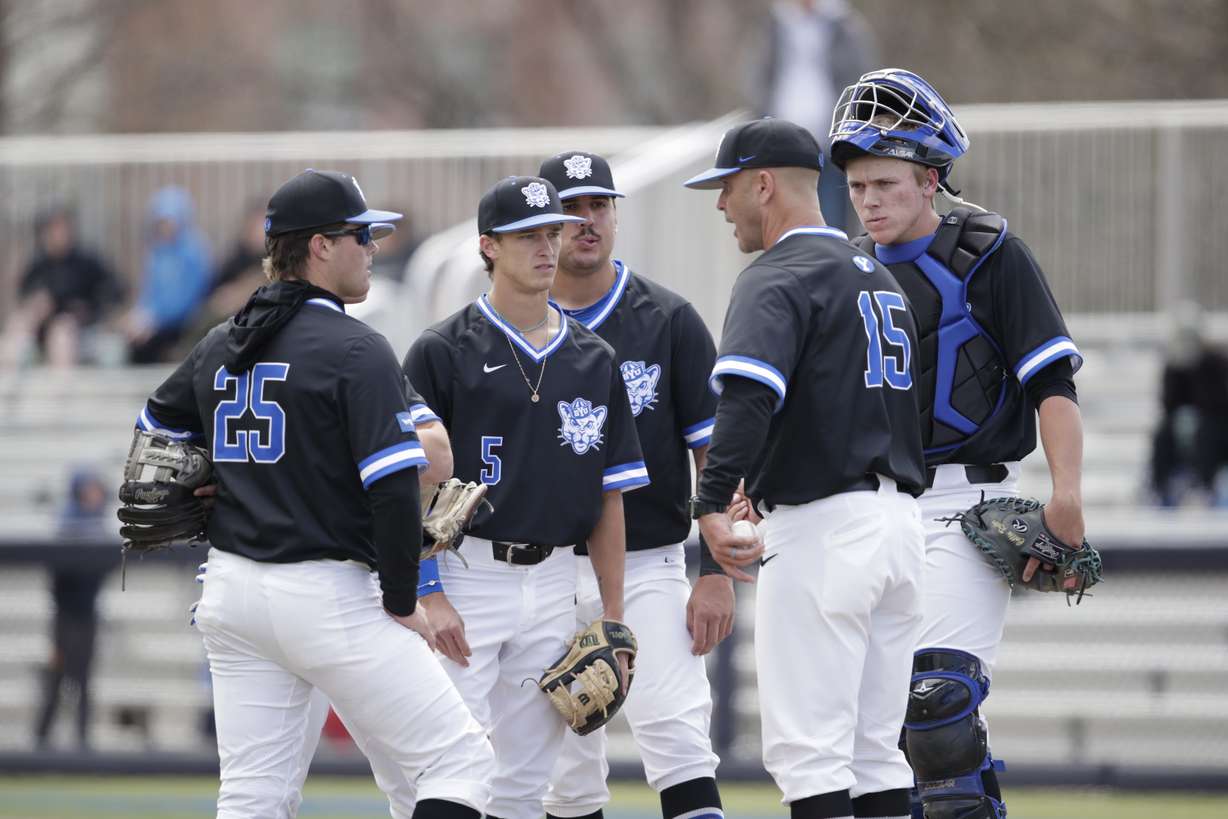 Four months later, Reuter followed, a Rawlings third-team All-American and 2021 4A Mississippi Player of the Year who opted for the Cougars over Arizona, Arizona State, Ole Miss and Mississippi State. In no small part due to his friendship with Ozzie Pratt, Reuter visited campus for a BYU baseball camp — and immediately fell in love with the school and the area.
"Our players and BYU itself kind of sold Collin on BYU," Trent Pratt said. "I think a lot of times, you get kids from far away, and if we can get them to campus, they realize what a neat place BYU is. It kind of blew Collin away … and I'm sure my brother and Ozzie had a little bit to do that, as well."
The duo have also been key in playing for Ozzie's "Uncle Trent" during an emotional season that included Littlewood's stunning resignation, rebounding with a win streak as high as nine games, and finally squeezing a chance at an NCAA Tournament bid out of the No. 4 seed in the conference tournament.
In many ways, the Cougars are playing for coach Pratt. But the other Pratt and his fellow freshman friend are leading the charge.
"I think a lot of the guys are fired up," Ozzie Pratt said. "We go play with a lot more intensity, more fired up. I think we get our energy level up, and keep climbing with it under Uncle Trent."
West Coast Conference baseball tournament
Banner Island Ballpark; Stockton, Calif.
Play-in round
Game 1: No. 3 San Diego vs. No. 6 San Francisco, 4 p.m. MT (WCC Network)
Game 2: No. 4 BYU vs. No. 5 Loyola Marymount, 8 p.m. MT (WCC Network)
×
Photos
Related stories
Most recent BYU Cougars stories