Estimated read time: 4-5 minutes
PROVO — Since recording a 2-1 upset win over then-No. 2 Oregon State to end the month of April, Utah baseball's progress has felt like it was, at times, stuck in carbonite.
Every strong play or well-intentioned move was often met with a mistake, a rally or something that led to another loss. Then two, then three — all the way up to nine.
By Tuesday night in a midweek rivalry series, the Utes' offense was released from its slumber.
Alex Baeza went 2-for-3 with three RBIs and a run scored, and Chase Anderson was 3-for-5 with three RBIs as Utah struck back to snap a nine-game losing streak with a 12-7 win over archrival BYU in the rubber match of a three-game series that sets up a crucial end-of-season series on the weekend.
"It's been hard for us; you can't shy away from it. It happens at every level, to almost everybody at some point in time," Utah coach Gary Henderson said. "It was our turn. I was really happy with how hard our guys were playing, but sometimes line drives are caught and bloops fall in, you make an error at the wrong time, and we went through all that.
"Tonight we played much cleaner and had a good spirit about us. It was pretty clear that our kids were playing hard."
Cole Gambill went 2-for-3 with a home run and two RBIs for the Cougars in front of an announced crowd of 3,192 fans celebrating Star Wars Night with an attendance record at Miller Park.
But the night belonged to Utah (26-24-1), which took the most necessary of wins in the middle of a Pac-12 slugfest ahead of the final weekend of the regular season. The Utes can clinch a spot in the eight-team Pac-12 baseball tournament by winning at least two of three from Cal in the regular season finale beginning Thursday in Berkeley, California.
And now they have the confidence to go do it.
"It definitely gets us way more confident. The confidence was down after losing however many games it was," said Utah second baseman Landon Frei, who went 1-for-3 with a home run, two walks and three runs scored. "But beating a good team like BYU, and especially winning the season series, is huge for confidence."
Utah shot first when Anderson smacked a two-run, bases-loaded single up the middle in the top of the third inning, and former Snow Canyon standout Landon Frei made it 3-0 on the next at-bat. The Utes ended the inning when Ozzie Pratt grounded into a double play, and held the advantage until the fifth inning.
Anderson made it 4-0 when he hustled home to score on a wild pitch in the top of the fifth.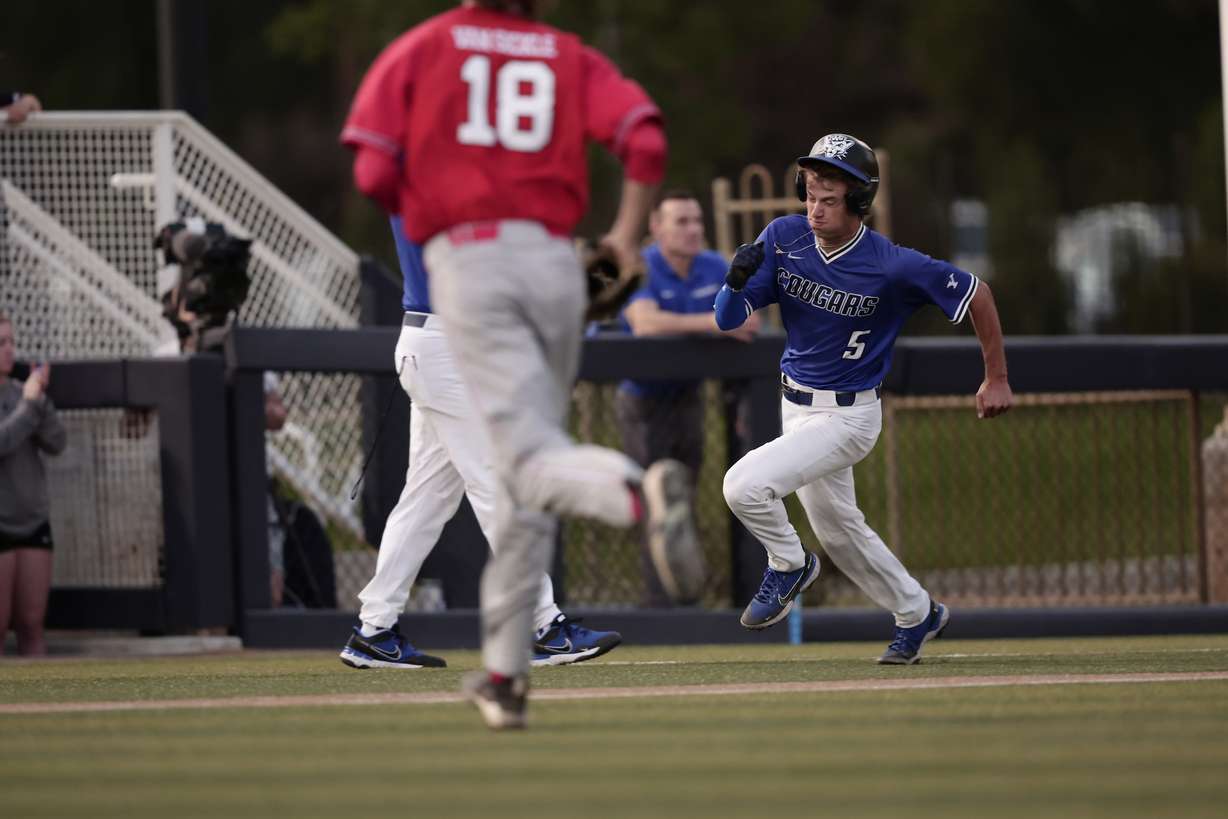 But BYU, much like the Empire, struck back with five unanswered runs in the fifth and sixth inning.
It started with Hayden Leatham's sacrifice fly to center field to score Austin Deming from the third before Pratt drove a ball up the middle in the final run of the fifth.
Ryan Sepede doubled down the right-field line to open the scoring in the bottom of the sixth, setting up Gambill's two-run shot to take the lead back 5-4.
"I thought we did a good job battling tonight. We just want to give those 4-5 guys a rest in the bullpen, and we know that we're going to need those guys down the stretch," BYU interim coach Trent Pratt said. "We got off to an OK start, but we know we've got to make a play, got to make a pitch, and guys need to come in and throw up a zero for us. It just didn't happen tonight."
Frei's solo shot off the left foul pole and into the Sarlacc pit in the next frame set up Anderson's triple off the left field wall as the Utes tallied four runs in the seventh to retake the lead.
"I was just looking for balls up in the zone, and I got one and got on top of it," Frei said. "I figured it would be an offspeed count, so I expected it, he threw it and barreled it. As soon as I hit it, I knew it would be gone or foul."
The Cougars scratched across two runs through Mitch McIntyre and Sepede in the bottom of the frame to pull within one, but Baeza's bases-clearing double speared a three-run eighth to help the Utes pull away for good and take the series. Each question had an answer.
"Those plays haven't been happening to us," Henderson said. "We haven't always been answering every time somebody scores a second time; we've done pretty well after the first, but the second time we get punched, we haven't been able to put a number on the board. To be able to get anything was big, even a shot off the foul pole, was a turning point."
BYU (31-19) wraps up the regular season with a three-game series starting Thursday against Loyola Marymount. First pitch for the Cougars, who have already clinched a spot in the newly expanded six-team West Coast Conference tournament, is scheduled for 6 p.m. MDT on BYUtv.
×
Photos
Related stories
Most recent Utah Utes stories