Estimated read time: 6-7 minutes
SALT LAKE CITY — Most of Salt Lake City's streets are getting a speed limit change, which city transportation officials hope will help reduce a troubling trend in crash statistics.
The Salt Lake City Council on Tuesday unanimously passed a resolution to adjust the default speed limit on residential streets from 25 mph to 20 mph. That slight reduction has the potential to reduce the likelihood that a collision between a motor vehicle and a pedestrian or bicyclist turns fatal.
Tuesday night's vote happened minutes after the city's transportation department wrapped up a presentation to the council where it recommended the change for about 70% of the city's streets. Salt Lake City transportation engineer Dan Bergenthal said it impacts about 420 miles of city-owned streets.
The change does not include streets owned by the Utah Department of Transportation, like State Street, or any collector streets, like the core streets downtown.
Bergenthal explained that the change is meant to address pedestrian- and bicyclist-related crashes in Salt Lake City. Officials found that crashes involving pedestrians and bicyclists only account for about 4% of the city's crashes, but nearly half of the deaths on city roads.
He then pointed to a 2011 AAA study which found that the risk of an average person dying in an auto-pedestrian crash dropped from 12% to 7% just when a vehicle's speed dropped from 25 mph to 20 mph. The same study found an uptick to 25% just with a vehicle traveling 32 mph and 90% when a vehicle is traveling 58 mph.
The likelihood of serious injury also increases with the rate of a vehicle's speed. This is especially true of children and elderly individuals.
"The transportation division recognizes the benefits of lower speed limits, especially when it comes to injuries sustained in collisions, involving vulnerable road users, such as bicyclists and pedestrians," Bergenthal told the council. "Essentially, small reductions in speed result in exponential gains in safety. ... We're not doing this because we're trying to get people more tickets. That's not the purpose of this."
Most of the data presented mirrored arguments made by the volunteer organization Sweet Streets, which first lobbied for the "20 is plenty" speed reduction last year before presenting information to the Salt Lake City Council in March. That's when the council called on the city's transportation department to look into the feasibility of the idea.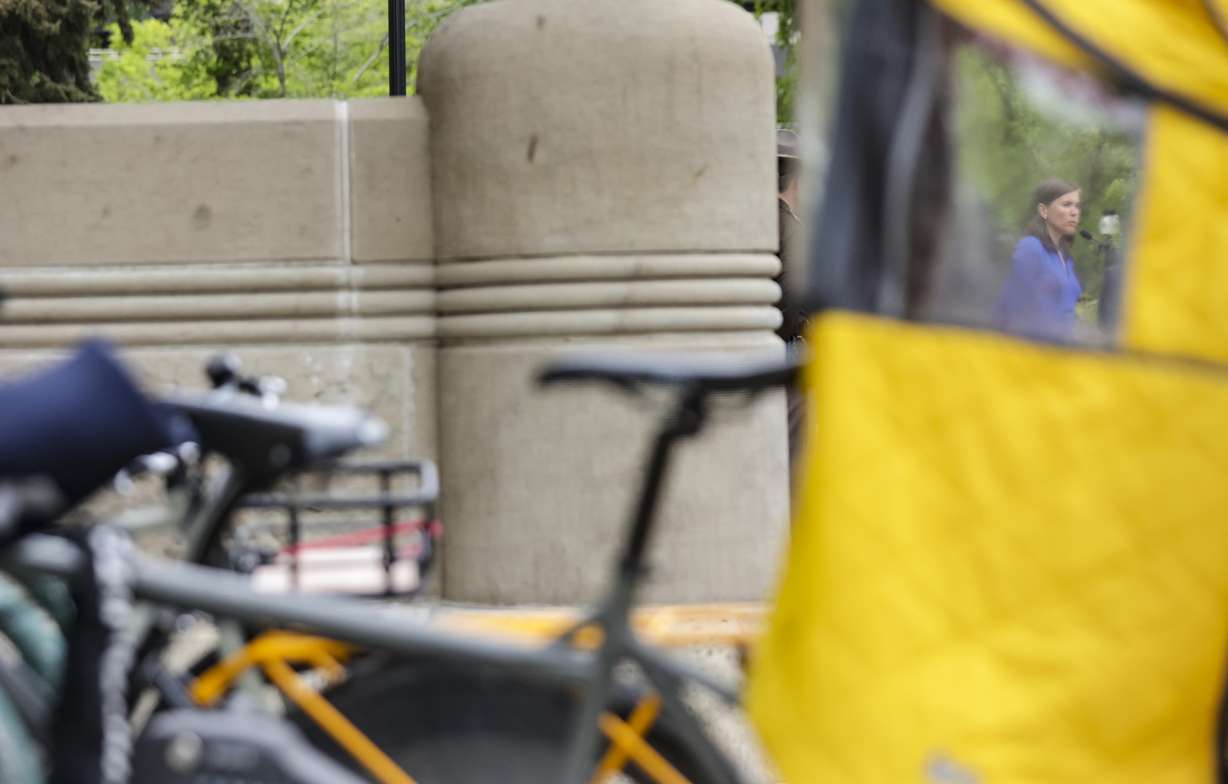 It only picked up steam in recent weeks following a rash of fatal crashes on residential streets across the Wasatch Front. Auto-pedestrian crashes have also claimed nine of the 11 people killed on Salt Lake City roads this year. Salt Lake City Mayor Erin Mendenhall announced last week that the city would create a new road safety task force to look into ideas to improve safety, including a speed limit reduction.
Portland, Oregon, adopted a similar speed limit measure in 2018. Experts there found drivers generally slowed down and there were fewer excessive speeders, which gave Salt Lake City transportation officials hope that people can adapt to new speed limits.
Salt Lake City Police Chief Mike Brown reassured the council that the cost of staffing police officers to bust speeders on residential streets far exceeds any revenue from speeding tickets, debunking that theory behind the speed limit change.
Meanwhile, Bergenthal estimated the cost of replacing speed limit signs to be about $100,000, as a part of the feasibility study. Salt Lake City Councilman Alejandro Puy asked about the possibility of using stickers to cover up the 25 mph with a 20 mph that could reduce the cost. Bergenthal said it's something the division could look into.
The council ultimately voted to pass the measure without much discussion in the ensuing formal meeting.
"If this helps save a life, I think it's really worth the effort," Puy said. "I know we all believe very strongly that a human life is worth the work."
---
We're hoping to continue the engagement on this issue and find ways to make this city safer for all residents. This is, again, a huge victory but it's just the first step.
–Alex Cragun, Sweet Streets board member
---
It wasn't immediately clear when the street signs will begin to reflect Tuesday's vote. Mendenhall issued a statement Wednesday, saying she's "elated" by the council's vote.
"This lifesaving change ... is a big step toward the safer city residents deserve," her statement read, in part.
Alex Cragun, a Sweet Streets board member, also views the decision as a win for the group and for road safety. He's thankful that the city listened to the issue and responded to it.
That said, he told KSL.com Tuesday that more work needs to be done to ensure Salt Lake streets are safer since many of the fatal crashes weren't on the streets that will receive reduced speeds.
"There are places in the community that are city-owned, as well as state-owned, wherein which a lot of traffic violence occurs," he said. "We plan on continuing our work around 20 is Plenty until we see increased investments in traffic calming but also addressing speed limits on collector roads as well as some of the roads that may not have been a part of this initial package."
Mendenhall agreed Wednesday. She said the city is in the process of moving from a "vehicle-first city" to one that better addresses pedestrians and bicyclists, especially as the city grows in density.
Salt Lake City transportation director Jon Larsen said the city started "tinkering" with some of the city's collector streets to be safer, reducing speeds on parts of West Temple and 1300 South in areas that are more residential. He added the transportation department could look at reducing speed limits on other streets from 35 mph to 30 mph, which he said could happen without a city ordinance.
Some streets, including 300 West, 900 West and now 200 South, are going through redesigns to accommodate different modes of traffic, especially as the city's downtown areas become increasingly residential. Mendenhall also proposed money to bring back a traffic calming program in her budget proposal, which looks to improve street safety.
Cragun said he's cautiously optimistic about the future, which is why the organization still wants to meet with both Salt Lake City and UDOT officials over road safety.
"We're hoping to continue the engagement on this issue and find ways to make this city safer for all residents," he said. "This is, again, a huge victory but it's just the first step."
Other Salt Lake City odds and ends
The Salt Lake City Council also approved a pair of other notable measures during its meeting Tuesday night. First, it approved new City Council district boundaries to account for changes from the 2020 census.
Councilwoman Victoria Petro-Eschler was also appointed the city's council member on the Utah Inland Port Authority Board. Petro-Eschler's district includes the land where the Utah Inland Port is located.
×
Related stories
Most recent Utah transportation stories