Estimated read time: 7-8 minutes
SPRINGDALE, Washington County — Big changes are on the way at two of Utah's busiest national parks.
Zion National Park will implement its permit lottery program for Angels Landing beginning Friday, meaning hikers are required to have permits, which they must win from a daily lottery, to complete the entire hike. Meanwhile, a test of timed entry tickets will be required for all who enter Arches National Park beginning Sunday.
Here's everything you need to know before your next trip to both parks.
Angels Landing: Permits to the top
About 300,000 people hiked Angels Landing in 2019, the last official data for the trail. Angels Landing isn't just one of Zion National Park's more iconic and popular hikes, it's also one of the more dangerous ones.
And after more than 5 million visitors entered the park last year — over a half-million more visitors than in 2019 — park rangers and visitors alike noticed potential safety issues, especially crowding by "the chains," a section so narrow hikers are advised to hold onto a chain to climb up or down between Scout Lookout and Angels Landing summit.
The crowding during the last year's summer holidays was so severe that rangers implemented a line for the first time. Between feedback and observations, park officials decided it was time to see if a permit lottery would help reduce traffic along the hike. This test begins Friday and will last through at least early 2023.
"Ultimately, the goal of this permit program is to improve visitor experience," said Susan McPartland, visitor use manager at Zion National Park. "We have heard through public comment, as well as some targeted studies we've done, that the crowding and congestion that occurs up Angels Landing does impact how safe our visitors feel and the type of experiences they have."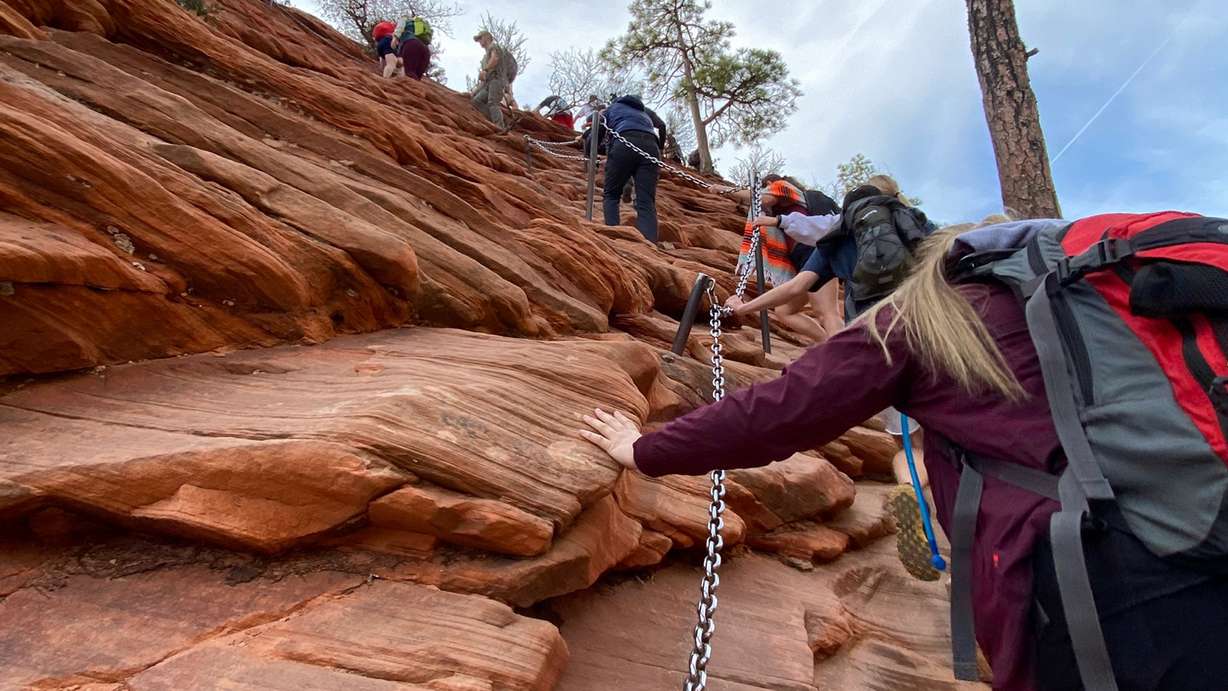 Park officials believe not only will a permit improve safety but hikers will also be able to enjoy the trail as they did prior to the park's visitation surge.
Visitors seeking to hike to the top anytime from April through Feb. 28, 2023, must first purchase a ticket to a permit lottery at recreation.gov.
There are quarterly drawings for every season; the results of spring season hikes (Friday through May 31) were unveiled on Jan. 25. Friday also marks the first day that people can enter to win the lottery for a summer hike, between June 1 and Aug. 31.
However, there's another lottery held the day before every hike. People have until 3 p.m. every day to enter for a chance to win a daily permit; every daily lottery will be held at 4 p.m., with winners getting a permit to hike Angels Landing the following day.
Park officials really aren't sure how successful people will be at getting permits on any given day, since every day and every season will be different. It was about 50% during the spring seasonal lottery that begins Friday: however, it might be more difficult for the summer season.
Jonathan Shafer, the park's spokesman, said they are confident that the lottery won't end up as difficult to win as a permit to hike "The Wave," a popular Bureau of Land Management site southeast of the park.
Here are some important takeaways for the new permit system:
The cost of entering the lottery is $6, with an additional $3 per person among lottery winners in a group.
The $6 application fee is nonrefundable. Lottery winners can receive a refund for the $3 per person if they cancel two days before their permit date. The money from the program goes toward its operations.
If you win, print or download your permits before you get to the Angels Landing trailhead. A ranger may ask for a permit at the Grotto, Scout Lookout or anywhere along the trail. You may be turned around if you do not have your permit. Have photo ID with you too, McPortland said.
Permit applications aren't just for certain days but certain time periods: Before 9 a.m., 9 a.m. to noon, and after noon. You must start your hike at the Grotto by the end of the time window on your permit.
You don't need a permit if you plan to only hike to Scout Lookout — but you can't go past Scout Lookout without a permit.
Don't be surprised if you don't win on a weekend or for an early morning hike, as those seem to be the most popular. McPortland said this makes sense, as people generally visit more on the weekends and try to start their hike early to beat the heat.
Expect tweaks in how the system works. McPortland said it's a pilot program so the park may "make adjustments as we go."
Angels Landing will still remain dangerous, even with the new system in place. That said, park officials hope that having a system to reduce overcrowding won't just improve safety along its toughest passes, but that people will prepare ahead of time for the sometimes grueling route.
In addition to breaking visitation records last year, the park also dealt with a high number of search and rescue calls. Angels Landing was a contributor.
McPortland said hikers should look at details of the route before they think about entering the lottery. If they win, they should bring the right gear, dress for the weather (if it's either too hot or cold), and bring enough water and salty snacks to replenish the water and salt hikers lose while they sweat. There is no water available at Scout Lookout.
"We certainly hope this will help with visitor safety, that folks are planning ahead, researching this hike and that they are coming prepared," she said. "I don't know if there will be a direct tie to the number of our search and rescues overall — a lot of search and rescues happen on a variety of our trails."
Arches: Get a ticket to get in
Another big change is at Arches National Park, as it switches to a timed entry test system on Sunday. The point of the program isn't to stop people from entering the park, but to quell the moments where the park shuts down from everyone arriving at the same time — a frequent problem last summer — and instead distribute visitation throughout the day.
Much like Zion National Park, Arches broke its visitation record in 2021. More than 1.8 million people came to the park just outside Moab, besting the previous record by over 200,000 visitors. Visitation from the past few years is also significantly higher than it was prior to 2010. The park first recorded 1 million visitors then, and visitation has only gone up since.
It's why the park announced the new entry system pilot program in December; timed entry tickets then went on sale earlier this year. Unlike the Angels Landing system, is not a lottery and the pilot program only covers the busiest half of the year, ending on Oct. 3.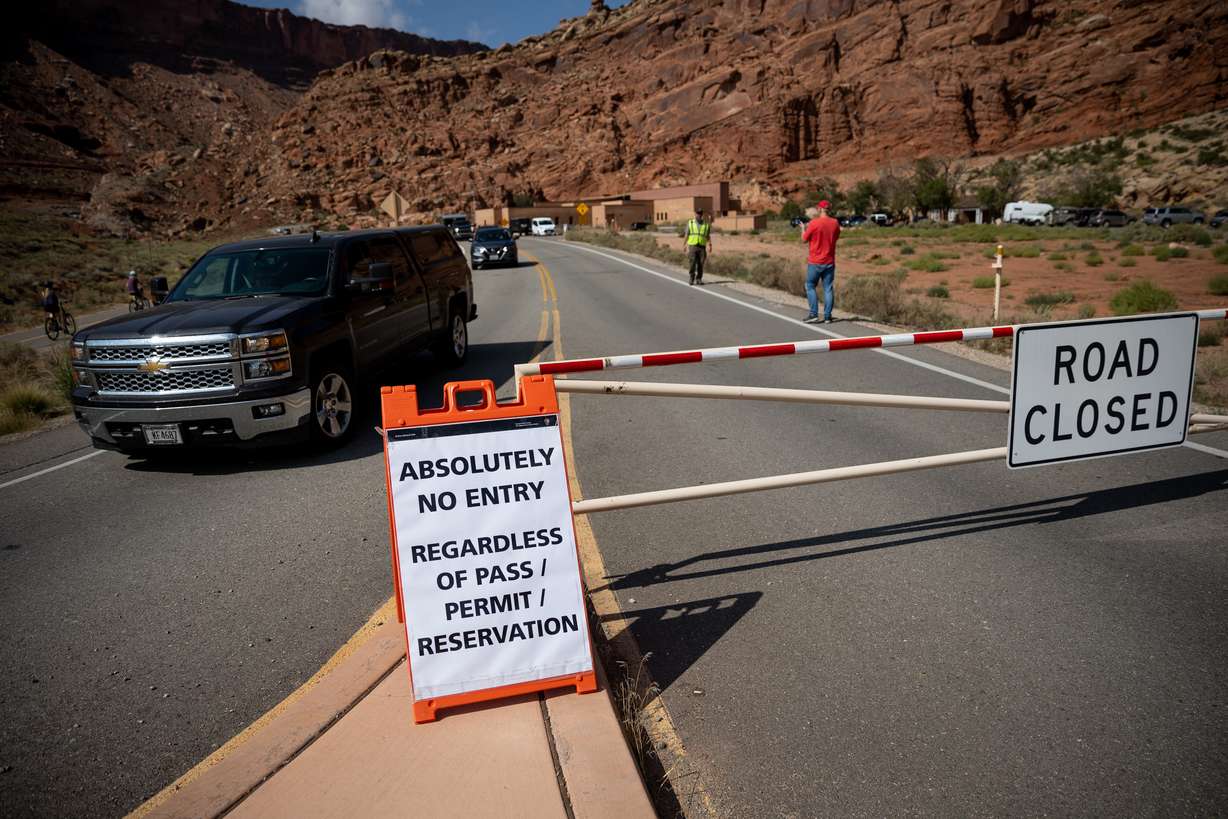 Here are some important takeaways from the new timed entry system:
The reservation fee is $2 per day and is nonrefundable. This doesn't go toward the normal entrance fee.
It's estimated the park can hold about 2,700 vehicles per day, which is about how many tickets will be sold each day during the test phase.
Timed ticket entry will be enforced between 6 a.m. and 5 p.m. daily. Have your ticket, photo ID and money for the park entrance fee with you when you arrive between Sunday and Oct. 3.
Didn't get a ticket in advance? The park will set aside a "limited number" of tickets beginning at 6 p.m. for the next day.
Pick a day less likely for a surge. April through September is much busier than October through March; May, June and July are really the busiest months for the park. There were 676,216 people who visited Arches during May, June and July alone last year, accounting for over one-third of all 2021 visitation. The latter two months were also the two busiest months in its visitation history.
Utah tourism experts are optimistic that the new system will help people who want to come to Arches because it will end entrance shutdowns and reduce crowding at the park, the same way crowding was an issue at Angels Landing.
"If successfully executed, it can improve the visitor and community experience," said Vicki Varela, managing director of the Utah Office of Tourism. "It has the potential to help visitors plan carefully for thoughtful exploration of Utah. This can benefit the community and ensure continuous access to our cherished parks and outdoor recreation."
×
Related stories
Most recent Utah National Parks stories