Estimated read time: 4-5 minutes
SALT LAKE CITY — The seagull, more specifically the California gull, is still Utah's state bird — but now it's not the only official state bird.
The golden eagle became the official state bird of prey this week. Gov. Spencer Cox signed SB116 on Wednesday, adding the raptor to the long list of state symbols. It joins the seagull, elk, Bonneville cutthroat trout, honeybee and Gila monster as the living creatures on that list.
"Symbols do matter," Sen. Mike McKell, R-Spanish Fork, said when he first introduced the bill last month — a presentation that included an actual golden eagle in attendance. "We have a beautiful symbol for the state of Utah. We love the California seagull, we do, but having a bird of prey that represents a broad swath of the state is important."
So now that the golden eagle is a state symbol, here are five things you may not have known about the species.
Golden eagles are permanent residents
The golden eagle can be found throughout western North America, from Alaska to Mexico. These populations tend to migrate south for the winter; however, the bird species stays in Utah year-round, according to the Utah Division of Wildlife Resources.
The website Bird Watching HQ notes that most of the golden eagle's year-round habitat is near the Great Salt Lake and in southeast Utah.
State wildlife biologists point out they aren't too difficult to find, and are most commonly found in the state's mountain regions.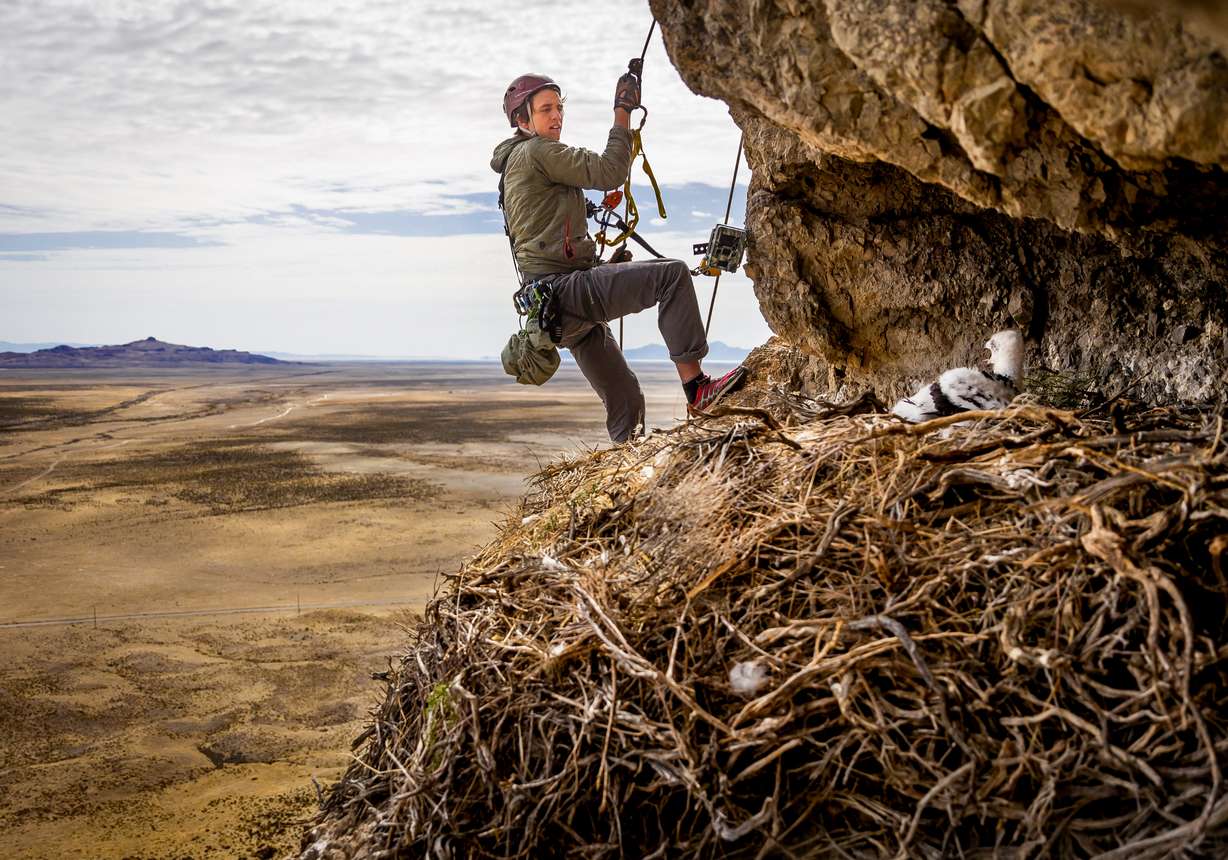 "These raptors are quite remarkable, and it's exciting to see them be recognized for the important role they play in our ecosystems, " said Russell Norvell, the division's avian conservation program coordinator.
Golden eagles represent more than one thing
The golden eagle represents a lot for one creature. It's been known to represent honesty, truth, majesty, strength, courage, wisdom, power and freedom, according to the American Eagle Foundation.
McKell also pointed out it's the largest hunting bird in North America, which he joked is a detail the many hunters in Utah can respect. It's a symbol of a healthy ecosystem and it's considered a "messenger of the gods" in some Native American cultures, he added during his Feburary presentation.
This is also why many Native American cultures collect eagle feathers. Keith Anna, from the Delaware and Choctaw Native American tribes, explained to Great Big Story in 2016 that they've been used in ceremonies for "centuries."
"Eagle feathers give us that strength and courage to go on," he said in the video.
It's easy to confuse a golden eagle for a young bald eagle
There aren't many differences between a golden eagle and a juvenile bald eagle that can be seen with the naked eye. So, if you want to know which majestic bird you're looking at, Bird Watching HQ comes to the rescue.
If you come across a bird looking like a golden eagle, just look by the talons.
"The distinguishing feature between these two birds is that the bald eagle doesn't mind showing a little leg, whereas the golden eagle has feathers all the way down to the top of their feet," the website notes.
Golden eagles can fly really, really fast
If you think you can outrun — or outdrive — a golden eagle diving downward, think again. While the exact speed ranges among experts, Utah wildlife biologists say that the bird species can reach diving speeds close to 200 mph as it swoops in for a kill.
Most times you see one flying around, it's traveling at a speed between 28 and 32 mph, according to the American Eagle Foundation. It can fly around like that for hours with its giant wingspan, which can reach over 7 feet.
The eagle also has gliding speeds of up to 120 mph when hunting, the organization notes.
Golden eagles mate for life
Golden eagles, like some other raptors, are loyal to their mates and to their nests. State wildlife biologists point out that golden eagles not only mate for life but usually use the same nest for many years.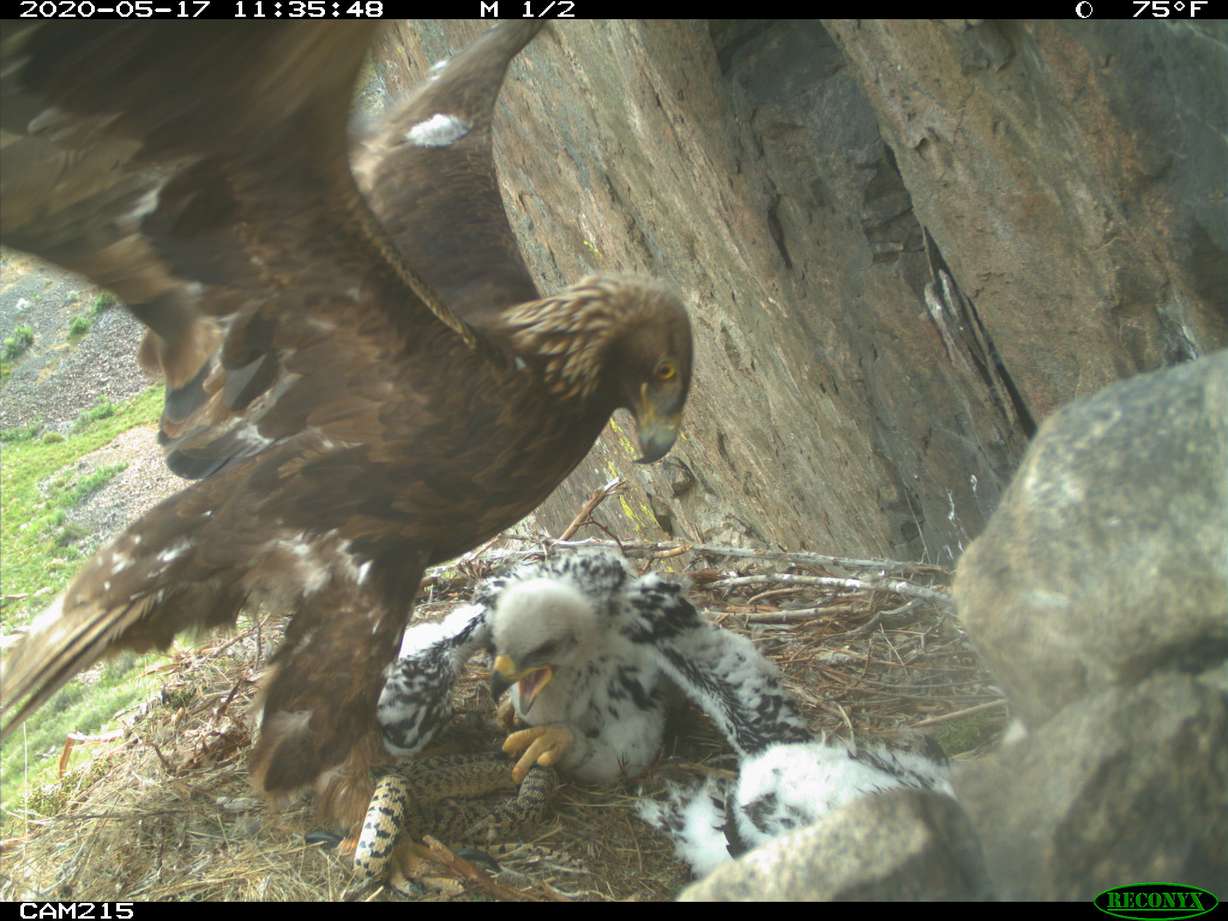 "They typically build their nests on cliffs or in large trees, and usually lay their eggs from late February to early March in Utah," state biologists wrote.
The bird species usually lay two eggs at a time, which the female bird incubates for a little over six weeks. Both parents tend to the young for about a month; a hatchling can typically start to fly after about 60 days.
While experts say most golden eagles can live to about 30 years old, Hogle Zoo notes one golden eagle in captivity lived to be 46, setting a record along the way.
×
Related stories
Most recent Outdoors stories