Estimated read time: 3-4 minutes
This archived news story is available only for your personal, non-commercial use. Information in the story may be outdated or superseded by additional information. Reading or replaying the story in its archived form does not constitute a republication of the story.
FARMINGTON — One of Utah's most revered prosecutors, Robert "Bob" LeGrande Stott, who oversaw some of Salt Lake County's biggest criminal cases during his four-decade career, has died at the age of 77.
Stott died Saturday at his home surrounded by his family, according to his obituary.
Stott prosecuted some of the highest profile cases the state has ever had, including Ted Bundy, Mark Hofmann, Ronnie Lee Gardner, Arthur Gary Bishop, Ervil LeBaron, Joseph Paul Franklin, Mark Hacking, Curtis Allgier and dozens of others.
"To say Bob was the consummate professional is a considerable understatement. Bob treated every case with great care and worked hard at everything he did," Salt Lake County District Attorney Sim Gill said in a statement. "To Bob's many family members, friends, and colleagues, I express my heartfelt condolences on his passing, and offer my deepest gratitude for the many lessons he taught me and so many others. We will be forever indebted to him for his professionalism, his friendship, and his goodness."
Stott was born in Lompoc, California on July 2, 1944, but was raised in Pleasant Grove. He graduated from Brigham Young University and was a big Cougar football fan.
"Robert attended many BYU football games over the years, where he was notorious for his bleacher side coaching, despite the fact he sat about a mile away from the field. No criminal in the courtroom ever got it worse than LaVell Edwards," his family said in his obituary.
After BYU, Stott got a degree from the University of Utah Law School. He started his career as a public defender in Las Vegas. Three years later, he applied for a job at the Salt Lake County Attorney's Office.
That was the start of an illustrious career that lasted over 40 years. During that time, Stott prosecuted some of the most difficult and high-profile cases in the county, working almost solely on murder and capital punishment cases.
But Gill said whether it was a case that garnered worldwide attention or one that received no attention at all, Stott handled each one the same.
"He approached each one with a professional dedication befitting the profession. He always conducted himself with a quiet dignity — he never lost his temper or said an unkind word about anyone," Gill said.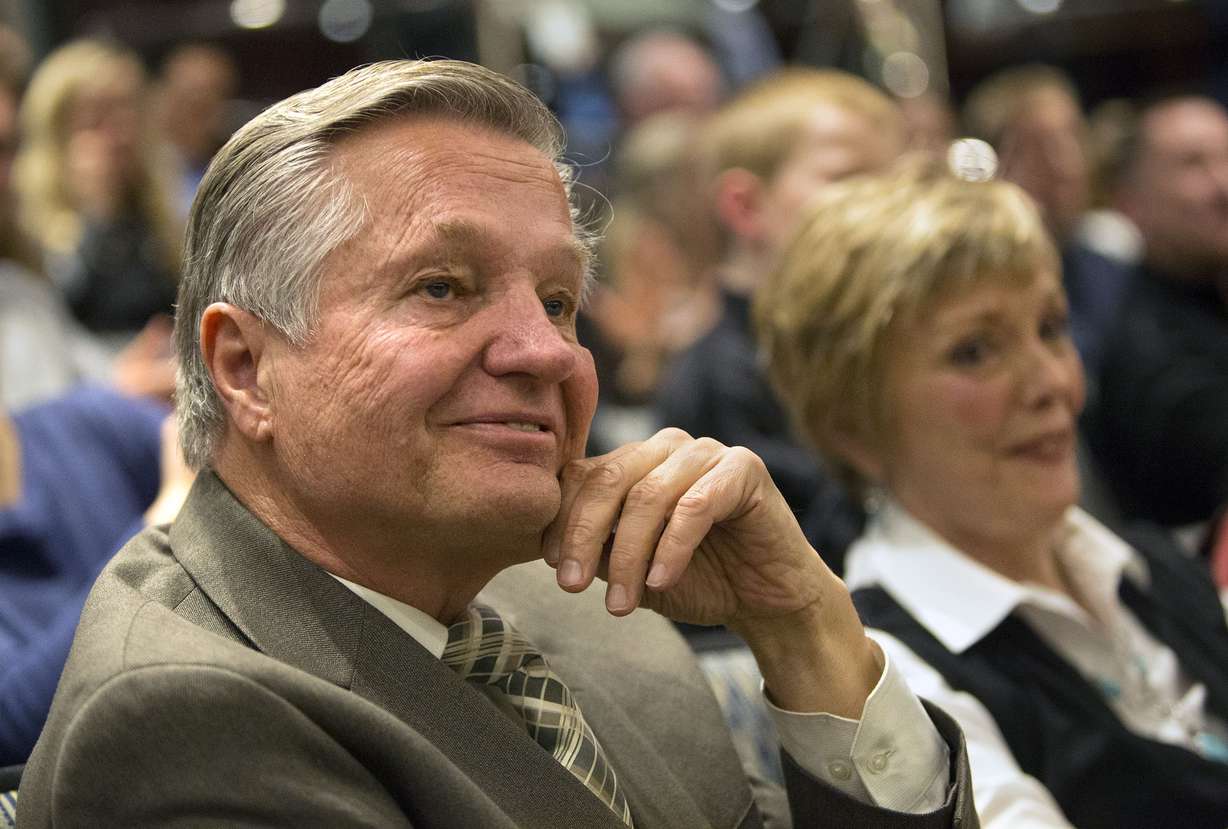 Stott, who retired in 2016, was also dedicated to balancing his career with his home life.
"To us kids, dad was just your average, regular guy. No job around the house or yard was out of his jurisdiction, with one glaring exception: He was no Tim the Toolman. Dad grocery shopped, did the dishes and developed a surprising talent for pie making and homemade ice cream. It wasn't an uncommon sight to find Dad sitting at the kitchen table clipping the latest blue-ribbon recipe from the newspaper. He spent time doing things with us like coaching T-ball and playing many competitive kickball, badminton, and croquet games in the backyard" his obituary states.
"Dad, we express our deep admiration and gratitude for the manner and example in which you chose to conduct your life in both career and at home. We love you always and will do our best to carry on your legacy."
Stott married Deanie Russell in 1971. The two raised six children and today have 24 grandchildren.
A viewing will be held Friday from 6 p.m. to 8 p.m. at Russon Brothers Mortuary in Farmington, 1941 N. Main. Funeral services will be Saturday at Farmington Steed Creek meetinghouse, 347 S. 200 West in Farmington.
×
Related links
Most recent Utah stories