Estimated read time: 2-3 minutes
Editor's note: This is part of a series at KSL.com featuring some of Utah's coolest cars. If you own a customized vehicle — from sports cars to semitrucks — email jormond@ksl.com with a photo of the vehicle and a brief description for consideration.
COALVILLE — These Cool Cars articles usually tell about a car that went from crummy to cool. This one's the opposite.
David Dawes had a very cool 1955 DeSoto Sportsman Coupe in the 1960s — in two-tone pink, no less. He brought it to his brother-in-law Tom Boyer's ranch east of Coalville years later and parked it on blocks, hoping to eventually restore it.
It was on those blocks, but in running condition, when the storms and floods hit in 1983. Chalk Creek, which bordered Boyer's family farm, was flooding out of its normal course and washing away the farm. The situation was desperate.
Boyer asked a friend with an excavator to shore up the creek. They brought in large boulders and as the friend was putting them in place, they saw there was still a gap and the flood wasn't letting up.
On his own volition, Boyer said, the excavator operator picked up the DeSoto and used it to fill the gap, mashing it into the ground. He added a nearby horse trailer for good measure, then supported the two with more rocks.
The family farm was saved. The waters subsided. Chalk Creek returned to its course, thanks to what was a running 1955 DeSoto, in two-tone pink, no less.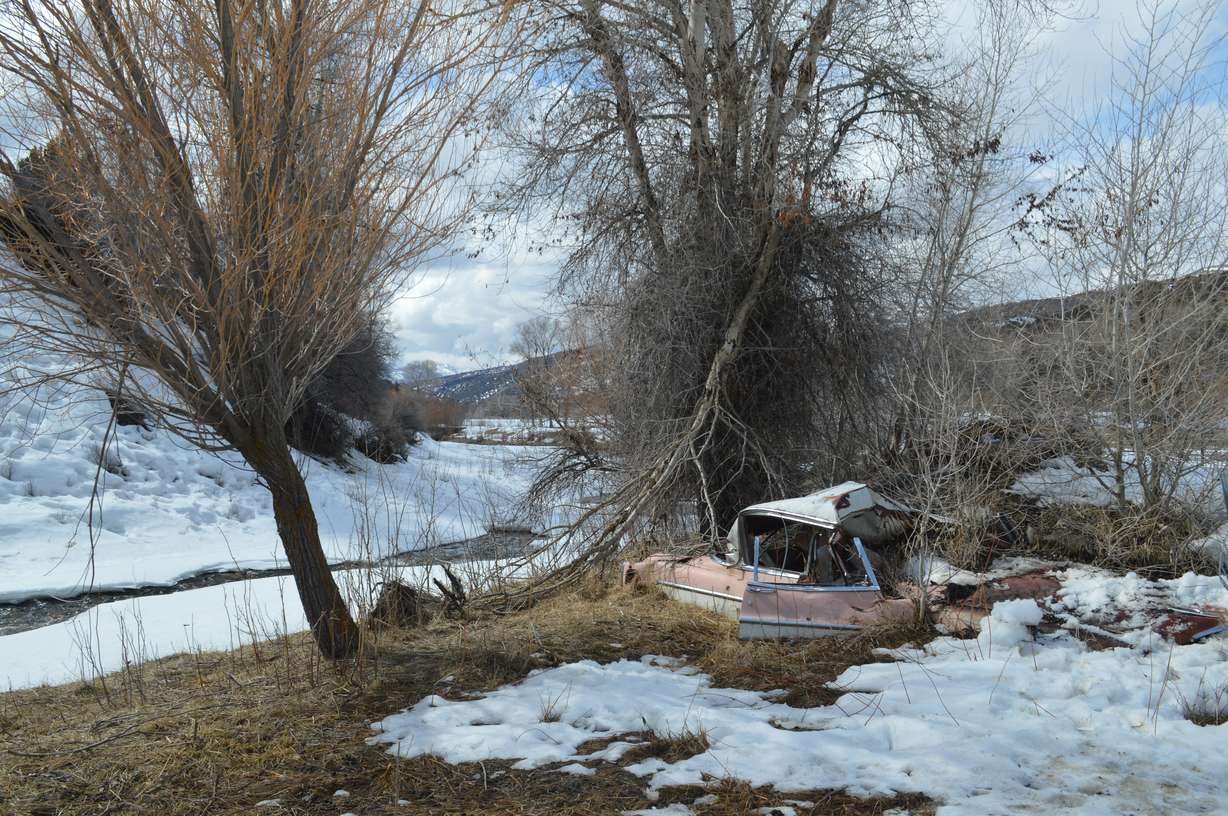 For years, kids played on the DeSoto on the banks of the creek. Boyer's daughter Maren recalls sitting on it to fish, looking in the windows and playing with the emblems.
Now and then people ask the Boyers about it and are usually told it's a "sore subject." Boyer said they haven't gotten to the point yet where they laugh about it: Dawes was sad to lose his car in that way.
Today, grandkids play on the old wreck. The value of 1950s Chryslers has gone up and down throughout the years, but never high enough to tempt anyone to pull it out of the bank. There are no plans to restore it, and every day, the car that gave its all to save a family's farm just gets a little rustier.
More Cool Cars:
---
×
Photos
Related stories
Most recent Cool Cars stories