Estimated read time: 3-4 minutes
This archived news story is available only for your personal, non-commercial use. Information in the story may be outdated or superseded by additional information. Reading or replaying the story in its archived form does not constitute a republication of the story.
Editor's note: This is part of a series at KSL.com featuring some of Utah's coolest cars. If you own a customized vehicle — from sports cars to semitrucks — email jormond@ksl.com with a photo of the vehicle and a brief description for consideration.
AMERICAN FORK — Art brings people together. Cool cars bring people together. Combine the two and you get the Chalk Bus and new connections wherever you go. You're fortunate to see it, even more so if you can draw on it.
Jonathan Sherman and his wife, Kara, were newly married and attending BYU in Provo in the early 1990s. Kara drove their little sedan while Jonathan rode an 80cc Honda scooter to his painting job. With supplies. Year-round.
The rollers, paint cans and snow were getting old when his buddy Steve Hartline spotted a 1969 Volkswagen Camper for sale for $900. Jonathan talked the seller down to $700, still a stretch for the young couple's budget.
The bus served as a paint truck during the week, and the couple camped in it on weekends. Sherman worked on the simple engine himself. He even started restoring it, putting all the camper innards like the stove, bed and fridge in storage. They were later damaged and the interior plan changed.
He and Kara moved to Northern Illinois University for graduate school, towing the bus with them. After an engine rebuild, they weren't careful with the break-in period and the bus broke down big. There was too much school and not enough money to do anything about it, so it got towed from place to place as they moved, serving as a somewhat-mobile storage unit.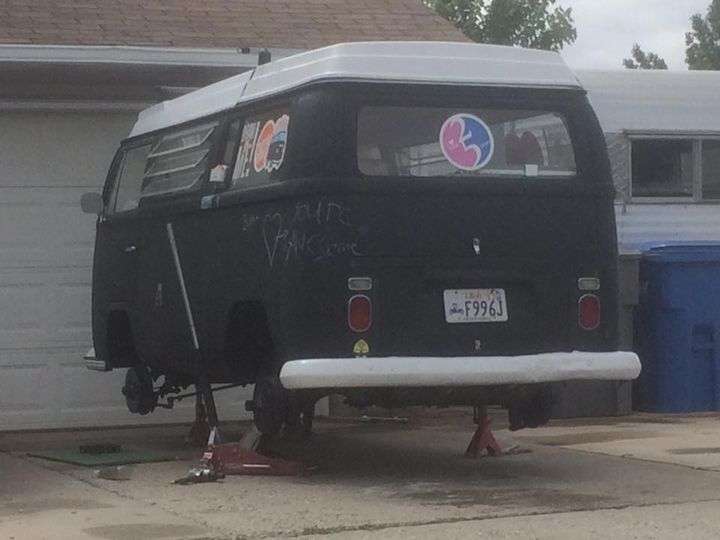 After graduate school, Jonathan started work as a community therapist, but time and money were still tight. He decided to try a casual restore and got to work on the body. He was using black primer paint when his then-12-year-old daughter, Molly, discovered the paint could be used as a chalkboard. The restoration plans changed again, with Jonathan spraying the entire bus with 10-12 cans of Rust-Oleum Chalk Board paint, adding a tray of chalk and signs encouraging people to draw on it.
The Shermans take it to car shows — places where the rule is usually "hands off," but it's the opposite for the Chalk Bus. Wherever the bus parks, people write on it. Sherman gives it a frequent once-over for inappropriate scrawlings but is pleasantly surprised by the positive messages he picks up.
It shows up at the Spanish Fork Krishna Temple's Color Festival and the Riverwoods' Chalk the Block festival. Sherman's niece Sage Sagers has applied her artistic talents to it, one of the few times they put a "Please Don't" sign before the "Draw on Me" sign. He calls it his Interactive Everchanging Mobile Community Art Project.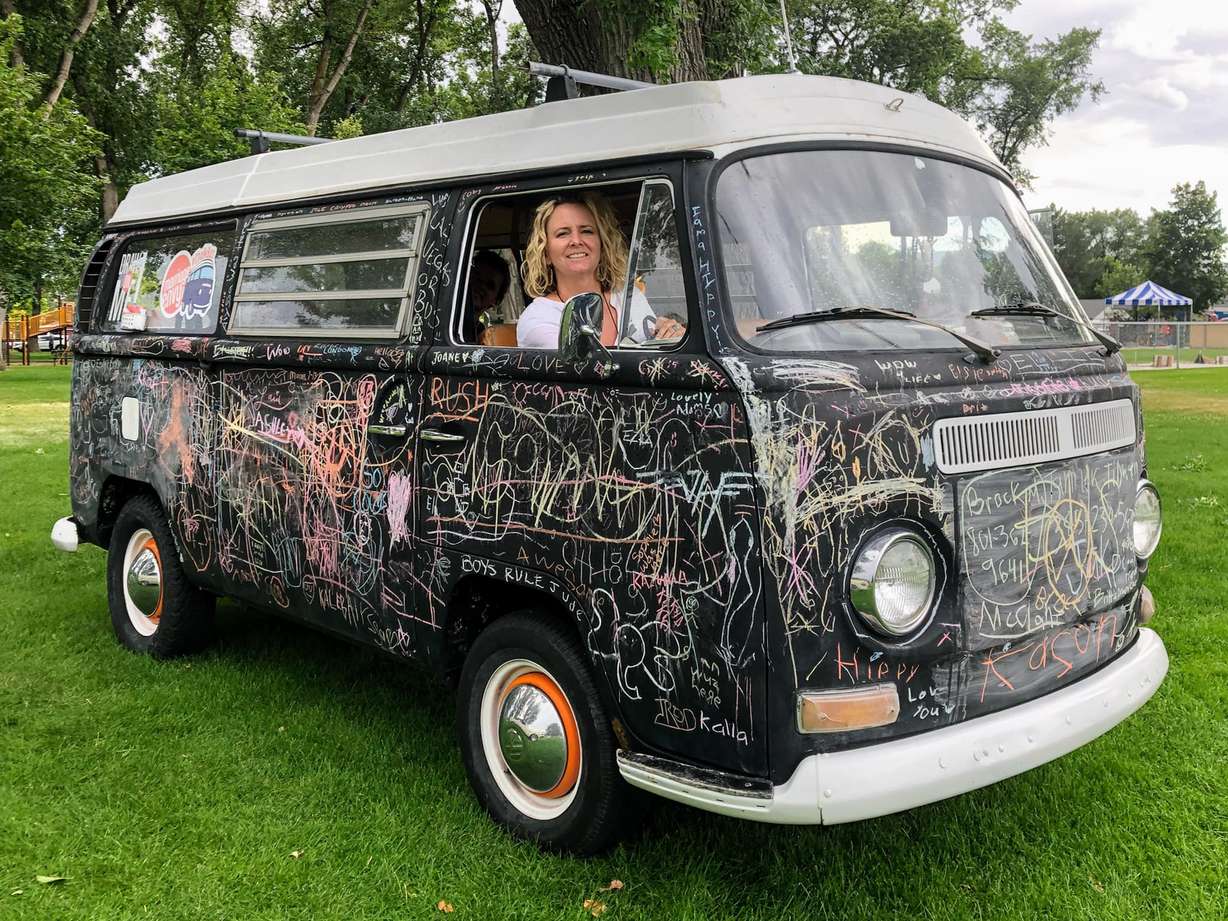 Sherman erases the roving board every week or so at car washes and repaints it every year or two.
He takes bands for rides/jam sessions, and several have improvised their own Chalk Bus Sessions songs. Usually, a daughter rides shotgun and records the mobile music. The band The Royal Engineers from the Netherlands recorded a music video starring the Chalk Bus.
For Sherman, the bus has the ability to connect people — sometimes through bus experiences of others, the general vibe of the bus, or the writing on it. It breaks down social barriers and lets people connect.
The Chalk Bus has its own website. If you see it out driving, wave "Hello." If you see it parked, write "Hello."
More Cool Cars:
---
×
Photos
Related stories
Most recent Cool Cars stories