Estimated read time: 3-4 minutes
This archived news story is available only for your personal, non-commercial use. Information in the story may be outdated or superseded by additional information. Reading or replaying the story in its archived form does not constitute a republication of the story.
HERRIMAN — It's been 231 days since the Utah Warriors played in front of a crowd at Zions Bank Stadium.
They certainly made up for lost time Saturday.
By the time Mika Kruse had dotted down his third try in the 70th minute, the fans were extolling and the hosts were enjoying a rare rout.
Kruse scored the second hat trick in franchise history, and Utah snapped a three-game losing skid with their first win of the season 69-22 over Major League Rugby expansion side Dallas Jackals.
The 69 points is the most scored in a single match in MLR's five-year history, and ties the largest margin of victory in league history.
"That was awesome," Warriors assistant Shaun Davies said after the match. "We needed a win, we needed a game at home, and we came out firing.
"The effort has never been the issue the last 3-4 weeks. We got the win, we got some momentum, and we have a long way to go. But the boys are excited."
Mikey Te'o added two tries for the Warriors (1-3, 8 points), breaking the franchise record for most tries by a single player with 12. Saia' 'Uhila, Tomasi Tonga, Niall Saunders, Tuvere Vugakoto and rookie Coleson Warner each added a try for Utah.
But often before the try-scoring run was a pass, or a pass before the pass, from players like Saunders, center Tyler Fisher and fly half Cliven Loubser, who also converted a penalty. It was those passes the made the offense churn and provide the hearty fans at Zions Bank Stadium a reason to cheer.
On one drive, Saunders initiated a string of no less than seven passes before Fisher found Te'o in the 46th minute.
"When you serve your teammates, it lets you know that you trust them," Te'o said. "It shows that we trust each other; that's a big part of rugby. It's 15 guys on one team. We can't do it by yourself. You have to trust the guys around you."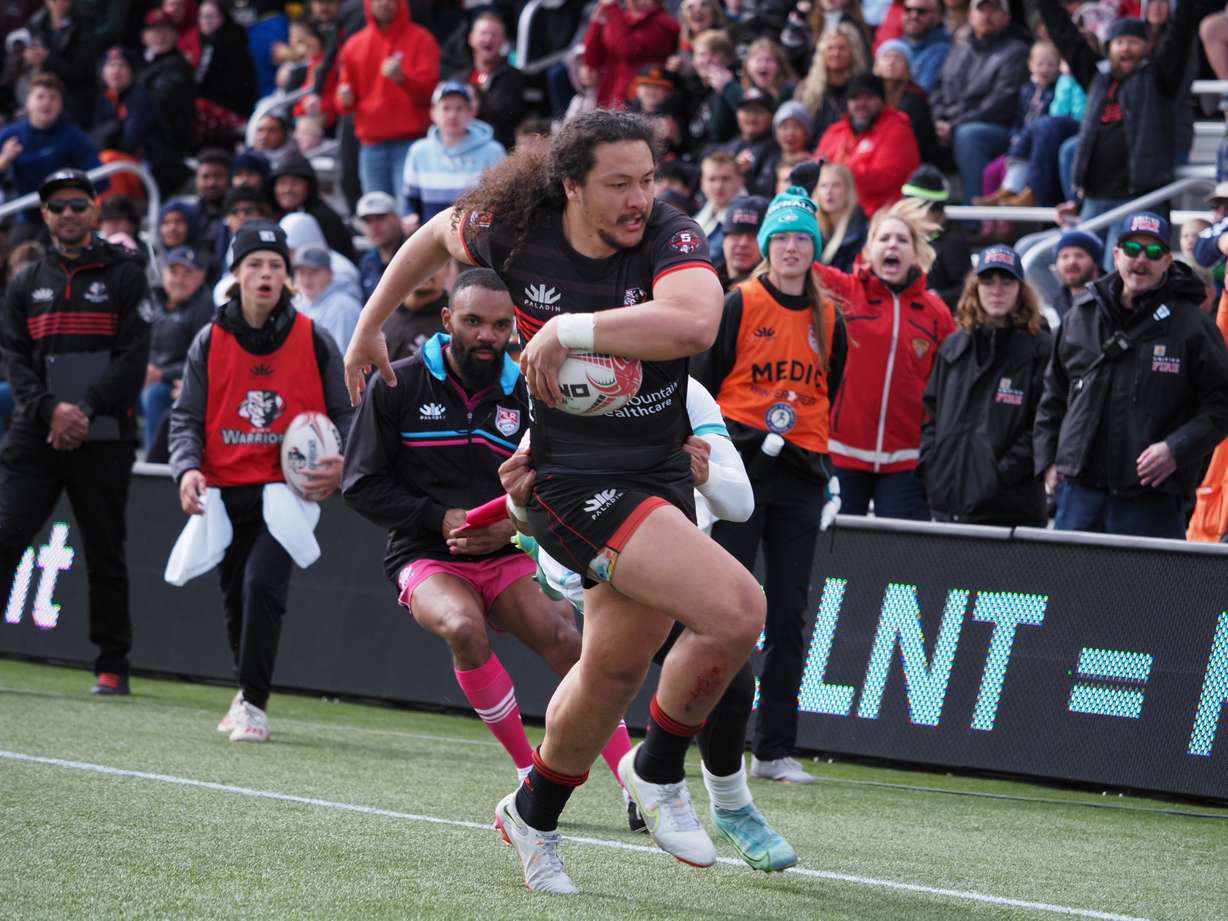 After three-straight games on the road and three consecutive road losses, with varying bonus points among them, it was obviously good to be home. With BYU quarterback Jaren Hall on hand to usher in a new name, image and likeness deal and sign autographs for fans, the Warriors had plenty of reasons to put on a show.
But Utah put on an offensive showcase in Saturday's match, which started out cold but ended slightly more seasonable and significantly more bearable in a way that only a 47-point lead can do, in a dream for many — including the 23-year-old Warner, who made his Warriors debut after joining the club a month ago following his second-round selection in the MLR Collegiate Draft by Rugby ATL.
"Honestly, it was electrifying," said Warner, the Pocatello, Idaho, native who became the 100th player to appear for the Warriors in five seasons. "I haven't experienced anything like it before; I embraced all of it, and I felt it the entire time I was on the field. It was amazing."
The Warriors have a long way to go to be the team they want to be, or at least match the one that finished second in MLR's Western Conference a year ago and advanced to the four-team playoffs. They're still a point behind defending champion LA Giltinis for fifth in the West, and the win over Dallas marks the Jackals' fifth consecutive loss in their expansion season.
But points are points, and after struggling to pick up only a handful of points in losses to Austin, Seattle and San Diego, a win is a win.
"That's our best performance this year, by far," Saunders said. "We had a rough performance last week, but we reset this week. A lot of hard work went into this week — and the results showed."
×
Related stories
Most recent Sports stories