Estimated read time: 6-7 minutes
SALT LAKE CITY — Greg Gossard, president of The Hampstead Companies, knew his development company had its work cut out for itself when it closed on the century-old Jackson Apartments in January 2020.
The 80-unit apartment complex, constructed on the corner of 200 South and 300 West in the 1910s, had fallen into disrepair. The plumbing needed to be replaced; the roof, windows and masonry all needed significant repairs, among a laundry list of tasks at hand.
"We saw it as a historic building that needed substantial rehab — that rehab was going to be no small feat," Gossard recalled.
And that was just the beginning. Two months later, a massive earthquake rattled the building so severely that the Utah State Historic Preservation Office, in its initial damage assessment report, marked it as one of only three structures deemed unsafe among 145 historic buildings damaged in Salt Lake County.
Despite the daunting repair tasks ahead of them and pressures to sell the building because of its prime real estate location downtown, the developer went ahead and continued work on preserving the building with the goal of keeping it affordable housing for the elderly.
That goal has now been accomplished. Gossard joined Salt Lake City and Utah housing leaders in the courtyard of the building on a frigid Thursday morning to celebrate the reopening of the apartment complex, which will offer 80 affordable apartment units to elderly Salt Lake City residents.
All 80 units are available to elderly residents who make 60% or less of the area median income, according to city housing officials. They are scheduled to remain designated as affordable under a new housing agreement that extends through 2070, Salt Lake City Mayor Erin Mendenhall said.
"It's remarkable," Mendenhall added, prior to cutting a ribbon to symbolize its reopening. "The fact that (Hampstead) preserved all 80 (units) is not only exemplary but it's critical to the livelihood of these individuals … These 80 units are essential."
Keeping the Jackson affordable
The Jackson Apartments date back to about 1915 or 1916. While there isn't much history of the building, it became affordable housing for elderly Utahns in the 1980s. It was in danger of losing its status when the San Diego-based The Hampstead Companies acquired the facility in early 2020.
Given its location in downtown Salt Lake City, Gossard said the company began receiving offers on the building "within weeks" of completing the purchase of the building. Vivint Arena, the Salt Palace Convention Center and Gateway Plaza are among the venues within blocks of the complex. It's also located next to a former post office building that's set for new development.
"But we said, 'No. This is where affordable housing should be,'" Gossard said. "It's near transit, it's near jobs, it's near recreation, it's near growth: This area is going to continue to grow, and the rising tide of this neighborhood, I think, will lift all boats."
The developer was reviewing the needed repairs when the COVID-19 pandemic hit in Utah, followed quickly by the 5.7 magnitude earthquake that shook Salt Lake County in March 2020.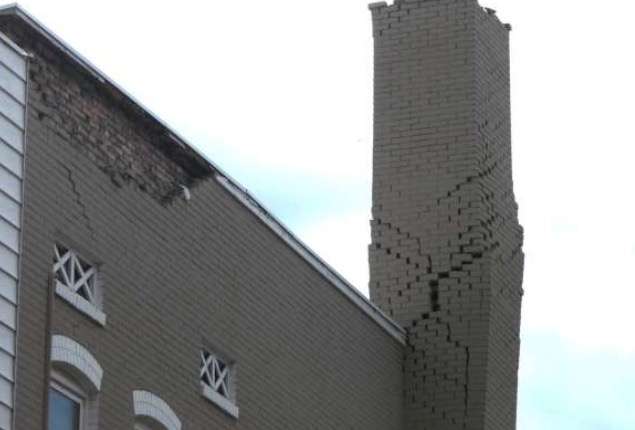 The quake led to major brick loss and chimney destabilization, according to the state's preservation office. Gossard likened the damage to a large chimney that extended out from the four-story building to a Jenga board game tower.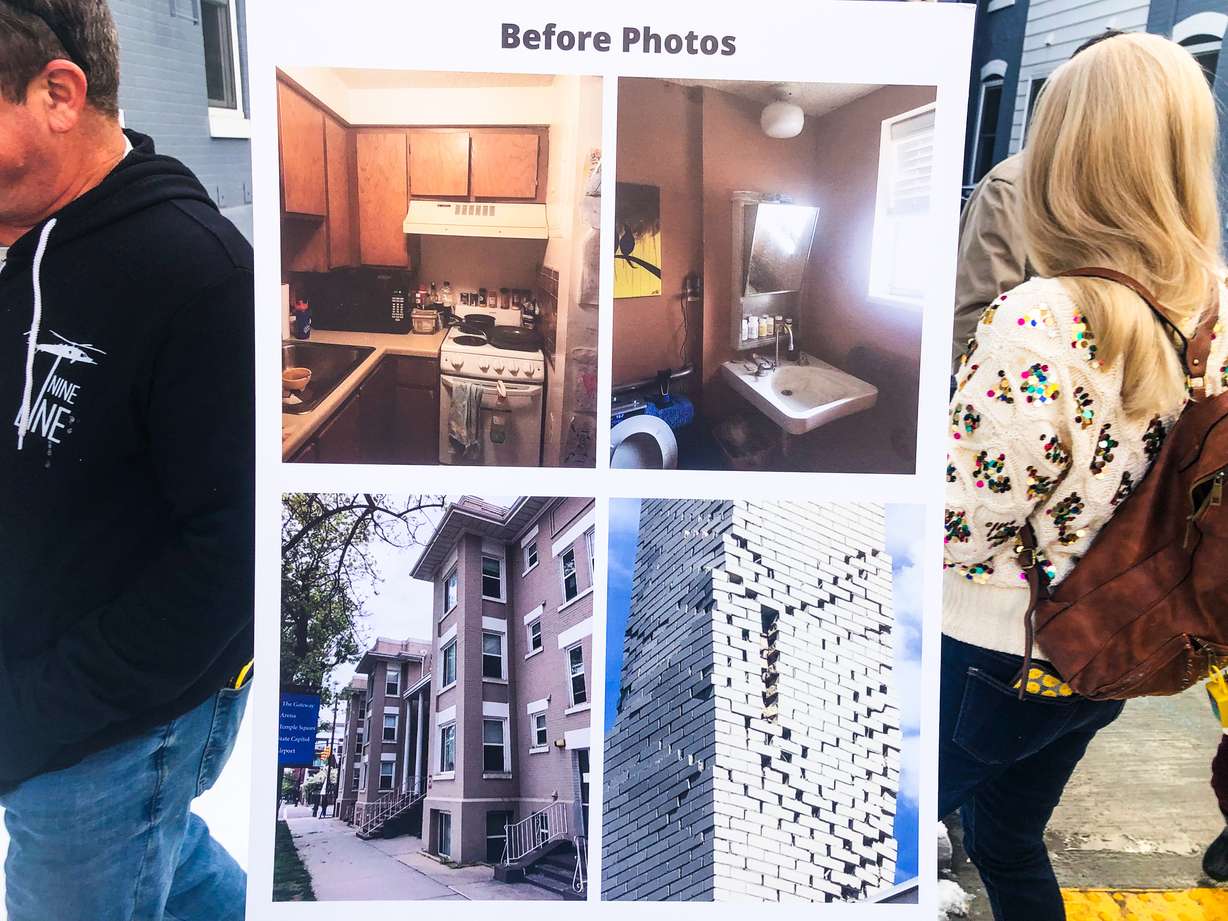 The first task, Gossard said, was to ensure the residents inside were safe as it worked to figure out future plans. Planning meetings were held virtually, while workers on site needed to be tested for COVID-19.
The team then got to work restoring the building's historic facade, while updating the apartment units and improving accessibility to fit the American Disabilities Act. It was also repainted a shade of blue from its previous tan exterior.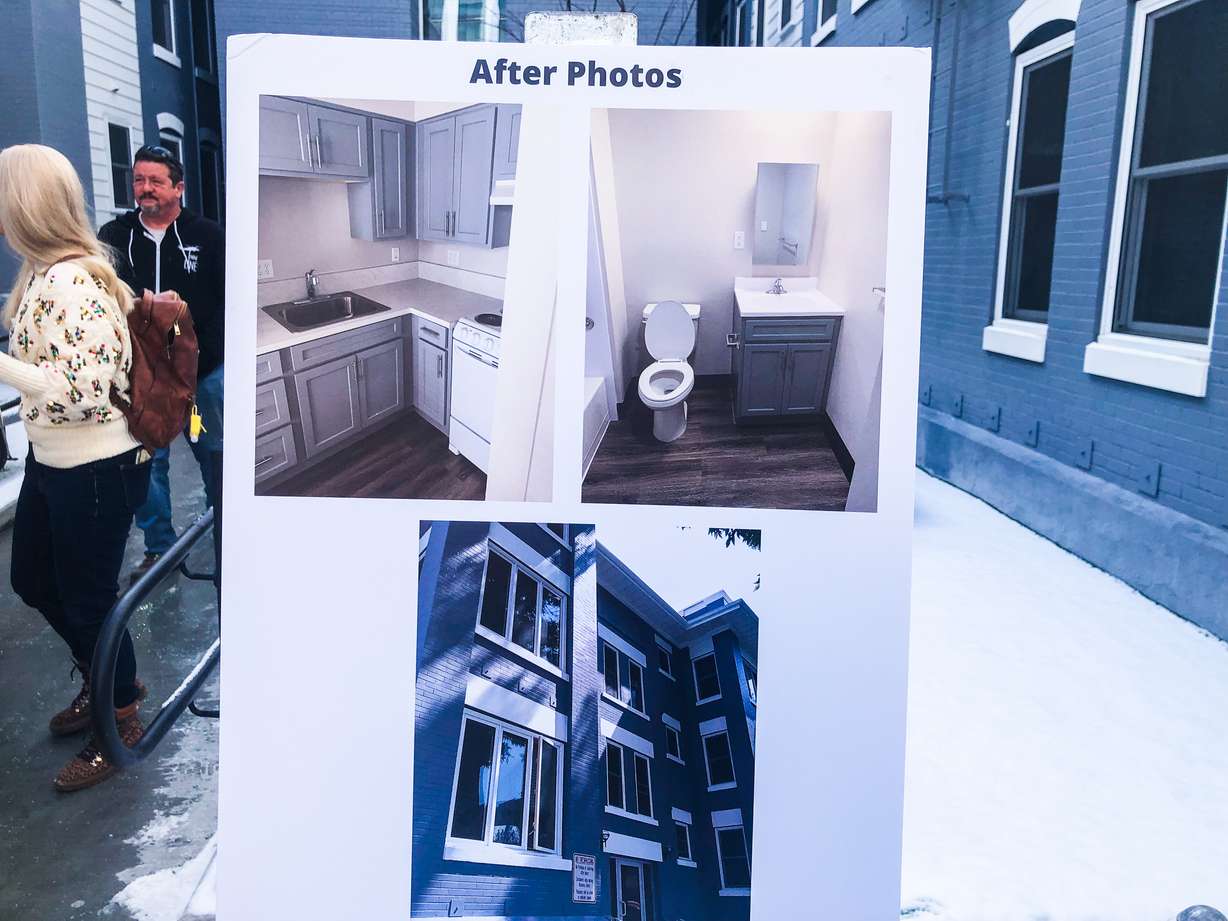 While there was a lot accomplished, the project received plenty of federal, state and local assistance over the past two years.
As noted by the state preservation office report, the project was eligible for tax credits because of its history. The company took advantage of that, receiving both state and federal credits. It also received federal low-income tax credits, a $1 million loan from the Redevelopment Agency of Salt Lake City, as well as other bonds and loans.
Topping it all off, it received a Section 8 voucher contract from the federal government.
"They say it takes a village to raise a child. … I think, however, to get an affordable housing project redeveloped, it seems to take a country," Gossard said, with a chuckle. "If you remove any one of those items, this project doesn't happen. It needed every single one to execute here."
Mendenhall said residents will have access to a lounge area in the courtyard, a fitness center and on-site social services. They will also have a place to stay in Salt Lake City, which Salt Lake City Councilwoman Ana Valdemoros said likely would not have been the case had the apartments switched over to market-rate housing.
Given the large need for affordable housing in the city, Valdemoros was especially excited about the project, which she referred to as a "safe and secure haven" for residents who have helped shape the city for years.
"This is a thing that we constantly hear (about) and we need," she said. "The downtown senior community truly needed this building to remain an affordable place to live. … They deserve to be able to afford to stay in this city, for which they have contributed for so many years."
Chipping away at the city housing shortage
The Jackson Apartments are, in many ways, symbolic of the daunting housing issues that city officials are currently facing.
Salt Lake City has a shortage of 18,000 housing units, according to a University of Utah Kem C. Gardner Policy Institute issued a report last month. That shortage helps fuel the growing cost of living in the city, making the city less affordable for lower-income residents to stay in.
---
This is a piece-by-piece work. ... To have 80 units come in and remain affordable is a big bite toward what seems like an insurmountable number of units the city needs.
–Salt Lake City Mayor Erin Mendenhall
---
Mendenhall believes most people end up facing the need for affordable housing at some point in their lives. That's why she's thrilled for the 80 individuals or families that are able to stay close to where they have lived for years and close to important resources through the restoration of the apartment complex.
But housing experts and city leaders are quite aware it's a drop in the bucket when looking at the full scale of things.
The mayor said she remains hopeful that the state Legislature will pass funding for affordable housing and bills that will allow cities to implement inclusionary zoning laws. That would allow cities to force new projects to include some percentage of affordable housing within important corridors, like areas near transit.
In the meantime, Salt Lake City leaders say they offer incentives, like low interest rates and Gap Financing, to developers who include enough affordable housing. Developers who are able to keep historic buildings — something that reduces waste and environmental impact than new buildings — is something Mendenhall calls a "win-win-win-win across all sides."
"This is a piece-by-piece work," she added. "To have 80 units come in and remain affordable is a big bite toward what seems like an insurmountable number of units the city needs. We're going to keep eating away at this — financing, finding ways through our zoning, finding ways through private-public partnerships to get more affordable in."
×
Photos
Most recent Utah stories