Estimated read time: 4-5 minutes
This archived news story is available only for your personal, non-commercial use. Information in the story may be outdated or superseded by additional information. Reading or replaying the story in its archived form does not constitute a republication of the story.
OREM — In the history of Utah high school wrestling, few programs stand above Uintah.
The historically powerhouse Utes held the lead going into the championship finals of Thursday's 5A state championships at the UCCU Center, which was no surprise for the 24-time team champs — the second-most across any classification in state history to Delta's 34.
Michael Alexander knew little of that. He just knew that he wanted to win his first title, and the freshman also knew that if he did, the Utes could add a 25th trophy to the case.
Boy, did he.
Alexander cruised to a 22-second pin in the finals, and Uintah cruised to 276.5 points and the program's second consecutive title — and just the second since 1999 — in front of a largely partisan traveling crowd on the campus of Utah Valley University.
"I was excited to go wrestle, and I was excited at the result," Alexander said. "I just enjoy this sport and I love my team.
"I knew that I needed to win my match, especially because it was against Payson. I'm happy that happened."
Austin Richens added an individual title for the Utes at 190 pounds, and Brady Merkley (144), Dustin Rhoades (165) and Gage Howard (285) each placed second for their respective weight class.
"It's bittersweet," said Uintah coach Phillip Keddy, a Uintah alum and former All-American wrestler at Iowa. "Even when you win the team title, you hurt for those kids who worked their whole life, their seniors, and their done — for guys like Brady Merkley, who helped me build these last few state title teams. He was my backbone that I used as an example of how to win how to work hard, and how to wrestle. Then he loses and doesn't get his fourth.
"You hurt for those kids. You want to enjoy it, but that's how life is — and it's why it's such a beautiful sport to prepare for these young kids."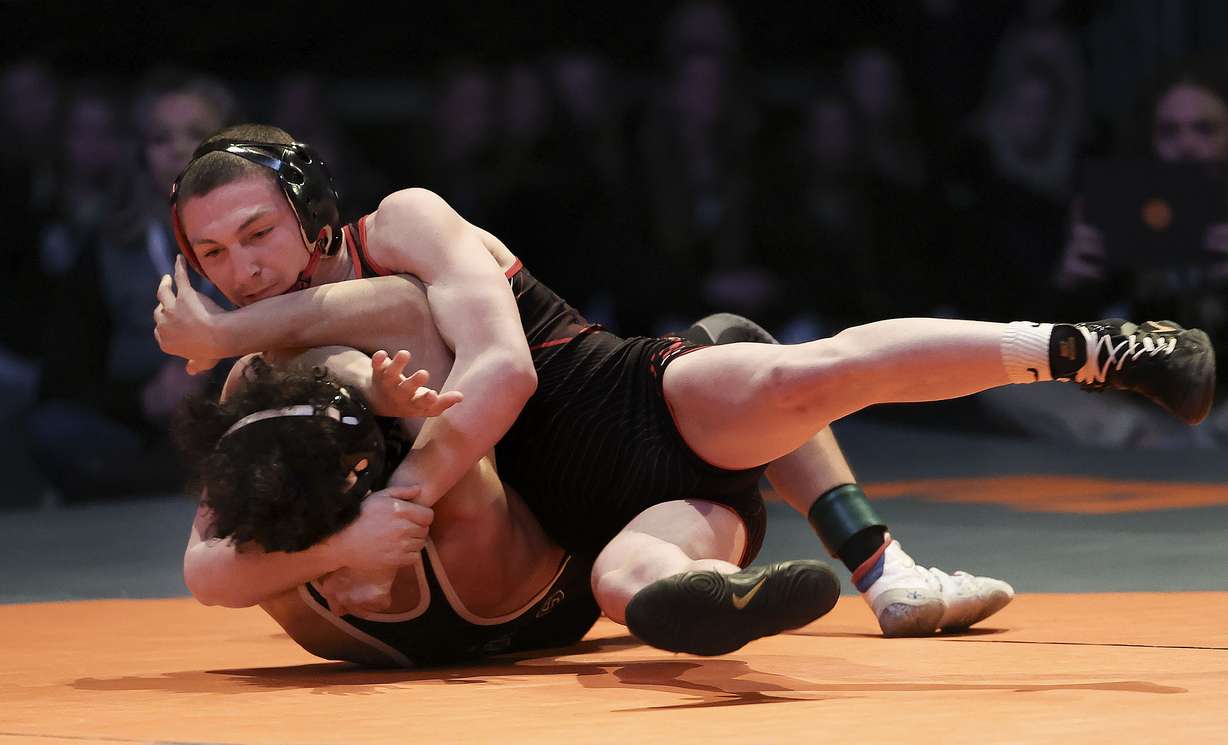 That bittersweet feeling came as two-time reigning champion Merkley lost a rare match, falling 5-1 to Woods Cross' Colton Erickson. The Wildcat senior was one of two on the night to cap an undefeated season, joining sophomore teammate Cash Henderson at 215 pounds.
"I'm really looking forward to these next couple of years," Henderson said. "Going undefeated, I really didn't plan on it. But it was awesome.
"When I won my all-star match here (at UVU), it really set it off. It got me pumped, and I knew I had a shot."
Those bittersweet feelings also made triumphs like that of Alexander, who knocked off reigning state champion Aaron Garcia of Payson in a hype-driven opening period, more special, too.
"He comes out there and just answers all the questions at once, like there was no doubt. It's pretty exciting," Keddy said. "That was his first as a freshman, and he's our next opportunity to try to get a four-timer at Uintah.
"It felt really good. This tournament was kind of rough. … We had a perfect season, and we knew this was going to be tough. It's a smaller tournament, and that made it harder. So it still feels good, and we'll get better and see how things shake out next year."
But the best part, even for Alexander, next year includes a chance to defend a title, both individually and as a team.
5A girls wrestling
"The team title means more than the individual title to me," Alexander said. "We work together, we do everything together, and I'm excited that we got that team title."
Box Elder's Bridger Ricks became the newest addition to the four-time state champion club with a 3:22 pin of Park City's Jared Miller. Ricks, who wrestled for a total of 7:46, is the 27th four-time champion in state history, according to the Utah High School Activities Association record book.
Viewmont twins Marcus and Moses Espinoza-Owens each added a state title to their resumes, with Moses defeating Wasatch's Christian Slack 12-5 at 157 pounds before Marcus toopped Uintah's Dustin Rhoades 7-1 at 165.
Wasps cruise to sixth-straight title in 3A
Channing Warner won his fourth state title with an 18-9 win at 144 pounds, and Chase Ingram (157) and Will Harmon (175) each added an individual title to help Juab cruise to the team trophy at Sevier Valley Center in Richfield.
The Wasps also had seven wrestlers place second to cement their sixth-straight title, tied for fourth-longest streak in state history.
Juab finished first with 307.5 points, followed by Morgan (213.5), South Summit (189), Emery (160) and Canyon View (123.5).
UHSAA 5A Boys Wrestling
Feb. 17, 2022
UCCU Center, Orem
Team scores
Uintah 276.5, Payson 265, Wasatch 184, Lehi 93, Viewmont 88.5, Mountain View 87.5, Box Elder 83, Spanish Fork 78.5, Woods Cross 69, Murray 66, Salem Hills 63, Maple Mountain 59.5, Springville 56, Stansbury 52, Alta 39, Park City 37.5, Orem 36, Timpanogos 26.5, Tooele 21.5, Northridge 19, Skyline 18, Bountiful 16, Cedar Valley 10, Hillcrest 9, Olympus 8, Brighton 7, Highland 7, Timpview 3, Bonneville 1.
Championship bouts
106 — Karson Shelley, Spanish Fork, p. Connor Knudsen, Timpanogos, 3:43.
113 — Michael Alexander, Uintah, p. Aaron Garcia, Payson, 0:22.
120 — Bridger Ricks, Box Elder p. Jared Miller, Park City, 3:22.
126 — Heather Clyde, Wasatch d. Ethan Boulton, Payson, 5-2.
132 — Ryder Robinson, Wasatch d. Cody Burr, Mountain View, 10-0.
144 — Colton Erickson, Woods Cross d. Brady Merkley, Uintah, 5-1.
150 — Isaac Orrock, Murray d. Luke Degrafenried, Salem Hills, 6-1.
157 — Moses Espinoza-Owens, Viewmont, d. Christian Slack, Wasatch, 12-5.
165 — Marcus Espinoza-Owens, Viewmont d. Dustin Rhoades, Uintah, 7-1.
175 — Landen Shurtleff, Payson p. William Price, Uintah, 5:58.
190 — Austin Richens, Uintah d. Andrew Jensen, Maple Mountain, 11-7.
215 — Cash Henderson, Woods Cross, p. Monson Morley, Salem Hills, 3:03.
285 — Isaac Terrell, Lehi d. Gage Howard, Uintah, 5-1.
×
Photos
Related stories
Most recent High School stories