Estimated read time: 6-7 minutes
This archived news story is available only for your personal, non-commercial use. Information in the story may be outdated or superseded by additional information. Reading or replaying the story in its archived form does not constitute a republication of the story.
OREM — So much was different in the 21st edition of the annual Utah high school wrestling all-star duals Tuesday.
For starters, the duals themselves — which brought together 86 of the best boys and 33 of the best girls in the state — were held at a different place.
But beyond trading in Utah Valley University of Telos High School's smaller gym and inviting the 33 best girls in the state for the first time in a sanctioned state-wide meet, the most important rules of wrestling were consistent across all years.
Then there were the added dimensions of the coronavirus pandemic, with new rules of face coverings, regular hand hygiene, post-match hand shakes and a new method of referees raising the victor's arm in celebration.
But at the end of the match, the best wrestler won. Between the lines of the circle, everything felt normal — a winner, a loser, and for most of Tuesday's 119 wrestlers, a chance to prove their worth across all classifications.
The top-two ranked wrestlers at 138 across all classifications, Wasatch's River Wardle and Juab's Channing Warner combined for a half-dozen state titles.
But the Wasatch three-time 5A champion jumped out to an early lead en route to holding off Warner, 10-8 to win his 60th match.
"That was one of the toughest matches I've wrestled in a long time," Wardle said of the two-time 4A champion Warner. "Sadly, I won't see him again at state, but I should be seeing him at the Rumble — and I'm hoping for the same exact outcome."
Little about Tuesday's match was normal; the usual UCCU Center at Utah Valley University was traded in for Telos, the charter school in Orem that houses no more than a few dozen fans at most sporting events.
In lieu of a packed gym, tickets were scarce; each wrestler received two tickets for parents or family, and face coverings were required of everyone in the gym to help curb the spread of COVID-19. Duals were divided into three sessions, with each session cleared to allow for parents and spectators to follow their wrestlers.
Beyond the two invited guests, other spectators watched a livestream of the event on trackwrestling.com, with the $9.99 subscription rate used as a fundraiser for Utah Valley's wrestling program.
But the All-Star Duals themselves felt normal, especially once Wardle stepped on the mat. This was his happy place, and nothing about the past year — or the threat of canceling or postponing the winter sports season — could change that.
"I liked how they did it. I got to wrestle the best kids, and prove that I'm the best at my weight," said Wardle, who also defeated Beaver's Brian Evans 8-2 in an earlier session. "It meant a lot. I feel like getting these types of matches makes me better, being able to grind out all three periods — I'm prepared for better wrestlers, better matchers, and longer matches.
"There weren't as many people, obviously, but I liked the atmosphere. Everybody was watching you; it can be scary, but you've got to push through it and wrestle through it."
Wrestlers will be divided into teams of 6A, 5A, 4A, 3A and a combined 1A/2A team, as well as one combined "wildcard" team.
The Wildcard team claimed victory with 57 team points, while 6A edged out 5A for second, 39-35. The combined 1A/2A squad tied 3A with 21 points each, one point ahead of 4A.
The event will also be the first all-star duals with girls wrestling as a sanctioned sport in Utah. Previous events have held a handful of exhibition matches involving girl wrestlers, but Tuesday's dual will feature a combined girls all-star squad.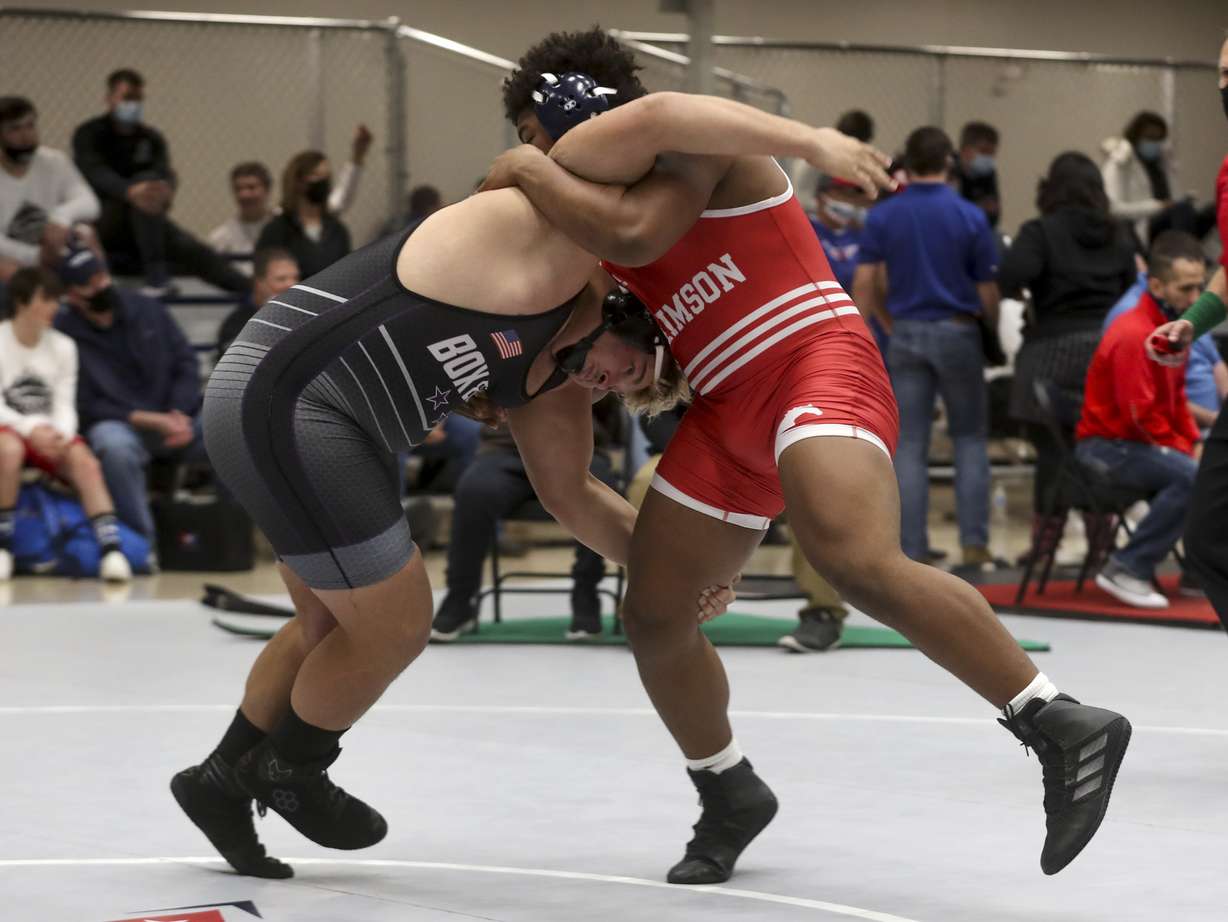 Here's a look at the individual bouts.
Session 1:
Mat 1
106 — Parker Hansen, Tooele, d. Tavyn Hollingshead, Beaver, 6-2
132 — Ryan Bullough, Payson, p. Tezlin Winn, Gunnison, 3:01
170 — Landon Cabral, Bear River, d. Blake Barnes, Milford, 6-5
195 — Justyn Mitchell, American Leadership, p. Walker Hutchinson, Mountain Crest, 3:05
220 — Nolan Kiser, Fremont p. Braden Howard, Emery, 2:38
285 — Wyatt Dawe, Pleasant Grove, p. Garrett Herzog, Green Canyon, 2:34
115 Girls — Chanley Green, Uintah, p. Avaree Kessler, Herriman, 4:51
120 Girls — Celeste Detoles, Westlake, d. Brooklyn Pace, Copper Hills, 4-2
128 Girls — Marquise Salguero, Copper Hills, p. Ragen Jolley, Uintah, 2:47
170 Girls — Anya Hatch, Copper Hills, p. Adel Ronnebeck, Syracuse, 1:08
190 Girls — Ashley Camacho, Maple Mountain, p. Riley Winters, Northridge, 1:14
Mat 2
126 — Bronson Richins, North Summit, p. James Shumway, Green Canyon, 4:33
126 — Austin Kelly, Wasatch, d. Gage Ogden, Herriman, 4-3
132 — Brock Morris, Maple Mountain, d. Brigham Bagley, Corner Canyon, 14-7
152 — Rylan Stevens, Mountain Ridge, p. Jax Coburn, Piute, 4:34
160 — Maclaine Percival, Davis, d. Brice Clegg, South Summit, 8-1
182 — Cael Smith, Mountain Crest, d. Cort Raddon, Beaver, 7-5
220 — MacIntyre Thacker, Altamont, d. Breydon Jorgensen, TM, 5-3
132 Girls — Ashley Wilcox, Copper Hills, d. Brinlee Gines, Fremont, 11-8
150 Girls — Bailee Hawks Nelson, Cyprus, p. Emmy Finlinson, Westlake, 0:46
245 Girls — Grace Montierth, Ridgeline, p. Lusimoni Vakalahi, Copper Hills, 2:26
Session 2:
Mat 1
113 — Kaden Ercanbrack, Juab, p. Edgar Renteria, Snow Canyon, 3:39
120 — Clayson Mele, Uintah, d. Sam Rasmussen, Millard, 13-1
138 — Brian Evans, Beaver, d. Jacob Finlinson, Westlake, 3-0
145 — Jaxon Morlan, Duchesne, d. Jaron Campbell, Morgan, 4-3
220 — Cash Robb, Altamont, p. Dawson Bundy, Desert Hills, 1:37
115 Girls — Arleth Antonio, Granger, d. Chanley Green, Uintah, 19-5
124 Girls — Isabelle Clements, Springville, p. Merci Jessop, Water Canyon, 2:34
245 Girls — Grace Montierth, Ridgeline, p. Nya Seiuli, 4:33
113 — Kyson Garcia, Mountain Ridge, p. Kaden Ercanbrack, Juab, 0:56
120 — Bridger Ricks, Box Elder, d. Blake Woolsey, Morgan, 5-4
138 — River Wardle, Wasatch, d. Brian Evans, Beaver, 8-2
Mat 2
113 — Jacob Carson, Pleasant Grove, p. Hagan Mayer, Beaver, 1:38
120 — Blake Woolsey, Morgan, d. Dallan Hunsaker, American Fork, 5-2
138 — Drew Lang, West, d. Brady Merkley, Uintah, 3-2
152 — Josh Armstrong, Hurricane, p. Bryar Meccariello, Emery, 3:12
160 — Park Beeler, Granger, p. Riggin Boger, Altamont, 3:07
285 — Jason Ponauisa, Crimson Cliffs, d. Shan Jackson, Juab, 6-5
108 Girls — Rachel Camacho, American Leadership, p. Isabella Vargas, Juan Diego, 2:41
136 Girls — Alyssa Pace, Copper Hills, p. Jade Garcia, Grantsville, 1:00
140 Girls — Hotaia Valeti, Springville, p. Lizzie Shunn, Westlake, 1:59
113 — Jacob Carson, Pleasant Grove, d. Dayson Torgerson, Richfield, 6-5
120 — Quade Smith, Layton, d. Clayson Mele, Uintah, 5-2
138 — Channing Warner, Juab, d, Drew Lang, West, 4-3
Session 3:
Mat 1
145 Girls — Olivia Carrillo, American Leadership, d. Ashlea Larson, Riverton, 6-1
285 Girls — Kellen Collier, Box Elder, p. Jason Ponauisa, Crimson Cliffs, 3:08
102 JR — Austin Paris, Champions, p. Dillon Ivie, Longhorn, 4:42
106 — Braydon Robison, Westlake, p. Easton Evans, Mountain Crest, 2:48
126 — Will Korth, Morgan, p. Denim Torgerson, Richfield, 5:59
152 — Gabe Sanders, Mountain Crest, d. Zeke Kelley, Pleasant Grove, 4-3
170 — Will Harmon, Juab, d. Caleb Marx, Box Elder, 5-3
170 — Mahkyi Smith, Skyridge, d. Brock Guthrie, Mountain Crest, 11-3
182 — Hayes Dalton, Emery, d. Andrew Jensen, Maple Mountain, 7-3
182 — Radi Stafford, Mountain View, p. Cort Raddon, Beaver, 3:27
195 — Christian Smoot, Woods Cross, p. Danny Garcia, Millard, 3:49
160 — Uno Latu, Hunter, d. Abi Archibald, Maple Mountain, 14-12
Mat 2
136/140 Girls — Hotaia Valeti, Springville, p. Alyssa Pace, Copper Hills, 1:41
160 Girls — Uno Latu, Hunter, d. Taimane Fiatoa, Timpview, 8-5
101 JR — Jason Worthley, Fremont, d. Layne Kleimann, Prestige, 9-2
106 — Andrew Fox, American Leadership, d. Jake Waddoups, Farmington, 6-2
145 — Chase Ingram, Juab, p. Terrell Lee, Mountain Crest, 1:42
145 — Josh Millward, Skyridge, d. Conway Christensen, Murray, 16-5
160 — Dillon Dick, Uintah, d. Marcus Espinoza Owens, Viewmont, 15-7
285 — Chris Esparza, Mountain View, p. Kyler Boren, Beaver, 1:04
195 — Lucas Cochran, Box Elder, TF. Talmage Carman, Herriman, 16-1
113 — Jacob Carson, Pleasant Grove, d. Kyison Garcia, Mountain Ridge, 3-2
120 — Bridger Ricks, Box Elder, d. Quade Smith, Layton, 3-2 (OT)
138 — River Wardle, Wasatch, d. Channing Warner, Juab, 10-8
×
Photos
Related stories
Most recent High School stories