Estimated read time: 6-7 minutes
This archived news story is available only for your personal, non-commercial use. Information in the story may be outdated or superseded by additional information. Reading or replaying the story in its archived form does not constitute a republication of the story.
PROVO — By now, most people reading this know that the BYU women's basketball team is good.
Ranked No. 17 nationally in the latest Associated Press Top 25, BYU (14-1, 4-0 WCC) has exploded out of the gates of West Coast Conference play with a 4-0 record, earning a spot in the poll for the eighth consecutive week.
The Cougars are undefeated in regulation — their only loss to No. 14 Oklahoma on the road in overtime — and is one week away from matching a program record of nine consecutive weeks in the AP poll set in 2006, when the Cougars finished 22nd nationally.
They're ranked 15th in the Coaches Poll, 17th in the NCAA's official NET rankings and could rise even higher with back-to-back home-and-home games against San Diego beginning Saturday afternoon at Jenny Craig Pavilion (2 p.m MST, WCC Network).
But being "good" hasn't been good enough for the Cougars recently; they're ready to dominate. And for an idea of what the difference between the two are, look no further than the Cougars' biggest rival in the conference.
"We've been good before, but it feels like we sometimes slip up. And you look at a program like Gonzaga, and they're just dominant," said BYU guard Paisley Harding, the fifth-year senior averaging 15.8 points, 3.0 rebounds and 2.5 assists per game. "They don't slip up. They win the games they are supposed to win and play tough against teams they are supposed to play tough.
"I want to have a team that plays like that. Luckily, we've been able to do that (so far). So that's been on my mind a lot — when we're winning, we want to keep winning. If that's disrespectful, then that's disrespectful. But we're moving to the Big 12 in a couple of years and we need to start showing dominance on the court."
For a move that is expected to come in time for the 2023-24 season, the Cougars are well on their way. Their full dominance has been well on display since the start of league play, with BYU ranked first in the WCC and No. 11 nationally in average margin of victory at 19.1 points in 15 games.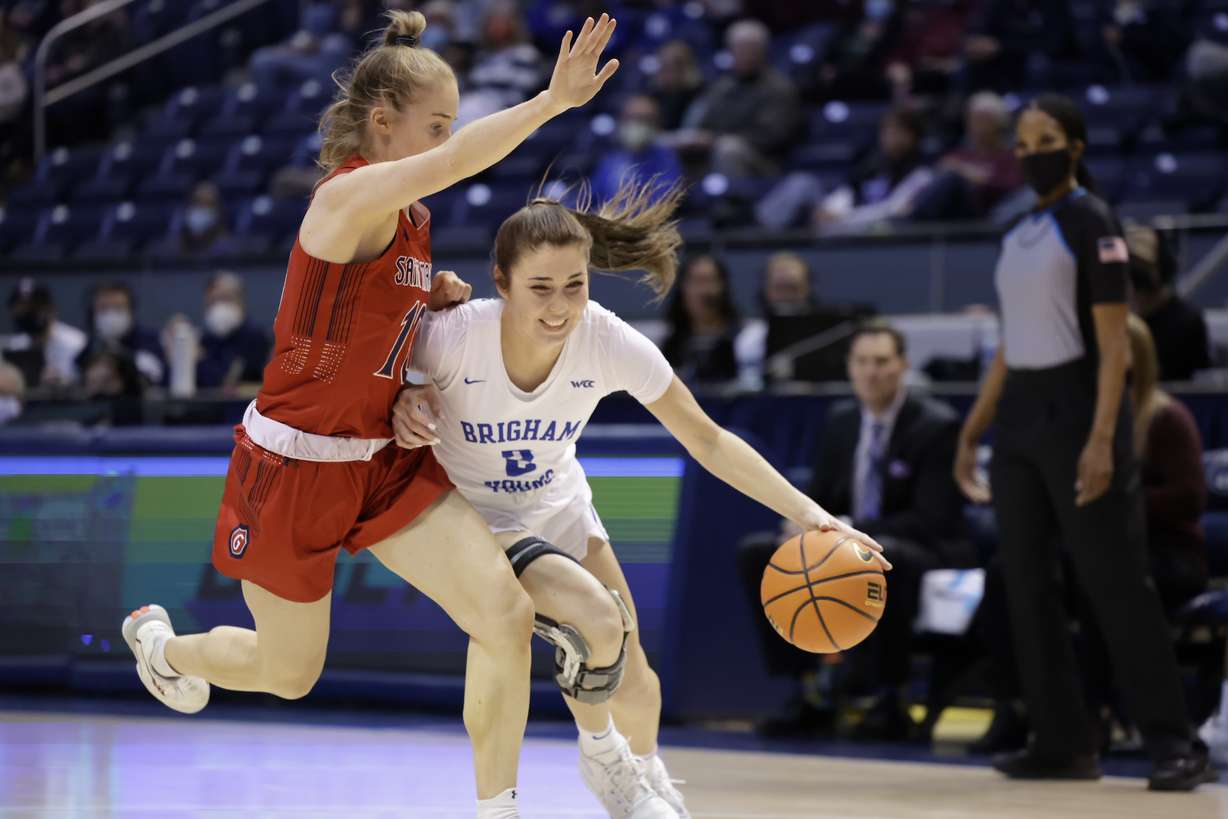 It gets bigger, though, if you look at recent weeks. Since the Cougars' lone setback of the season — a 99-91 overtime loss on Dec. 10 at Oklahoma — that average shoots up to 26.7 points, buoyed by a 78-36 win over Saint Mary's and a 77-37 victory at LMU most recently.
Wins over Power Six programs Florida State, West Virginia, Utah and Washington State showed the Cougars what they were capable of doing when they were at their best, but that loss to Oklahoma also showed what can happen when they lose focus.
"The Oklahoma game definitely woke us up," said forward Lauren Gustin, who averages a double-double of 11.9 points and 12.4 rebounds per game. "We felt like we should've had that game, but we didn't play our best. It also showed us the potential that we have. We worked together all year, and now it's starting to come together, playing at home, and having the energy of the home fans. It just brought it all together."
And sure, every game gets its fair share of starters like Harding, Gustin and walking bucket Shaylee Gonzales, the fourth-year sophomore who leads the WCC with 18.2 points per game with eight 20-plus point games already that earned her one of 15 spots on the Becky Hammon Mid-Major Player of the Year midseason watch list honoring the top player in women's basketball from outside the Power Six conferences.
Point guard Maria Albiero is going to get her buckets — and more importantly, defensive stops — and so will senior center Sara Hamson and graduate transfer Tegan Graham. But what makes this year's BYU team stand out is the bench play, and specifically a freshman class anchored by former East High star Nani Falatea and Fremont's Emma Calvert.
"The bench is better than I've seen in years," said BYU coach Jeff Judkins, the BYU basketball all-time wins leader in his 21st season. "I'm a nice guy, and I like to sub when we're up; I don't run my team into the ground. But subs can sometimes lose the lead — it happens.
"This year's team is different — it's probably the most-talented freshmen class I've had. They've done a really good job."
The Cougars have a way of getting a lead, and keeping it — even if things haven't always been perfect, such as giving up a big lead en route to a 5-point road win over rival Utah or that aforementioned loss to the Sooners. But they've learned from it, and each player has gotten better.
Hamson has added 5.1 points and 3.7 rebounds per game to her 41 blocks this year, which ranks ninth nationally. Harding has lowered her turnovers, Albiero has scored, rebounded and distributed at a rate that as much as doubles the rest of her BYU career, and Graham is knocking down 3-pointers at an unconscious 42.6% clip, a top-30 mark nationally.
And then there's Gonzales, who in addition to leading the team and conference in scoring also averages 5.5 rebounds and 3.7 assists per game while defending at a heavier clip than she has since returning from a season-ending ACL tear in the summer of 2019.
"At the beginning of the season, I felt like I needed to be quicker on my feet," Gonzales said. "So defense and my 3-point shots were the two things I wanted to get better at.
"I just needed to be more engaged on defense and more aggressive. I feel like the past couple of games, I've been more aggressive. And I feel like that helps the team more when I am aggressive."
Can BYU keep the foot on the gas for the rest of the season — and beyond — into an NCAA women's tournament that is as wide open at the top as it has ever been, with no undefeated teams in the country and even standouts like South Carolina, North Carolina State, Stanford and UConn looking — at the very least — slightly mortal?
Basketball is a game of runs, and the Cougars can only look to ride their current run as far as they can. Where it runs out is anybody's guess.
But then they'll just pick it up and start again — foot firmly on the gas pedal.
"I think we've been able to do what we have to do," Harding said. "I think it's been an emphasis for us to play a full game as upperclassmen, and for underclassmen to get more experience.
"We're all biting at the bit to come and play, and to compete against the top competition. We all want to win, and we want to win big."
How to watch, stream and listen
WBB: No. 17 BYU (14-1, 4-0 WCC) @ San Diego (10-5, 2-1 WCC)
Tipoff: Saturday, Jan. 22 at 1 p.m. MST
TV: Bally Sports San Diego, NBC Sports Bay Area, Root Sports NW
Streaming: WCC Network
Series: BYU leads, 14-8 (San Diego has won two-straight, and five of the last eight)
×
Related stories
Most recent BYU Cougars stories