Estimated read time: 3-4 minutes
PROVO — BYU athletics just had a historic year.
Not just football, which finished the season ranked in the Associated Press top 20 for the second consecutive season, but across the board — from a national championship-caliber cross country program to an inches-away women's soccer club and a never-before-seen harrier accomplishment — the Cougars were rolling through the fall season.
But was BYU the best athletic department in the country in the fall of 2021? One prominent metric says so.
The Cougars finished the fall season ranked first in the Learfield IMG College Directors Cup Final Division I standings, which combines the finishes of each sport on campus into a single rating. BYU's 368 points are the highest-ranking in program history, topping second-place Notre Dame (360), Michigan (354), Wisconsin (339.5) and Penn State (298) in the top five.
Other local teams include the University of Utah at No. 34 and Utah State at No. 70. Southern Utah was No. 118 and Utah Valley came in at 158th (the complete fall standings can be seen here).
"It was an incredible fall season at BYU," athletic director Tom Holmoe said in a statement. "A huge congratulations to our resilient, tough, committed, passionate, fun-loving student-athletes and coaches for all that they were able to accomplish. To be No. 1 in the nation in the standings at this point in time, is something for all of Cougar Nation to be proud of."
BYU was one of three teams from the West Coast Conference — which does not sponsor football — in the top 50. Washington was the top team from the Pac-12 at No. 7 overall, and San Diego State top among Mountain West schools at No. 49.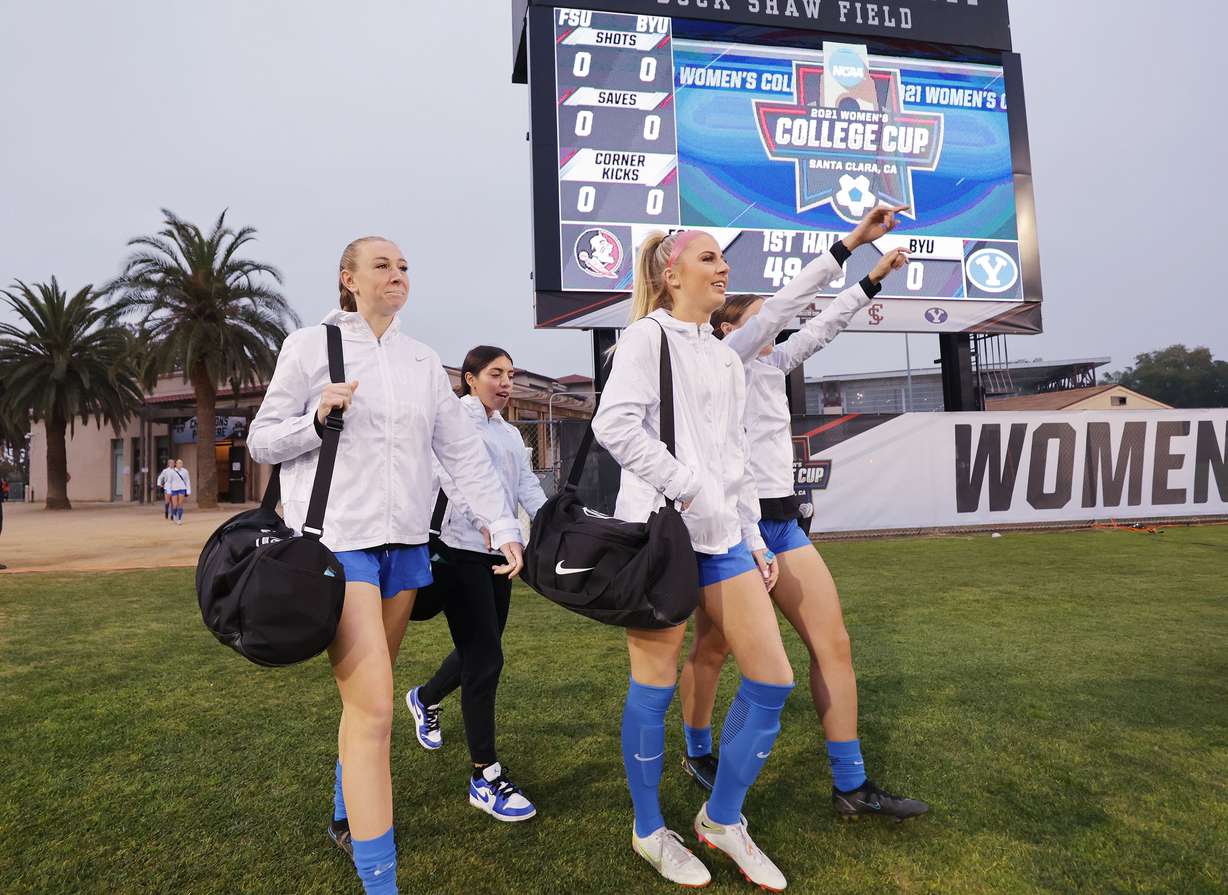 Led by a pair of cross country national champions in women's champ Whittni Orton and men's champion Conner Mantz, who won consecutive titles in the same calendar year for the first (and likely last) time in NCAA history, the Cougars were rolling in the fall. Orton's finish highlighted a second-place team finish for the women's team, which was coming off its own national title in the 2020 season pushed to last spring (that didn't count in the rankings, obviously).
But that's not all, women's soccer rolled to its first-ever NCAA College Cup appearance, then did one better by advancing to the national championship match for the first time in head coach Jennifer Rockwood's 25 years with the NCAA-sanctioned program (31 overall).
Women's cross country and women's soccer each recorded 90 points, second in their individual sport rankings, while women's volleyball followed closely with 64 points (ninth overall) following its ninth Sweet 16 appearance in 10 years.
Men's cross country led all men's sports with 72 points, the seventh-best finish in the sport nationally. Football tallied 52 points, No. 22 nationally after its 10-3 season and No. 19 finish in the AP Top 25, led by wins over Arizona State, Virginia, USC and Utah, among others.
×
Related Stories